Fifteen years ago I backpacked through Thailand and although it was a wonderful adventure, the budget accommodation side to it never did appeal to me; staying in windowless rooms with bunk-beds and stale air...Sleep - an impossible thing to achieve because of the bedbugs partying beneath me!
Last month I revisited Thailand in style - three Banyan Tree hotels, three destinations, Thai food at its best, beautiful landscape, infinity swimming pools and paradise beaches.
A NIGHT IN THE SKIES OF BANGKOK
My room was on the 27th floor of the Banyan Tree's 61-storey skyscraper in Bangkok. It was an impressively large space for a city hotel, the décor stylish and elegant with Thai influences. The highlight of my arrival was taking a bath from this great height, feeling like I was floating in the sky, mesmerized by the vision of skyscrapers ahead and the hustle and bustle of city life below.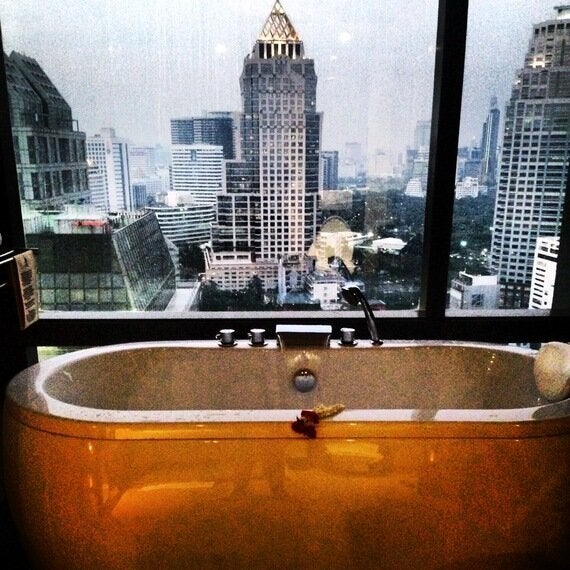 I continued my evening in the sky, venturing up even higher, dining at Vertigo which is located on the hotel rooftop. The thrill of the incredible height and the electric 360-degree panoramic views made it hard to focus on the menu.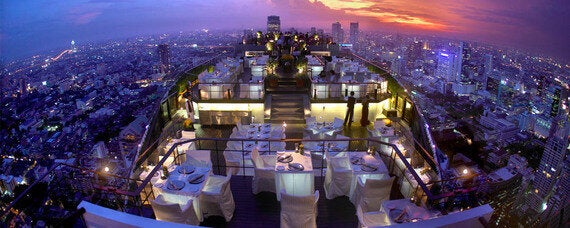 The lights of the city were dazzling and although it looked incredibly hectic below with so much movement, pace and energy, up there it was serene. All that could be heard was the chatter of guests dining and soft music. Exquisite food (lobster bisque, followed by steak cooked to perfection) and exotic cocktails accompanied the view, heightening the euphoric experience.
Following a grand breakfast, where everything was on offer from traditional Thai food to pancakes and eggs cooked to my liking, I headed back up to the rooftop for a swim in the magnificent pool with a backdrop of sky and Bangkok's striking buildings.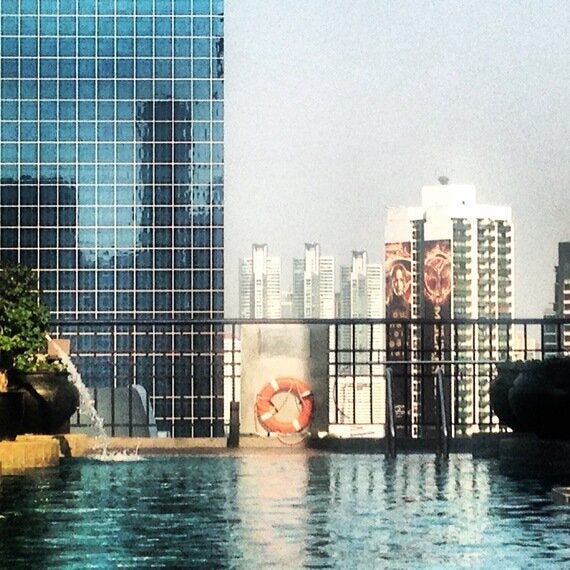 AND TO THE ISLANDS WE GO....
After two days in the skies of Bangkok it was time to head for some tranquility on the Islands - Phuket was the first destination.
Banyan Tree Phuket was an ecological wasteland, which was transformed into a spectacular resort encircling a stunning saltwater lagoon, spread over acres of land with lush tropical gardens and leading to a golden sand beach. It is the original Banyan Tree and at 20 years of age there were no signs of deterioration. It exuded authentic charm with a modern twist and every area looked well maintained from the landscape to the accommodation.
After checking in I was whisked off to my villa in a golf buggy, where even greater luxury awaited me, accommodation from my backpacking days a distant nightmare. It seemed to me more like a home than hotel lodgings. There was a huge lounge, a kitchen, a beautiful elegant bedroom in Banyan Tree style (modern with with Thai décor) and a spacious bathroom which left me having a dilemma each day - should I have a jacuzzi bath with a tropical view or an outdoor shower where I could enjoy the sweet smell of island life? The best feature of the Banyan Tree villa was the ornate private garden with a swimming pool that I could step right into from my bedroom. On waking from a long sleep in the luxurious king size bed, I felt as if all my dreams had come true as I opened the huge sliding glass doors and dived into the pool. This is how all mornings should begin.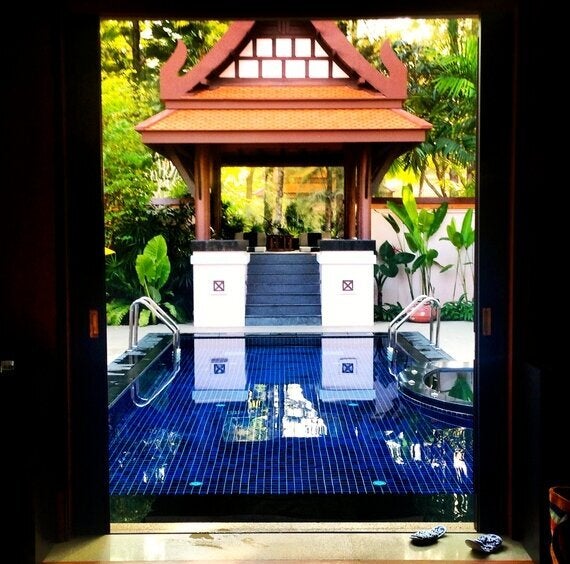 The only incentive to leave my villa was the beach, which was just a short golf buggy ride away. It was Thai winter, yet by 11am it was 28°C and the sun was out at full force and the sea was a brilliant, deeply inviting blue. It was not until I had stepped on the soft golden sand and immersed myself in the Andaman sea that I felt I had really arrived on the island.
THE BEST OF THE THAI BANYAN TREES STILL TO COME....
If it wasn't for the fact that I was about to land in an even higher level of Banyan Tree paradise, I would have been very disappointed to leave Phuket after two days of total relaxation, indulgent spa treatments and delicious cuisine.
As I walked through the entrance to the Banyan Tree in Koh Samui I literally felt my jaw drop - set up high, spectacular views of the scenic Lamai Bay and the sea greeted me upon arrival.
The resort was skillfully created in what used to be a coconut plantation, with the original trees as a charming part of the scenery. The villas were dotted all over the hills, and a golf buggy was the only way to get around. I was introduced to my delightful Villa Host, given a mobile phone and instructed to press "2" to reach him if I needed a buggy or anything else. This was a level of service I had not expected but then again nothing is surprising - Banyan Tree ensure you want for nothing.
My villa was set up at the highest point. I opened a rustic wooden door to pure splendor; a huge spacious terrace with luxurious cushion beds, a dining table and the most decadent feature - an infinity pool with the most stunning view of the sea and the surrounding landscape.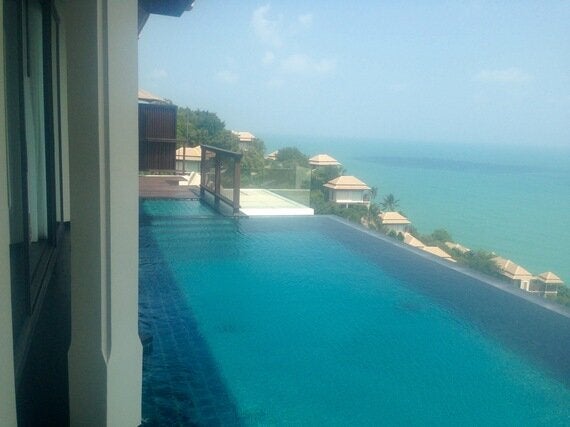 The Banyan Tree was one of the only properties on the island to boast a private beach - a cove of soft golden sand with luxury sun beds spaciously set out, hammocks and great service whether you were after extra towels or a fresh fruit smoothie. There was really no need to leave this paradise for a moment. I did explore a few other beaches but none came close to the Banyan Tree's unspoiled beach and so I decided not to leave the five star utopia again until the unfortunate moment I had to depart for the real world.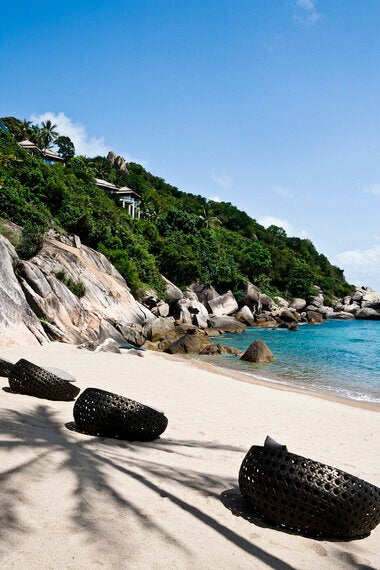 EVA Air flies daily from London Heathrow to Taipei, via Bangkok. Book online www.evaair.com