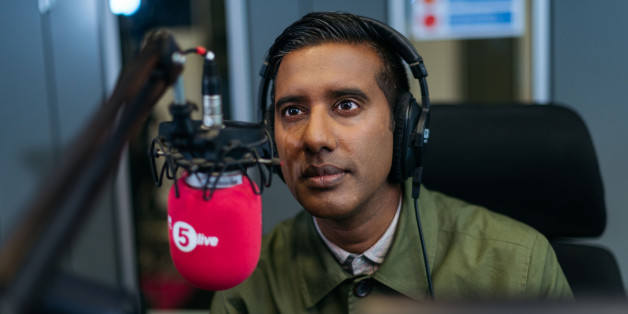 Music has always been central to my life. From battle rapping in the playground, to signing a record deal or two, being on tour, then spending a few years as a publicist, I have always had a fascination for the industry and the mechanics of how an artist is discovered, nurtured and then released into the world. As the stars you stream waft down the red carpet, step onstage to cacophonous noise, look back at you from their Insta page, or give you curated snippets of their lives on whatsapp, there is machinery that has been moving at breakneck speed, or painfully slow, to get them there. So last week I walked through the doors of the iconic Island Records to broadcast live and exclusively for BBC Radio 5 Live. From Toots and the Maytals, via Cat Stevens and Free to Bob Marley, U2, and Amy Winehouse, this is a label that has given your playlist plenty to sing, dance, and cry about over the years. It is a label with an enviable pedigree, but one that has to strive to stay relevant in order to survive. It is a precarious business, where you are only as good as your last signing, last hit, last album. The President of Island Records, Darcus Beese OBE, told me that if he were to walk into a bank and say to the manager " I'd like to have a million pounds to break a new act and I have no idea if it will be successful or not" they would think that he was mad, and yet that is what the big labels have to do each time they decide to sign an artist, although maybe not a million pounds every time.
The industry is a worldwide collection of super competitive companies that between 1999 and 2014 saw a forty per cent drop in revenue. Alongside the challenges of persuading the public that music is a commodity worth paying for there is also the issue of tastes changing so quickly. Each genre is a gladiator fighting for survival: Jungle moves to Garage, dubstep retreats and along comes Trap, and then Grime steps back into the arena and slays everyone.
When Island Records formed an urban division earlier this year, it was proof of how important the genre had become to the label.
One of the stalwarts of the scene Donae'o is signed to Island. He has been making music for way over a decade and in that time has made anthems that have inspired a new generation of beat makers, rhyme writers, and purveyors of bass. He said that when he was younger everybody looked to the US for black music and that anything coming out of the UK was destined to always be regarded as second rate by the discerning British music buying public. The mainstream British media also largely rejected British black music, especially rap and Grime. Back in the nineties a well-known music publication unofficially said that when it placed a black face on the cover sales went down. Fast forward to today and publications and brands are clambering over themselves to be associated with these artists. From council estates and tower blocks to the GQ Man of the Year awards ceremony and the Mercury Music prize, British Urban music is the cake that everyone wants a slice of, and some will only get crumbs of.
This is where Alex Boateng comes in, he heads up the new Urban Division and is charged with making sure that the burgeoning British Black music scene is as knowledgeable of Island as the label is of it. As Alex perches on his ergonomically designed chair and stares at his computer screen, he is a heat seeking machine, scouring the urban landscape for those radiating the most potential.
Bossman Birdie signed to Island last September having been well known and respected in Grime circles for a decade. Watching his video for Walk The Walk you can see how far the movement has come. It is sleek and confident, bursting with swagger and yet keeping its links to the streets. As we chat at Island Records HQ he is conscious of the history of the label and knows that he belongs there.
But why the need for a separate Urban Division? Surely music is music. Alex Boateng explains it succinctly when he says that in order to sign the artists you have to understand the culture, the lived experiences of the acts you want to sign. Making that cultural connection helps to engender trust and build that successful partnership that has to occur for both artist and label in order for it to work. After all of that, the vast amounts of money spent, the marketing, promotions, gigs and tours, if it doesn't connect with you the audience, then it's on to the next one.
Nihal Arthanayake presents Afternoon Edition alongside Sarah Brett on BBC Radio 5 Live, Monday-Thursday, 1pm-4pm