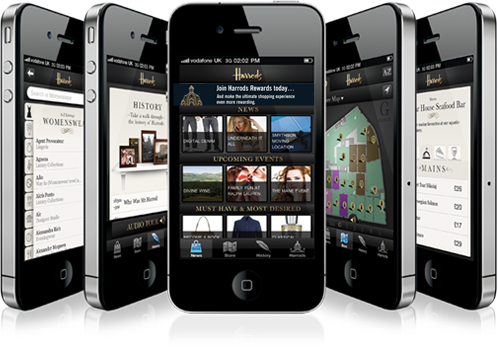 This week saw the announcement that luxury department store Harrods has teamed up with the world's most digitally progressive fashion brand Burberry to not only live stream their Autumn/Winter 2012 show on the store's Facebook page, but data mine the opportunity by democratising the buying process - i.e. giving consumers the opportunity to "be" a Harrods buyer for this exclusive opportunity. Fans of the luxury retailer are being invited to "Like" their favourite look from the Burberry AW12 show and Harrods will by default include those pieces in the AW buy, which will subsequently be sold in store.
We have already seen the democratisation of the editor via the rise of social media (i.e. everyone has a public voice that can matter whether it is via Twitter, a blog, a fan page etc.), and in early 2011 the Business of Fashion created the world's first crowd-sourced designing experiment with the launch of the Bill Amberg collaboration Calgary tote bag. However, this is the first time that a UK department store has data mined/crowd-sourced publicly in advance of a collection launch/buy (Burberry ran this initiative with Bergdorf Goodman last September in the US). It is an highly pioneering move and will, once again, set Harrods ahead of its peers, positioning the store as a true digital innovator and retail brand leader.
This move is simply another in the department store's ongoing digital brand growth strategy. Harrods is already ahead of its competitors "socially" from a raw numbers perspective, over the last two years, it has amassed in excess of 165,000 Facebook fans, and over 85,000 Twitter followers - more than any of its competitors, even with regional stores combined. This digital community growth is a result of sheer investment and strategic interaction from the brand. For example, the @HarrodsofLondon Twitter feed is live 24/7, managed by an industry leading professional (not an intern), the tone of voice is completely in line with the overarching ethos and personality of the brand and every question and enquiry is dealt with and responded to within minutes, even on a weekend.
Managing the digital community for a retailer of this size isn't the easiest feat. To do it well, it does require the laborious task of 24/7 community maintenance and interaction, dealing with antagonistic consumer complaints about purchases, customer service and so on, and passing them on to the relevant in-house teams and maintaining a professional public representation of the brand overall.
Spurning positive endorsement proactively within the digital sphere also come hand-in-hand with the task. Harrods has not only pioneered intelligent digital activity - creating a slick GPS-based smartphone App to help consumers navigate around the store, launching The Review - an online magazine on Harrods.com edited by former Financial Times fashion editor Nicola Copping (another example of how seriously digital editorial is being taken) and live streaming shows but has also proactively fostered digital relationships with key stakeholder on and offline.
This includes a relationship with another pioneering digital fashion brand, Dolce & Gabbana. Since "giant falling out" in 2010 between Dolce and one of Harrods' biggest competitors which resulted in said luxury department store no longer stocking the brand, Harrods has maximised its digital relationship with Dolce via its digital hub, Swide.com and relationships with the brand's strong digital team, which has resulted in Harrods being treated as a key media platform with access behind the scenes to Dolce shows in Milan, exclusive Twitter interviews with the brand's models including David Gandy and even meet and greets with Domenico Dolce and Stefano Gabbana.
The symbiotic relationship between the editorial platforms of two non-traditional media outlets has set an bar for how digital engagement between brand and retailer can be leveraged for mutually beneficial goals.
Next week's Burberry show live stream partnership will simply be another string to the digital bow that Harrods has every right to wear with pride, and by the sounds of things, there is a lot more in the pipeline for the brand's digital growth in 2012.