I admit it; I am a 'wannabe' domestic goddess! I love nothing more than hosting guests in my home, pouring drinks, laying out nibbles, and making everywhere look pretty. This is why the kitchen is such an important room in my home, like it is for many other like-minded, homely folk.
The kitchen is definitely the hub of the home, the domestic centre, the place where we entertain guests, socialise, eat, drink and be merry. It's the room in my home that is always buzzing with life and energy. Cooking, laughing, eating and drinking, it is by far the most used of my spaces. Well I say 'cooking', I have only just learnt how to whip up a successful meal on my Aga. It no longer fills me with total dread come dinnertime! In fact I have become somewhat fond of the old thing, and they do make a stunning feature after all.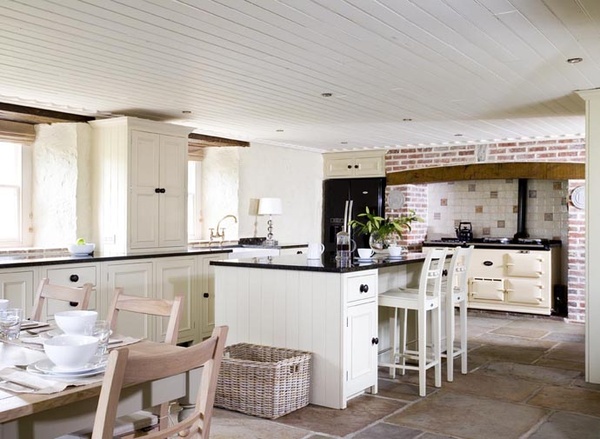 Kitchen With Cream Aga by Neptune
I am currently renovating my Georgian home in the English countryside and in my opinion I am on my most exciting part of the renovation so far, the overhaul of the kitchen! We have dreams of creating a fabulous farmhouse, yet elegant style kitchen. I particularly love the two-tone options at the moment, with cream cabinets and a light grey island. Muted, calm and subtly elegant, perfection!
I have recently been spotting many a kitchen without the standard tile splash back and instead have a beautiful flush piece of marble, I really love this idea, it looks so chic. Here are some images that are fuelling my kitchen inspiration at the moment...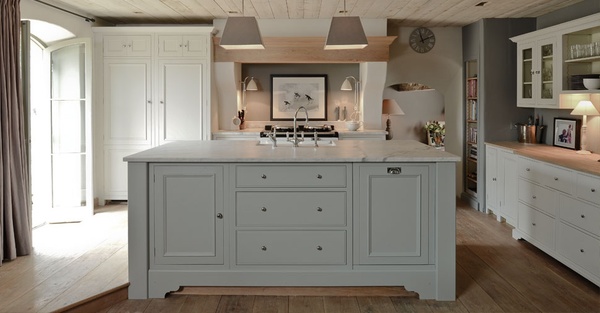 Beautiful Grey Kitchen by Neptune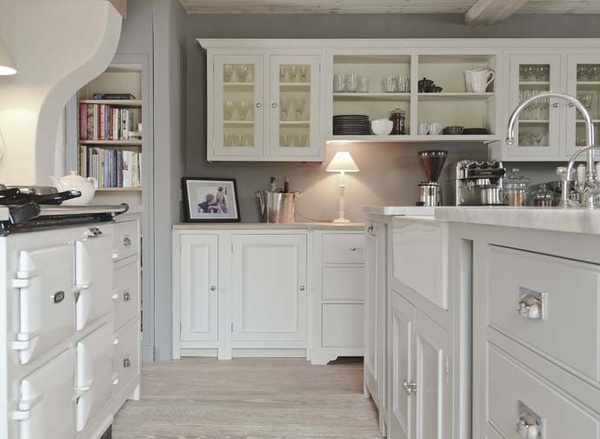 Stunning White Kitchen by Neptune
I'm completely in love with this pantry, it is so chic and coordinated! A larder or pantry is such a great idea to store and organise your kitchen essentials, and one like this is simply to die for...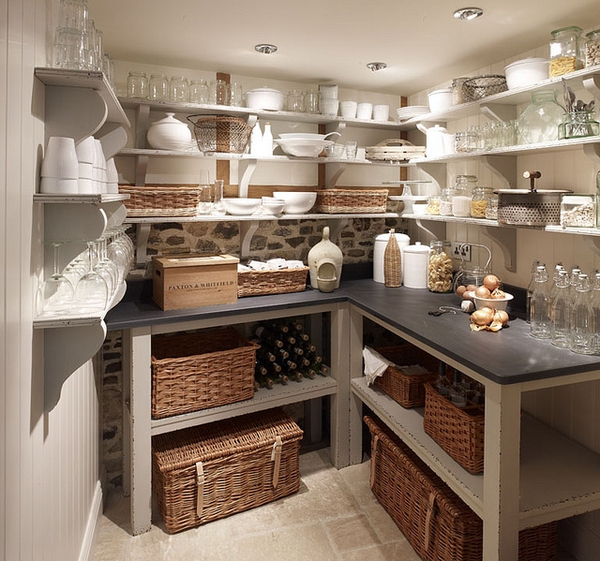 A Very Organised Pantry by Chalon Kitchens
Sparkling glassware is a pre-requisite in any room in my opinion, and no less in the kitchen. I love glass jars to fill with pasta, seeds and nuts, they make such a gorgeous feature for your worktop or dresser. These ones from The White Company are just divine.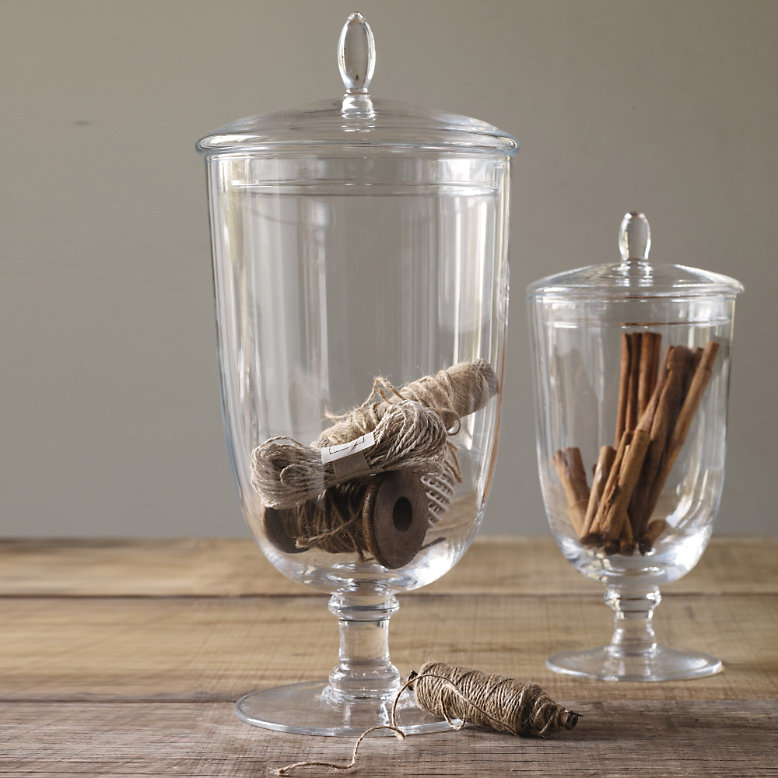 Glass Jars From The White Company
Also, using chandeliers as a design feature looks so extravagant and decadent, I love it!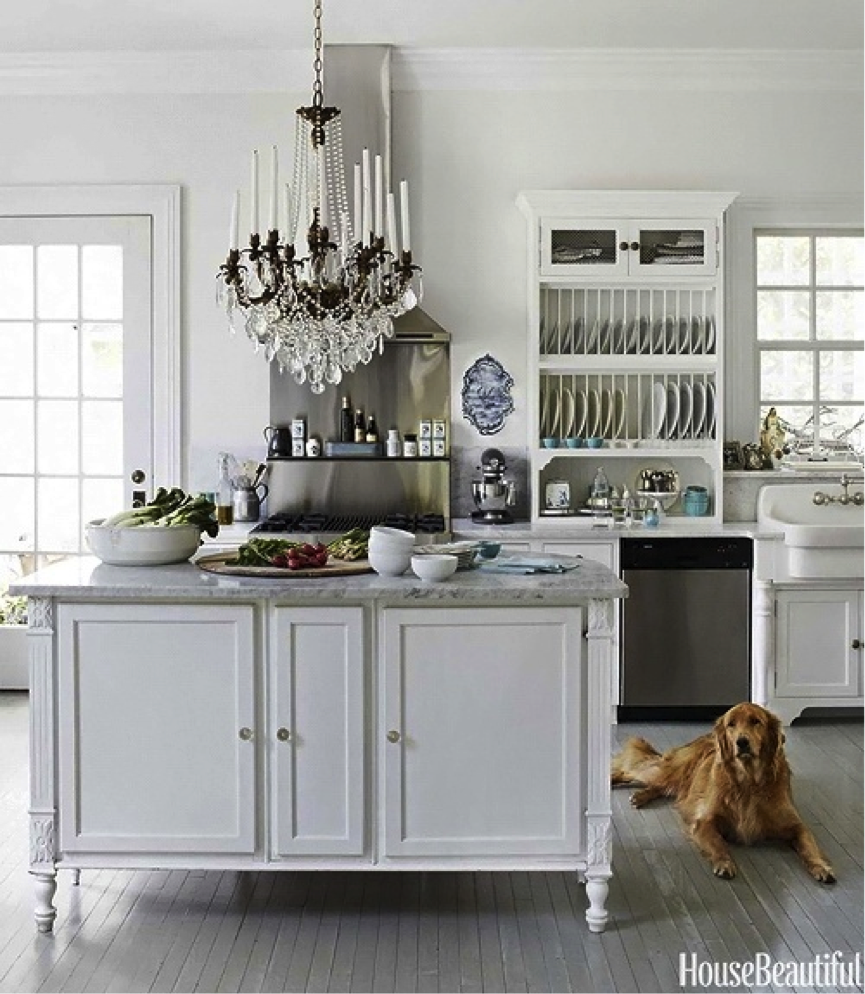 Image From House Beautiful Magazine
I love dining rooms, however the formality can sometimes be off putting, as it's usually a room that you use on special occasions a handful of times a year, to me this is such a waste of space. Therefore, I like the idea of creating a kitchen-come-dining room in my home, however I still want it to have the elegant edge that a formal dining room exudes. How do you do this, I hear you ask? Well this can be done by filling the dining area of the kitchen with less 'kitchen like' accessories, and by dressing the table in a more formal manner. Also lighting is very important, I like to incorporate lamps in to rooms to give a more subtle, relaxed lighting scheme, and a sparkling chandelier can look fabulous hanging over the table to give it that decadent, elegant feel.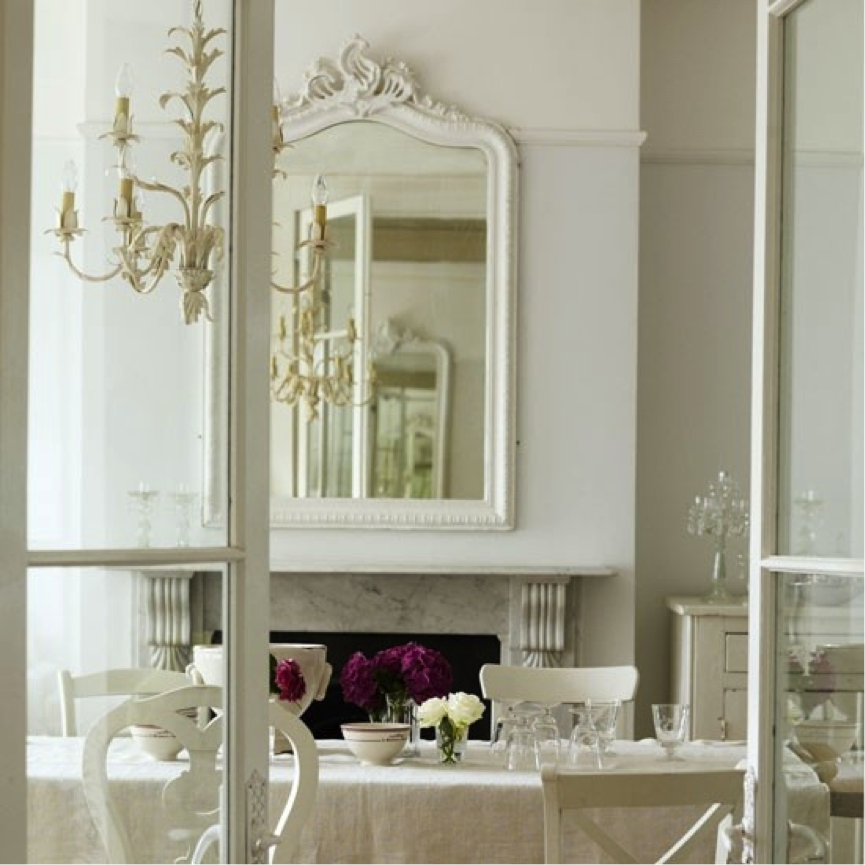 Wish me luck with my kitchen quest, and in the meantime, fill your kitchen with beauty!
Have a look at my interior design blog, Butterfly Lane, for more inspiration!