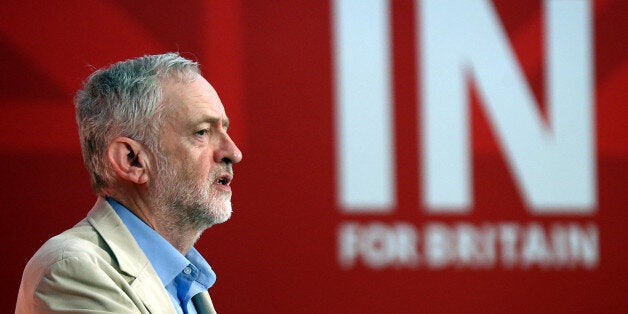 One of the funnier scenes of the Brexit mayhem is watching a devout Eurosceptic being forced by his party to plead the wonders of the EU. With typical discipline, Labour has issued its stance that must be followed. There is no free vote for MPs, and at the membership level Leavers are being treated with disdain - something the party may well come to regret. This discipline, of course, extends to the leader, Jeremy Corbyn.
So what exactly are Corbyn's views on the EU? It's worth reminding ourselves, as even some passionate Corbyn supporters seem to have forgotten.
Corbyn voted against membership in 1975, voted against the Maastricht Treaty in 1993, and voted against the Lisbon Treaty in 2009. He has opposed the EU at every opportunity.
"The European Central Bank will undermine any social objective that any Labour Government in the United Kingdom -- or any other Government -- would wish to carry out." Jeremy Corbyn, Hansard
"What powers do we have to do anything about the fraud in EU institutions? Much of that money seems to find its way into the hands of the Mafia or into grandiose, unwanted and often badly-built construction projects that are of no use to anybody." Jeremy Corbyn, Hansard
"The Treaty on European Union takes away from national Parliaments the power to set economic policy and hands it over to an unelected set of bankers" Jeremy Corbyn, Hansard
"There is a real risk that Greece leaves both the eurozone and the EU. Its future would be uncertain, but at least it could be its own ... There is no future for a usurious Europe that turns its smaller nations into colonies of debt peonage." Jeremy Corbyn, Huffington Post
"If the EU becomes a totally brutal organisation that treats every one of its member states in the way that the people of Greece have been treated at the moment, then I think it will lose a lot of support from a lot of people." Jeremy Corbyn, LBC, 2015, quoted in the Telegraph
Public opposition to the EU's TTIP treaty is "a cri de coeur for democracy and for the right of people to elect a Government who can decide what goes on in their country." Jeremy Corbyn, Hansard
On the secrecy of the EU's TTIP negotiations: "Is it because there are ante-rooms on either side of the Atlantic stuffed full of highly effective corporate lobbyists doing their best to develop their own interests?" Jeremy Corbyn, Hansard
Morocco's occupation of the Western Sahara "involves the gross abuse of human rights and theft of natural resources - and the EU is directly responsible." Jeremy Corbyn on his blog, recently deleted (archive still available).