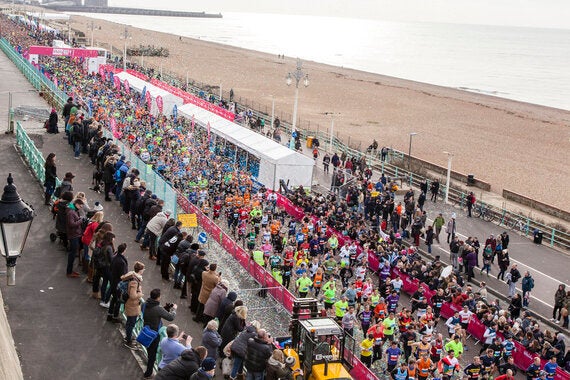 More than nine million people in England drink in excess of the recommended daily limits, according the latest Alcohol Concern statistics, published in October. Considering the population is just over 53 million, that's one in six of us, alarmingly.
Admittedly, over Christmastide there is a pressure, or perhaps excuse, to make merry more than any other time in the calendar. And it was, ironically enough, because of a rather drunken conversation with a great pal on New Year's Eve that I committed to running the Brighton Half Marathon next month with him.
Sober, I would have most likely body swerved his offer - especially considering the event takes place on my birthday, February 26. After all, who in their right mind would want to spend such an occasion jogging 13.1 miles on the south coast, with the possibility of bleeding nipples and groin chafe?
However, a week in to training (and without a drop of grog passing my lips), I'm very glad I didn't decline the chance to pavement pound along the famous pier, and have intoxication to thank for following through on this resolution.
Now I'm in my mid 30s I seem to require these fitness goals to aim for, and the Vitality Brighton Half Marathon 2017, to use its full title, is the perfect early-year event to burn off Yuletide excesses. Indeed, it is one of the first major half marathons in the UK's running calendar, and one of the most popular in Britain, with good reason.
This year will be the 27th edition, and having never run it before I am looking forward to tackling the course which begins on Madeira Drive on the seafront and heads east along the coast before looping back to the city just before mile four. Apart from a one-mile foray in to Brighton, and around the Grand Parade, all of the route hugs the pier.
The city's most-famous athlete Sally Gunnell OBE - gold-medal winner of the 400-metres hurdles at the Barcelona Olympics in 1992 - was the race starter last time around. And for this edition it will be fellow Brightonian Norman 'Fat Boy Slim' Cook performing the honour.
I suppose it's highly probable that his 1998 mega-hit 'Right Here, Right Now' will be playing when he sets off the runners at 9am, and 'Praise You' (with the lyric "you've come a long, long way, baby") will greet finishers 13.1 miles later.
How fitting that Cook - a famous hell raiser turned teetotaller - will be starting the race, given that this half marathon will help me to cut back on the booze, start 2017 with a spring in my step, and make this fat boy slimmer.