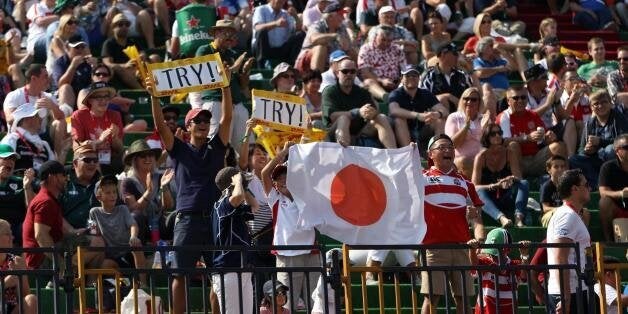 The 2016-17 HSBC World Rugby Sevens Series kicks off in Dubai this week with the sport basking in the golden afterglow of a sensationally successful Olympic Games debut that, truth be told, exceeded the expectations of players, administrators, and die-hard devotees alike.
Afforded the opportunity to perform on sport's greatest stage in Rio de Janeiro, sevens didn't disappoint; for countless impartial observers it even stole the show, and the star turn was the catalyst for unprecedented growth.
The bitesized matches, powered by superhuman athleticism and liberally punctuated with thrilling tries and dramatic twists, proved hugely appetising to the vast Olympic audience, and a hit on social media.
Further, while reigning Sevens Series champions Australia were dominant in the inaugural women's competition, Fiji men provided arguably the most compelling narrative of the entire Games: they earned their impoverished island nation a maiden Olympic medal in breathtaking style, climaxing in a 43-7 demolition of Team GB in the final.
Ben Ryan, the English coach who masterminded Fiji's fairytale triumph, suggests it was "the most-watched rugby game in history". The 45-year-old, who stepped down as coach after Rio and is currently working with HSBC to promote sevens globally, also says he was informed 'Fiji' was the most-popular search term on Google for more than an hour after that crowning victory.
While neither of Ryan's statistics can by verified (Olympic broadcasting figures will not be released in public for some time, and Google are notoriously tight-lipped about specific searches), other metrics indicate that the subsequent upswing in interest and investment in sevens has been nothing short of phenomenal.
In November a study commissioned by World Rugby revealed that sevens' involvement at the Olympic Games converted almost 17 million rugby fans. The research, conducted by Nielsen Sports, focused on markets in France, Japan, Great Britain, Australia, Germany, and America, and was even more positive than the predictions made in The Future of Rugby: An HSBC Report, published in April. Back then there were seven million rugby players globally, and the report estimated that number of participants would rise to 10 million by 2020.
The Nielsen Sports report suggests that there is reason to be even more optimistic, with signs of growth, and encouragement everywhere. For instance, 39 per cent of 18-24-year olds in the UK watched sevens in Rio, while it was 36 per cent for the same age group in France. Additionally, growth in interest in rugby sevens saw the biggest increase (4 per cent) out of all the Games disciplines at Rio 2016.
Thanks to the Olympic boost there are now an estimated 300 million worldwide rugby fans; that figure is projected to continue on a steep upward curve, propelled by significant investment in sevens. Crucially, the next Rugby World Cup, Japan 2019, will be the first played in Asia. The Nielsen Sports study found that in Japan there was a 16 per cent uplift among 18-24-year olds who thought rugby sevens was an exciting addition to the Games. And with Tokyo hosting the 2020 Olympics, which should include sevens once more, the future is looking very bright for rugby.
Little wonder, then, that in late October China announced a record $100-million (£80m) investment to establish a professional league structure, organise a mass-participation programme, and unlock the country's rugby potential. And for Ben Ryan, a podium final at Tokyo 2020 can't be ruled out, in spite of China's current lowly ranking.
"That $100m is mainly for sevens," he says, "because they see the next Olympics as an opportunity. China could very well be on the podium, in the men's and women's events, in 2020."
In America, where sevens remains the fastest-growing sport, numerous high-school programmes have been introduced since Rio, despite USA's under-par performance.
Even in Fiji, where rugby is notoriously poorly funded, things are looking up. The all-important tourist trade is booming (thanks to those Google searches, no doubt), sponsors are flocking to support the national teams and Joe Rodan, the president of the Fiji Association of Sports and National Olympic Committee, believes that the gold medal glory will inject a much-needed £160m in to the economy.
Sevens is flourishing in rugby's traditional heartlands, too. For example, Down Under the Australian Rugby Union will launch a full-time professional domestic women's sevens competition in 2017, in conjunction with eight universities, with a men's competition to follow in 2018. And over the summer it was announced France's Top 14 clubs will compete in a new sevens league.
Across the English Channel, the Rugby Football Union continues to ramp up commitment to sevens, with four university development sites activated in September, running alongside 24/Sevens, a new community series ensuring that the sport is also growing from the ground up.
Excitement levels are understandably high, then, as we settle in to the opening round of the 2016-17 HSBC World Rugby Sevens Series in Dubai. There is much to look forward to, now and in the near future, as sevens continues to bask in its Olympic afterglow.