I originally wanted to write this blog about my experiences in Lens at the England v Wales game. I wanted to tell you about the penalty shoot out we staged in the garden of our hotel the night before (which Wales won), about the fans we got to recreate Gazza's iconic Euro '96 goal and celebration against Scotland (complete with bottled water and beer) and about the incredible, goosebump inducing atmosphere inside the Stade Bollaert-Delelis from the moment I arrived right down to the final whistle. But I can't, because right now it's Belgium & the Republic of Ireland that have my heart.
As we walked through the narrow, cobbled streets of Bordeaux a familiar sound echoed between the houses and grew louder with each turn. The sound of singing football fans, which now guided us like a chorus of satnavs into the centre of town. It's quickly becoming my favourite activity, the crescendo being the moment you spot the crowds and that explosion of colour from their shirts, wigs, face paint and various props donned by the most enthusiastic. And today it was a vibrant wash of greens and reds. Belgium vs the Republic of Ireland. We didn't have tickets to this game, but we didn't need them. Instead we ventured into the official Euro 2016 FanZone where, despite being English, we joined the best party we've ever been to. Here are my 8 reasons why they are already the fans of the Euros.
1) Because what compliments those beautiful Belgian singing voices better than a massive drum? And they aren't fussy about who gets their hands on it either.
2) This guy who, when asked: "Do you speak French?" Replies by holding up a bag of (once) frozen peas he carries around. Get it!?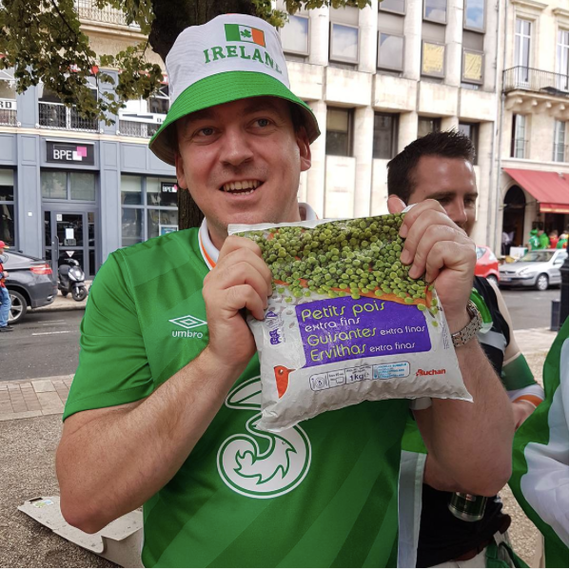 3) This Belgian chant, which requires crouching down, jumping up and no real understanding of the language. I believe the words are: "De de de de de de de de der..." Répéter.
Not to be outdone the Republic have some inventive songs of their own including: "You're sh*te, but your beer's alright" to their Belgian rivals and: "You're sh*t, but your birds are fit," after drawing with Sweden in their opening match.
4) When Lukaku scored his second goal of the afternoon and sealed Belgium's 3 - 0 win over Ireland the Red Devils celebrated like they'd won the Euros already.
5) What other team do you know that can lose 3 - 0, get relegated to the bottom of their group and celebrate with their opponents as if they'd just won the Euros, too?
6) The Belgians created a conga line - A CONGA LINE. And I joined it.
7) This Irishman helped me realise a lifelong dream of sitting on someone's shoulders in a mosh pit without having a plastic cup of urine tossed at my head. This was during a live broadcast for Soccer AM on Facebook, jump to 3'44".
8) And because the Irish created this, which I can only describe as a human conveyor belt...
When the extent of violence you have witnessed is an Irishman trying to impale Red Devils with their own inflatable tridents and you've spent the day dancing with people you have never met while singing the OG lyrics of Gala "Freed From Desire," where Will Grigg isn't on fire and no one's defence is terrified yet you start to realise these fans transcend the game of football for the better. You go back to your hotel, passing unfamiliar faces from both countries along the way and high five them all the same. Then, you spend the remainder of the evening trading stories of all the crazy, wonderful things you have experienced and working out the mathematical necessities to ensure that both your adopted nations progress, because let's face it - without them France will be a much duller place to be.
Related