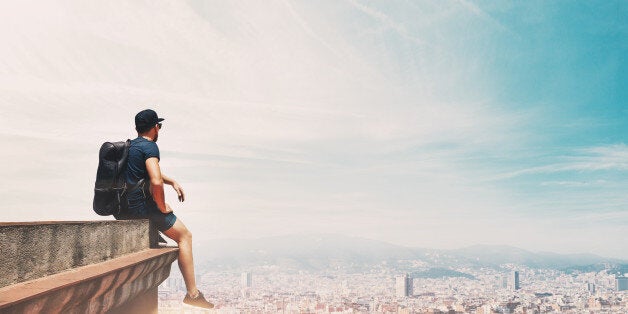 As a languages student myself, I am surrounded by people who love to travel.
Every summer my Facebook newsfeed fills up with images of everyone's latest trips. Taglines such as "20 cities in 30 days!" are everywhere. Not to mention the year-round stream of travel photos available on Instagram.
But why do we want to impress each other on social media? Why post as many travel photos online as possible? What are the benefits of this 'lightening travel' that sees people going to 14 foreign towns in as many days?
Travelling to as many places as possible in the given time may at first seem like the optimum way to utilise time and money. However, I'm not convinced that it is the best way to explore. The idea of going travelling 'to find yourself' seems very ironic when travellers don't even have time to experience new cultures. And where does the divide between travelling and a holiday lie, if you don't have enough time to absorb the culture of a country?
I believe that money is a big part of this rapid travel phenomenon. When you save up for a year in order to go travelling, you want to get the most out of the experience, but there are ways around this. Here are five tips to help remedy whistle-stop travel and get you seeing more without spending more:
1. Go for longer but don't add more to your itinerary
Why not cut out one or two countries on your list? The added time will allow you to soak up the culture and explore off the tourist tracks, you might even end up meeting some locals!
Liverpool veterinary student Cheryl Keen feels quality over quantity is important when travelling:
"You don't really see a place if you are only in it for one day, and the money you save on plane fares could then be used for a few more night's accommodation".
2. Work in a country (even just for a month)
There are so many opportunities for students and young people to work abroad for a short period of time, especially in the summer months. I have personally tried both teaching English and au pairing. And if you manage to secure a job with weekends off, that's when the travelling can happen.
Colleagues and/or host families are normally more than happy to provide tips, maps, transport timetables and general advice that isn't available online. Teaching English in the Basque Country allowed me to spend only the money I was earning, see the country in depth from a local perspective and, as I went with a company, make like-minded friends.
3. Visit international friends
Another great way of travelling is to visit friends who live abroad. Visiting someone you know is a nice way to feel at home whilst away. You might have met them through travelling, university, or Erasmus and they are a great source of information about their country.
You'll have the best time eating how the locals eat, living like the locals live and understanding the culture and history without paying for tours (because otherwise, what are friends for?).
4. Research your destination
Jumping on a plane and hoping to be wonderfully surprised by the culture of your destination seems romantic at first. In reality, you are likely to find yourself puzzled by local customs and find it harder to assimilate. If you've done some research, you can benefit from a true insight into what is happening around you.
Additionally, research can help you to blend in with locals which makes you less of a target for thieves. It also helps to avoid faux pas, or worse; accidently committing crimes that are perfectly legal in your home country. Try this list of information on various countries for help.
5. Go back to places you've been before
By basing yourself in one place you know you love, you can skip the museums and venture further afield.
Viola Mendonca, a keen traveller and medical student at the University of Liverpool, says that travelling to Tenerife several times allowed her to explore the island in more depth:
"The first time I went we did the usual tourist things: museums, dolphin watching etc. But the second time we walked around the island ourselves, saw the local vicinities and were able to absorb the culture."
No matter how long you decide to travel for, and how much you decide to fit in, it's important to stay safe, a big issue for young travellers. The Foreign & Commonwealth Office have some great advice to help: https://www.gov.uk/travelaware. There are also regular updates on @FCOTravel on Facebook and Twitter that can help you when you're away.
Popular in the Community