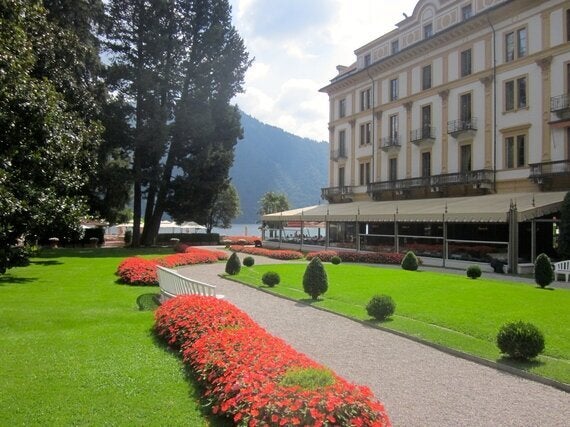 Villa D'Este, Lake Como Image © Olivia Greenway
The Italians may have a chequered political history, a national debt second only to Greece and high levels of unemployment but if they do one thing really well, it is luxury hotels. Italian luxury hotels are acknowledged worldwide as among the best for style, service and food: they are the standard bearers that others try to follow.
Choosing just six five-star hotels in Italy is difficult - the country is riddled with them - so some personal preference has come into play. Three of these are seasonal. So do check if you are planning a winter trip. You may still plan and book your hotel in the winter, when it's closed, for dates in the summer. In fact, it's best to book these hotels as early as possible, as popular rooms go first.
Villa D'Este, Lake Como: In a superb location on the edge of the lake, with extensive landscaped grounds leading right down to the water, it would be hard to envisage a more perfect setting. Tranquil but not isolated, Villa d'Este has the world's first floating swimming pool. For the more energetic, the hotel has tennis, squash and a range of water activities.
Capri Palace Hotel, Capri: Getting here is an adventure in itself: either a ferry or hydrofoil or a helicopter from Naples. This small, rocky island has been an A-listers playground since Grace Kelly wore her Capri pants here in the 1950s. Featuring fabulous modern art and understated stylish suites, two Michelin starred restaurants and the best breakfast you've ever had await. http://www.capripalace.com/en
Hotel Hassler, Rome: An independent hotel owned and managed by Roberto E Wirth from a fifth generation of Swiss hoteliers, the hotel is one of the best in the city, near the Spanish Steps and Trevi Fountain. With five restaurants, including Michelin-starred sixth floor gourmet dining and the more casual garden bar, it also has a spa, hairdresser and - if you ever want to leave - is near the designer shopping area.
Belmond Grand Hotel Timeo, Sicily: Perched on a hillside overlooking the sea, the hotel is nonetheless in the heart of bustling Taormina, with its restaurants, shops and bars. Once inside its precincts, there are peaceful flower filled garden terraces to explore, a pool to dive into or perhaps sip a cocktail on the extensive terrace, where Etna might erupt on cue.
Gritti Palace, Venice: Built in the 15th century, this hotel really is a palace with fabulous traditional décor and enough handmade Murano glass to start a rival factory. Near St Marks Square and on the Grand Canal, several guest rooms have water views. With a restaurant terrace overlooking the Canal and small spa, the hotel is near Venice attractions, but itself provides a restful and stylish retreat.
Palazzo Victoria, Verona: In a medieval side street a few moments from the Arena, the hotel has Roman origins and is arranged around a courtyard. Bare Roman walls work well with modern comforts. The star of the show here though is the food, with semi-open kitchen, well-sourced ingredients and typical Italian cooking flair exploited. Talented chefs make preparing the carefully presented food look effortless. There is no pretension here - just simple food cooked to perfection. Their gourmet restaurant is another option.