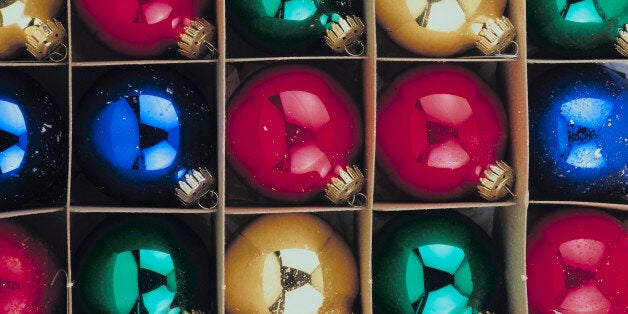 It's billed as the "Most wonderful time of the year", a time where we should all be merry and nice. So why do us mums end up feeling like stressed out Christmas elves, more narky than giving? Ladies it's about time us mums turned Christmas and the stress associated with it on its ass. Tis the the season to be using Christmas to our mum advantage with the No Bullshit Mum Guide to the twelve reasons why all mums should LOVE Christmas:
1. There is never an inappropriate time for a drink! Regardless of the day, the number of children you're in charge of or the fact it's before 9am, there is never an inappropriate time to be enjoying a tipple when it comes to the Christmas Period (which, basically translates to you being able to drink with breakfast from the 30 November onwards to the New Year). In fact the only way you will be viewed negatively is if you turn down a drink! Oh yes, you now have another reason (apart from celebrating the kids being in bed) to crack open the fizz as you are not binge drinking but instead being "Festive" and no one likes a scrooge in the yuletide season. Therefore, unless you want to be spurned from the festive clique I suggest you get used to the following dialogue "Do you fancy a bucks fizz?", "But it's only 9:30am", "Yes, but it's Christmas" "Oh go on then!" Ding dong!
2. Your post baby diet can get screwed, those mince pies are not going to eat themselves! The moment the calendar hits 1 December you can replace your weekend ritual statement of; "That's it, come Monday the post baby diet starts, no more booze or chocolate for this yummy mummy" with "That's it, come the New Year the post baby diet starts, no more booze or chocolate for this yummy mummy". Ohhh the joy of an extension to starting the elusive diet and to instead indulge in one of the skills we learned through pregnancy of eating for two! Bring it on Turkey I'm taking you down!
3. Your excessive internet "browsing" is now instead upgraded to "research" as you are obviously looking for the perfect presents and NOT composing your latest Facebook status.
4. Singing with no shame! Regardless of being tone deaf and able to smash glass at a hundred paces, placing the fear of God into small dogs within a 10 mile radius, you now get to sing your fave Chrimbo songs at the top of your voice no matter where you are and no matter who's listening. No judgement!
5. Respite for your trainers! Any exercise regime or guilt about not starting one yet can now be replaced with the festive, calorie busting workout that is rushing around the shops, dodging fellow shoppers and making sure the last thing you are doing with the last singing Elsa doll in the shop is letting it go!
6. You don't have to get dressed or feel guilty about not being. The days of you feeling guilty for not being dressed before 3pm are over during December as these are now "Mummy and baby Christmas days". Yes ladies, these days are no longer ones you look back on and feel guilty that you wasted them being stuck in the house all day but instead days you are educating your little one by introducing them to the Classic Christmas films all tucked up on the sofa with a box of chocolates - Enjoy!
7. You can eat chocolate for breakfast and in fact elevenses, lunch, afternoonsies, tea, supper and midnight snack!
8. Santa is your homie! The man in red with the big white beard is your right hand man when it comes to keeping your tiny humans in line with the festive threat that never loses its power. The words "Santa's watching so you better be good" leaves the naughty step redundant and your kids eager to behave, if only for the following ten minutes.
9. You can demand a night off! Christmas is the perfect excuse for that long needed and much deserved night out with the girls where you can get as hammered as you want as !It's CHHHHRRRIIISSSTTTMAAASSSS!"
10. You are the Christmas Goddess and deserve some Chrimbo R E S P E C T! For the rest of the year your hard work around the house can go unnoticed and unrewarded however, on the run up to Christmas all these run of the mill tasks from cleaning the cupboards and sorting the decorating through to the cooking and food shopping are upgraded to an almost goddess status resting under the title of "getting everything ready for Christmas". Yes, just by adding Christmas in front of these chores means you have been working extra hard and in need of a nice relaxing soak in the bath.
11. Extra help with the kids. Christmas holidays means that you are no longer flying solo at home and get the perfect Christmas gift of help with the night feeds and breakfast routines from your partner - OR BLOODY ELSE!
12. If none of the above is floating your Chrimbo boat then just bare this in mind - You get to dress your tiny humans like this for the WHOLE of December! I dare anyone not to be excited at the thought!
To all mums out there, here's to having a fabulous Christmas and getting some extra jingle in our bells! Merry Bloody Christmas!
Want to discuss how you are feeling about being a mum, warts and all, NO JUDGEMENT? Please visit The Baby Bible blog , join the public Facebook page or email olivia@the-baby-bible.com to join the closed Facebook group.