This is the second in a series of New Breed blogs introducing some of my favourite breaking bands that have captured my ears in 2014. Every summer hails the emergence of a new breed of young, up and coming bands heading out on festival season opening up muddy fields and tents across the country ready to make their name known to the world. Here are 3 of the best new bands destined to make big waves through the end of 2014.
Lonely The Brave- catch them at Y Not Festival 02/08/14, Reading and Leeds Festival 22-24/08/14, London Dingwalls 04/09/14.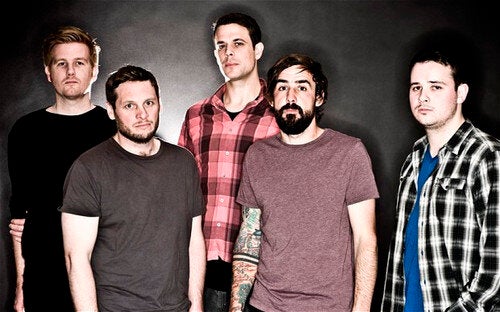 There are certain moments while listening to new music that you start to believe the band in your ears are (or at least should be) the biggest band in the world, a sensation I experienced the first time I heard Lonely The Brave. The Cambridge band have mastered the art of anthemic, expansive and passionate rock music that cuts a fine line between Biffy Clyro, The National and Snow Patrol with it's roots reaching back to the British rock scene of the early noughties. It's been a long ride to the release of their debut album having had it under their belt for a long time but now finally with a global release on the horizon through Columbia records 'The Days War' is ready to take on the world. Recent single 'Backroads' along with it's epic video, driving beat and uplifting guitars complete a stadium ready sound that is characterised by soaring, quintessentially British vocals demonstrating the recognisable yet equally diverse buzz I get from Lonely The Brave.
I spoke to guitarist and founding member Mark right after the bands set at Download earlier in the summer and found out about the organic writing process that spawned the bands debut 'The Days War'.
Mark: "We have no formula how we write music. We've never thought about how we want to sound. As a 4 piece we all had vastly diverse music tastes and just brought all that together. Mo loves his hardcore, our bassist Andrew is in to his prog, Dave's in to metal and I love everything from folk to rock to country. We just came together and started playing music, what's on the record is the result of that".
The album's sound ends up falling a far distance from these roots yet it's this expansive sound that is increasingly becoming the crossover appeal defining Download, Reading & Leeds festivals. The band have bold ambitions and Mark is adamant their album is to be heard as a "piece of music that ebs and flows, not something to take small cuts from and leave alone". The rise of Lonely The Brave has also illuminated the power and importance of the BBC and national radio for rock music in the 21st century.
"It's exciting there are a lot of bands about on the radio, good bands, Zane Lowe was saying the other day this is a tipping point in British music because there is so many good rock bands, and it's thanks to Dan. P Carter and Zane that we're getting played on the radio. BBC have been so supportive of us from the start, it's such a good platform, BBC Introducing in particular gave us our initial exposure".
On the evidence of their show at Download and the massive singles already released when 'The Days War' finally emerges on September 1st right off the back of a huge slot in the NME tent at Reading festival it'll be an album to savour and propel Lonely The Brave to new heights.
Samoans- Catch them supporting No Devotion in London 25th July, Kids In Glass Houses through Wales in August & Arctangent festival 28-30th August.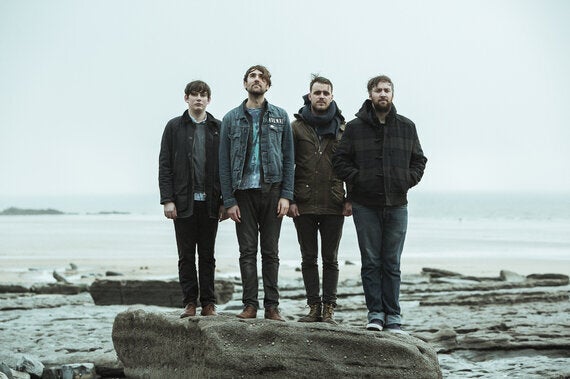 Samoans debut 'Rescue' is one of those mesmerising albums that you fall deep in to even on it's first spin. Ebbing and flowing from Deftones-y atmospheric grandiose to the bleary eyed shoegaze fuzz of My Bloody Valentine. It's an immersive experience of a debut album that demonstrates more accomplished song writing than many bands achieve in their lifetimes and it's a writing process that was characterised by change. I spoke to vocalist & guitarist Dan last month about the album and how a period of change made Samoans the band they are today.
Dan: "Rescue is a huge step forward for us. We were a three piece doing math rock, then I had an accident. I got hit by a car and broke my back, had a lot of time off. I got bored of trying to be over complicated, so I embraced a simplicity and wrote something different. We wouldn't have been able to write this with your previous line up."
It was during this time off that Dan started writing their debut and pushed the boundaries of Samoans further than ever before.
"I've totally changed the style I sing in. All the time off with my back made me really reassess the approach of a band, for me it made me realise I could sort out new vocals. Writing and recording demos in my flat, I was so paranoid about other people hearing me sing I'd make sure it was really low. Some people say it reflects early Foo Fighters double tracked vocals."
Changes characterised the progression of the band as Dan explained it was more than just the sound.
"Our old drummer quit the band in the summer of 2012 literally just before we were supposed to play Reading and Leeds festival. We just couldn't even begin to imagine cancelling the spot as the opportunity, so we put a post out, and then Chris from Hold Your Horse Is helped us out temporarily and then he's ended up making a big difference in the band. Then we realised we needed to add the second guitar off the back of the new stuff."
In my blogs I tend to focus on the influences that shape new bands and Dan clearly thinks influences are something to be embraced.
"There is no point in hiding your influences when it comes to making music, the only thing you can do is to be as good if not better than the sum of all your influences which will obviously be hard. Some songs have bits of Nine Inch Nails, one is similar to Dinosaur Jr. who are one of my favourite bands. I'm always happy when people say 'oh you sound like this or like them'."
The One Hundred- Catch them at Redfest 25/07/2014, Hevy Festival 15/08/2014, Alt Fest 16/08/2014, headlining Boileroom Guildford 11/09/2014, then as support to Hacktivist throughout November.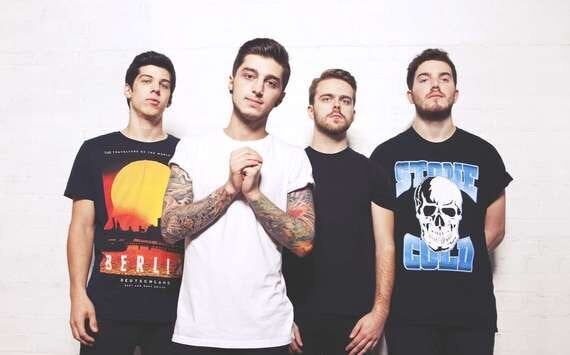 "We are the new breed, the new generation" shouts The One Hundred on their debut single 'Breed' and judging by their essentially modern, youthful and heavy sound they've honed an unmistakable genre busting character that really does define a new generation. Sonisphere marked the bands debut festival show and to say they smashed their set wouldn't really be doing the boys justice. At 11.30 in the morning they dragged a healthy crowd to the Satellite stage, full of media types and punters alike, and they went in hard despite the early hour. Tracks like Breed echo Limp Bizkit brought up on a diet of UK grime, Red Bull and Enter Shikari, yet the most current similarity is to Japanese metalcore titans Crossfaith who dropped the bands own remix of Eclipse during their Download main stage set. I found the band in a celebratory mood in the catering area of Sonisphere still visibly buzzing from their set over 4 hours and 15 interviews before.
Give me an insight in to where 'The One Hundred' sound came from?
Tim (guitar): "We've all been in bands before, we all had an idea of what we liked back then and brought it all together. The rapping thing was something we'd never done before."
Jacob (vocals): "I listen to so much Grime music for so long and I think what JME and Skepta does lyrically is brilliant, I got influenced by them and I figured I speak so much and so fast I may as well try rapping and it kind of worked. I started by copying what they do, almost like a cover realising I can get their flow and then just going with it writing my own stuff."
Inspirations to The One Hundred like Crossfaith (who the band have just been announced as support for at The Fighting Cocks on August 20th) are making big waves in the UK. It's clear that this potential for success is driving a band with big ambitions.
Jacob: "We want to go as far as we can go. If one day we could headline a festival like this it would be wicked. Set your sights high and keep going for it."
Tim: "We did a remix for Crossfaith a while back, we saw them at Download festival and they used the remix before going to Eclipse and I was like hang on I made this."
Do you feel like it's a good time to be a British band right now?
Jacob: "Definitely. There are so many really good talented bands but I think people take music a bit easy and light hearted. People now are much more diverse and open minded, even coming to these festivals you turn around and watch Chas & Dave then Slayer then Babymetal, it's great."
Your music is unmistakably in your face, what is it about aggressive music that gets you going?
Jacob: "In the old band the only way to get over the aggressive side was to scream but with the rap element you can get aggressive on that side of things in the 'spitty' style add to that a nu-metal riff in the background and it reminds you of the Limp Bizkit era."
The band's debut EP Subculture is released on September 1st through UNFD.