Whilst Glastonbury dominates the headlines and thousands of muddy revellers still try to get their heads around Metallica headlining, back towards London metal horns are emerging on the horizon. Knebworth House is hallowed turf. 40 years on from the first shows on the outskirts of London, having hosted The Rolling Stones, Pink Floyd and Led Zeppelin along the way, Knebworth this year sees the U.K's other major metal festival re-born with a massive crowd pleasing line up. Welcome back Sonisphere.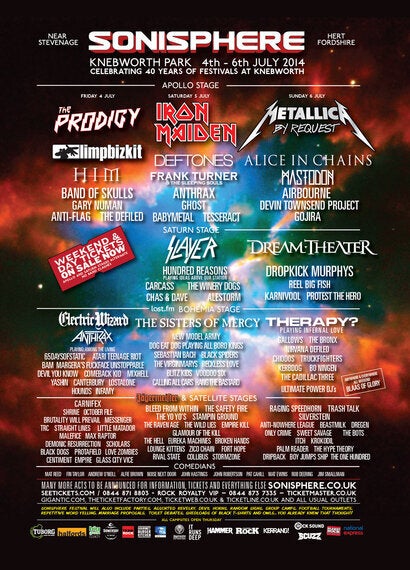 Just by looking at the stellar headliners it's clear that Sonisphere has played it safe on their return. With Britains biggest heavy metal band Iron Maiden, the much anticipated return of dance, rock crossover titans The Prodigy and Metallica doing a setlist chosen by and for the fans, at the top of the bill Sonisphere is back in a big way.
Elsewhere on the lineup the trend continues. Limp Bizkit are the epitome of festival band and will be a riot on Friday night. Deftones have continued their renaissance and become one of the most consistently impressive live acts in recent years. I'd bet on them recreating the ethereal magic they've conjured at Reading, Leeds and Download in summers past. Frank Turner and his Sleeping Souls are set to relish their early evening slot warming up for one of Frank's all time heroes Bruce Dickinson.
Mastodon will be ready to unleash their colossal new album 'Once More 'Round The Sun' bringing the riffs, beards and prog to the main stage on their much anticipated return to our shores. Gallows will make their way back to the festival scene with a new album hopefully on the horizon after the vitriol filled hate fuelled double A-side 'Chains/Wristslitter' knocked everyone for 6. Hardcore punk favourites The Bronx are also back to lay waste to the Bohemia tent while Boston's celtic punk legends Dropkick Murphys will bring their Irish festival fever to the Sunday afternoon, if you haven't seen them live before, ship yourself to the Saturn stage, grab a Guiness and get involved.
The undoubted big hitters will all pack a massive punch yet across the line up there are highlights from all corners of Sonisphere's musical palate ready to bring Knebworth to its knees. I had the chance to chat to my pick of 4 essential bands playing across the weekend. I give you: Hundred Reasons, Krokodil, 65Daysofstatic and Comeback Kid.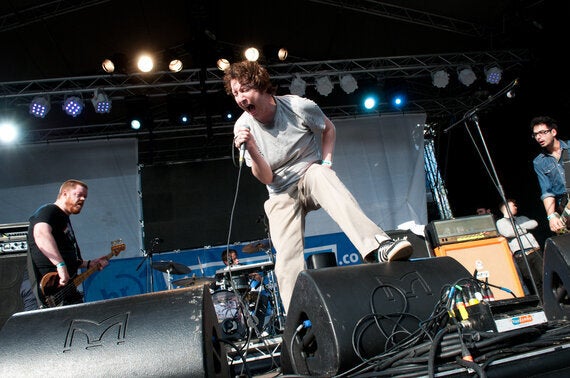 For the 10 year anniversary of their debut album 'Ideas Above Our Station' Hundred Reasons were set to play Sonisphere back in 2012. Obviously that never happened and since then, as guitarist and vocalist Larry Hibbit told me, they've had countless offers to hit the stage once more, always turned down, and it was only by a chance meeting that the band decided to perform again at Sonisphere in 2014.
"It was kind of unexpected, we didn't have any plans to do anything this summer. A chance meeting between me and Alan Day [promoter of Sonisphere], which basically involved me going 'you cancelled on me you git when are you going to make up for it' and then...he did."
The future of the band is also increasingly uncertain and whilst Larry is determined not to rule out more shows so as not to "cut off his nose" and insists there is "no grand plan", it's hard to see there will be many more opportunities to catch Hundred Reasons in the near future.
Ideas Above our Station is up there with the classic debut albums of the 21st century, bringing that era of early noughties British rock to the upper echelons of the charts and on to the mainstream Radio airwaves.
"What we've now realised is that it's a well sequenced record and works incredibly well as a set. Thinking back at the time when it came to the running order we thought really hard, it has all the singles in the right places, it lulls in the right parts, so now we're left thinking why did it take us so long to play it as a set"
It's only now after this rediscovery that it feels like the influence of Hundred Reasons and that album in particular is starting to take hold again on the U.K. music scene. Larry has now turned his hand to production, his most recent project being the debut album of Marmozets.
"It's really exciting being involved in the new breed of music at this level. I love being behind the scenes, working with bands like Marmozets who are young, so full of ideas, energy and drive like I remember being back when I was 20. There has been a swing back towards rock music being messier, less computerised with a proper edge. It's a great direction for it to be heading"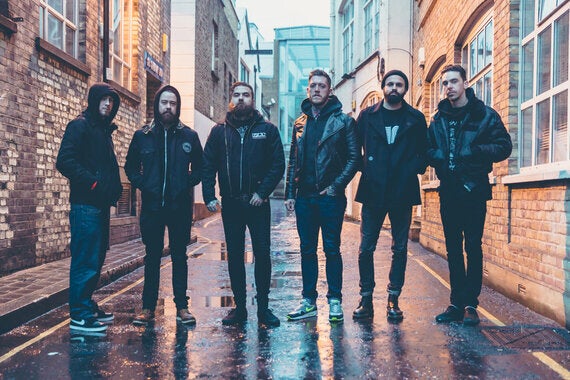 4 years ago Krokodil was nothing more than an idea. The product of a drunken conversation between Dan P. Carter and Lags Bernard while dj'ing at a club in Birmingham with their friends V-Man and James Leach. Fast forward to 2013 and they'd played their first show at Download after just one practice having already been signed to Spinefarm Records. Now, on the eve of Sonisphere, Krokodil have an album recoreded, released the crushingly heavy single Scatter and have in the process cemented their place as one of the most exciting new prospects of the festival season ahead. Featuring ex and current member of Gallows, Cry For Silence, Sikth and Hexes, a new breed this lot certainly are not, yet as I spoke to guitarist Dan P. Carter the calibre of the members previous incarnations enables this band the freedom they desire. Krokodil is the sound of 6 friends having fun, taking their music back to basics and importantly doing it for themselves.
"We don't feel any weight of expectation, having played in other bands we now have a total freedom with Krokodil. We're just a bunch of mates writing songs and playing music together, which is what it should be."
One of the distinct influences on Shatter and the album in general is Mastodon and it's no great surprise when Dan told me how he stumbled upon a particular signature tuning that you can hear on the LP.
"After we'd first had the 'lets do a band' conversation I went out to Sonipshere in Helsinki and Mastodon were playing. Whilst hanging out with V-man [guitar tech for Mastodon] who was tuning Brent's guitars, I noticed the weird tuning written on a piece of paper on the headstock of his guitar and cheekily wrote it down then wrote a load of songs in that tuning."
Don't expect the band to be touring relentlessly though. Once the album is out Dan does worry that this freedom might be compromised.
"We've all played in bands before that have reached a certain level of success. We're not worried about touring relentlessly, we don't need to tour the UK in a post office van playing every tiny venue in the country. People might give us grief but it's because we're old and we've paid our dues and put the work in"
Catch Krokodil on Sunday over on the Jagermeister stage and chances are Dan and his mates are going to be in high demand after they unleash Krokodil upon the U.K.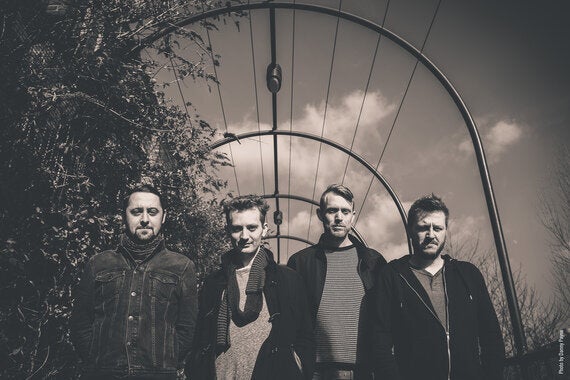 65daysofstatic are something of an anomaly on the Sonisphere line up. Playing before Anthrax and Electric Wizard, their brand of electronics tinged, instrumental 'post rock' couldn't be further away than the thrash and metal that follows them. 65DOS, however, relish the festival environment and as one of the undisputed trailblazers of the scene they'll set phasers to stun and put on an enthralling show on Friday evening. I spoke to guitarist Paul Wolinski before their return to Sonisphere to see how he feels about the pressure of playing to a curious festival crowd.
"We always feel like we're at our best live and at a festival you're always getting put in front of new people. Even if there are 65 fans there, it's always going to be about those finally getting around to checking us out as well. It's more of a challenge, a different kind of pressure to a headline set, a good pressure, nervous. No matter what festival we're playing we're always a bit out of place, we're a loud band, but not necessarily heavy."
Their set on the bohemia stage sees the band playing amongst some of massive influences in The Prodigy and Atari Teenage Riot, and it's clear that Paul and the band are keen to perform to their optimum and blow everyone away with the best that 65DOS can be.
"Rather than try and pull out any surprises the best thing we can possibly do is just be ourselves and play everything we've developed since we last played Sonisphere, we're genuinely proud of our live show."
This is the last stint in support of their epic album 'Wild Light' and as Paul told me whilst there are some genuinely intriguing projects in the works, 'live coding' that generates music in nightclubs (ask Paul!) etc., there is no guarantee when you'll next see 65DOS band grace a stage once these shows are up, so catch them while you can at Sonsiphere on friday.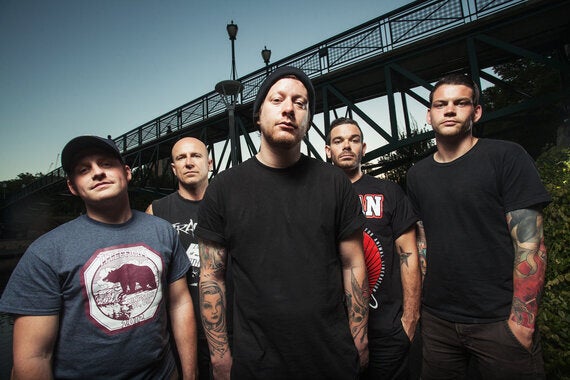 Canada's Comeback Kid can't keep themselves away from the UK right now and at Sonisphere they'll be back again to bring their no frills hardcore punk onslaught to the Bohemia stage on Friday, I spoke to lead vocalist Andrew Neufield.
"We always get kicks out of the summer festival season. I actually don't feel any pressure and I am just stoked to play to an audience that might know us or be curious. We generally just have a really good time running around big festival stages, playing with diverse bands, and doing our thing. Oh and the novelty of playing with bands like Limp Bizkit; that's a trip".
New album Die Knowing sees the band heading back to basics. Short fast and furious, I asked Andrew if the bands return to their roots had much to do with touring their popular first album ' Turn It Around' throughout last year.
"One thing that stuck out to me while playing those songs is just how fun some of the simpler material is to play live. We tried to really pull it back a little bit on the writing, shorten songs and aim to keep some more straight forward formulas in the songs and the riffs. There are already some new songs that feel like the set's standouts."
Sonishpere takes place at Knebworth next weeked 4th-6th July. Tickets are still available. Keep an eye on www.huntingfoolsmusicreview.co.uk throughout the festival weekend for day reviews.
Related