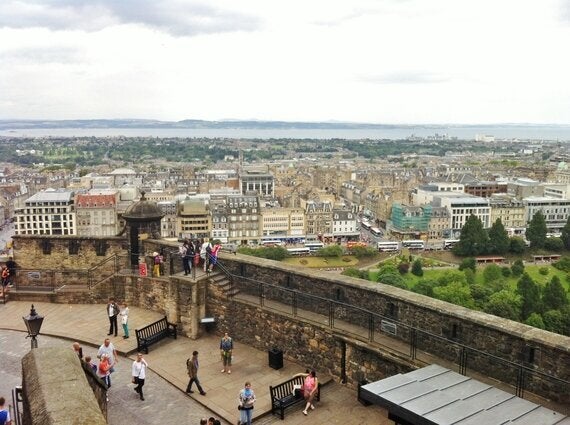 Here comes my list of things you should do (and this is just my opinion of course) while you're in Edinburgh. In no particular order, but of the same importance.
Look at the city from the high beauty that is Arthur's Seat. You don't need hiking boots/shoes but if it rains, you better have something warm and nice. I had my trainers on, and after that little hike, there were quite dirty, but still good to go.
Have a bite of and finish the haggis tower. You must have read my previous post on the Whiski Bar and Restaurant, so you'll know what I'm talking about. If not, click here.
Feast on a hearty Cullen skink. It is a Scottish soup and no, it is not made out of the Cullens. There is a town called Cullen in Scotland, hence the name, but I'm sure The Twilight fans would love to have the soup just for the name's sake. It's a thick cream soup with fish, mostly smoked haddock, but the authentic would have finnan haddie (10 points to Gryffindor to anyone who knows what it is). And a good place to try it is at the Royal Mile (obviously) in the Royal McGregor, where you'll find the soup in the Starters section.
Have a full Scottish breakfast. You can also go to the Royal McGregor for this one.
See the Scotland parliament building - for the architecture lovers. Or when you're tired of the medieval buildings or the inside of Edinburgh Castle which is not on this list for this specific reason. According to several public polls, Scotland Parliament is one of the buildings that people of the UK want to see demolished. You'll understand when you see it. Of course, you can google it, but have a real look for yourself, standing right beside it.
Do a ghost tour of the city. Just for the sake of it, really.
Go see where Jo Rowling was writing parts of Harry Potter books. There is a cafe called The Elephant House and is located in 21 George IV Bridge (EH1 1EN for those driving). And here's a website if you wanna have a look before you go. It has got some nice teas, coffees and bagels, if you're craving some of those, but I have never understood bagels, if you ask me. Just don't ask me. I don't get bagels.
Say hi and woof to Greyfriars Bobby and his statue at the corner of Candlemaker Row and George IV Bridge, which is about 5-10 steps away from The Elephant House). The Skye Terrier Bobby is the Scottish Hachiko, if you prefer. If you don't, read up on the loyal pup in the city of Edinburgh.
Appreciate the New and Old town. Just do. When I hear Edinburgh, I think "layers". If you see the city the right way, you'll see the layers, that are streets of different levels, and that's mostly the old town of Edinburgh, Royal Mile, Calton Hill and beyond. Walk the dark alleys, climb the tall steps, peek into the closed off gardens, look out to Arthur's Seat and breathe in Edinburgh.
Admire the Balmoral hotel. The Balmoral in Gaelic means "majestic dwelling". The Queen Mother was a regular here for lunch, as well as Elizabeth Tailor, Paul McCartney, Sophia Lauren and JK Rowling who as the story goes finished "Harry Potter and the Deathly Hallows" here in room 552.
Sip on some good whiskey. Or go on a tour to a whiskey factory. I went to one in Northern Ireland. I tried Talisker Storm in Edinburgh and it felt stormy.
Buy a souvenir. It could be: celtic jewellery, something in Scottish tartan, but it might cost you, as well as a beautiful silver quaich, that I was eyeing up, but ended up not buying. #skint Some folks on TripAdvisor suggest you buy a spurtle, especially if you love porridge. Or it could simply be a fridge magnet with a disappearing Nessie on it.
Enjoy the Princes gardens. Because they're beautiful.
Smell the Edinburgh barley, which is very important, at least for me. The first time I went to Edinburgh, this strange smell followed us everywhere we went in the city. I finally decided to ask our tour guide about it, and she said it was probably the barley, that they make beer with, but the tour guide was not 100% sure, so it's still sort of mystery to me, however, I do think that it was in fact barley. Now I associate this smell with the city of Edinburgh.
Try the hog roast if it's winter. Go to the Christmas market, which is usually located right behind the Scott Monument in Princes Street, of course. Get the hog roast that'll make you weep for more and some mulled wine and enjoy it in the crispy cold air, or a very humid rainy one.
Drink Irn-Bru if it's summer, but make it a diet one, because you don't want to face the number of calories in the "full-fat" one. It's a legendary Scottish fizzy drink, so you simply must have it.
Munch on a deep-fried Mars chocolate bar, which I haven't done and deeply regret it. They say it's not true that it's a Scottish delicacy or whatever, but it really is. It isn't a delicacy per se, but it's quirk that'll make you say "I tried the deep-fried Mars bar". No one will believe you, and those who will, will think you crazy, because...well.. it's not kale, right? But carpe diem, am I right?
Listen to the bagpipes player, they're usually located near the Waverley Station, near Waverley Bridge, what are the odds, right? Why? Because why not. You can listen to them on Westminster Bridge or maybe even in your home town, if it's not London or Edinburgh, for they are extremely popular, but going here and not appreciating the sounds of the traditional Scottish musical instrument is really a crime. A crime of travel.
Stay in a pub until closing time while drinking, like the Scots do, or like sometimes I did, when I lived in London, and no, I did not do that every day, thank you very much. Maybe on Wednesdays every fortnight.
Go to a pub and become friends with the band vocalist and make him sing "Back in USSR" for you. Or maybe only do that if you were born in Russia like me, and happen to be there on the Eve of Christmas Eve. It was a fun night, I must say, The pub was called Hebrides and the band was called Acoustic David, comprised of a whole one person, called Dave, a lovely man.
* Sing yourself in the same pub, if you're brave enough * this one is optional, okay? Or it could be something other than a pub, maybe a crowded street of Edinburgh during the Edinburgh Fringe, because you need a reason to sing in the street, or actually ..., no, you don't.
Buy Scottish shortbread - the one you can buy at any airport, but who cares, you will have bought it in Edinburgh, or Scotland, you just have to because it's a rite of passage.
Wake up early in the morning and enjoy the Royal mile without tourists in the glorious morning sunshine or a gloomy rain, whichever, Edinburgh is fabulous in any weather.
*The article first appeared here.
This post has been published on The Huffington Post's blogging platform. The views and opinions expressed in this blog are those of the author and should not be taken as those of The Huffington Post. The Huffington Post does not allow bloggers to acquire products, access or accommodation for review in the site's name.