Meron Semedar is a One Young World Ambassador from Eritrea who now lives and works in the United States. He regularly writes for One Young World and the Huffington Post about the issues affecting migrant communities, and the circumstances which force them to flee their home countries.
In one tragic week, an estimated 1,200 people are believed to have drowned in the Mediterranean Sea. It started with a boat carrying around 550 West Africans that sank during the Easter period - only 144 people survived the crossing. Days later, another boat carrying 950 people, many of them women and children, sank with only 28 survivors making it to shore. No women or children survived. Around 350 of the victims are believed to be from Eritrea.
Also in the same week, 15 migrants were beheaded and another 15 were shot dead by so-called 'Islamic State' militants in Libya. These people were waiting to cross the sea from Libya to Italy. The majority were identified as Ethiopian nationals. An unidentified source says that three of the victims were Eritreans. Migrants from Holot detention centre in Israel claim that some of those beheaded had been claiming asylum in Israel. The Israeli government continue to deny them refugee status, instead, labelling them as economic migrants.
Vigils have been held in many parts of the world by members of the Ethiopian and Eritrean diaspora, with major protests in Addis Ababa (the capital of Ethiopia) and in Washington DC.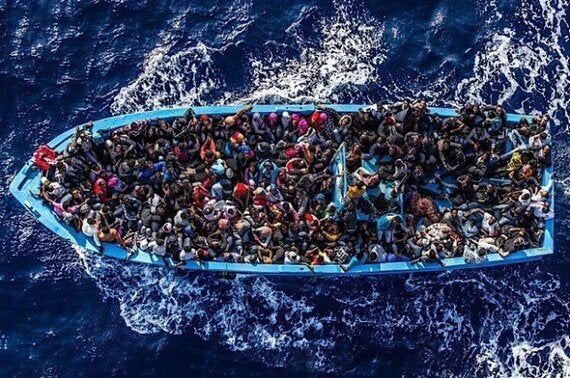 Image credit: Meron Semedar
Unfortunately, this is not the first time I have written about the deaths of migrants in the Mediterranean. In 2013, I wrote an article for the Huffington Post entitled 'The Lampedusa Tragedy: Why Eritreans Risk Everything'. The situation that led me to write this piece has not changed:
"The deaths off the coast of Lampedusa will not be the last tragedy to hit Eritrean migrants and migrants from other countries. Right now there are thousands of young men, women and children awaiting their fate in Sudan, Libya, Egypt, Ethiopia, and Israel. Due to limited humanitarian assistance and their desperate need for a safe home, they will try what Lampedusa victims have tried and the consequence is anybody's guess. We must take responsibility to address these circumstances and we hope the international community will help us in this era of desperation as well."
Some of those who perished at sea were my friends who I used to play with, some I used to live with, some were my neighbours, some went to the same school with me. In many ways, it could have been me. I can only imagine their deaths and ask myself why it had to happen.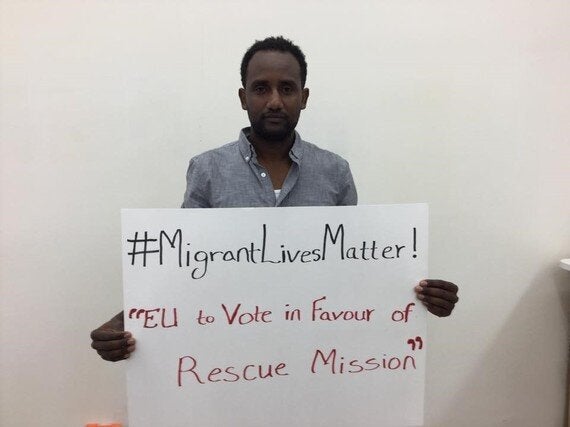 Image credit: The Guardian
Why do people risk their lives to get to Europe?
Syrians and Eritreans are making the Mediterranean crossing in huge numbers. The civil war in Syria displaced nearly 20 million people with an estimated 210,000 deaths in 4 years. Syrians will continue to migrate in big numbers until a lasting solution is achieved.
As for Eritreans, we migrate mainly because of the oppressive regime which has ruled the country for the last 24 years without any constitution. Endless conscription which has turned into systematic slavery also plays a major role in every Eritrean's life. Everyone in Eritrea knows their fate. In the last 15 years nearly 500,000 young people migrated from Eritrea to the Sudan or Ethiopia. One Eritrean migrant interviewed by a British newspaper said that 'If I die at sea, at least I won't be tortured.'
With a population of 5 million, Eritrea has one of the highest migrant ratios in the world. The regime continues to blame the West and Ethiopia for the exodus. The on-going territorial dispute with Ethiopia been the state's justification for enslaving the people. Clearly, every Eritrean wants the territorial dispute to be resolved and for Ethiopia to vacate occupied territory. However the migration issue is a domestic one and the government needs to be reformed and respect every individual's right to freedom.
Many of the other migrants from Mali, Nigeria, Gambia, Somalia and Ethiopia are also dissatisfied with governments in their country. This is mostly to do with oppression and torture of individuals. Also almost all those countries are ranked the poorest nations with daily income of individuals below the basic income. Many African countries have been led by one president since independence. Fewer than 15 countries are heading towards democracy. Leaders do not want to introduce reform or empower the youth to become the next leaders, which has led to uprising in many African countries.
It is also worth mentioning the interference of Western powers in some countries' domestic issues has led to civil war, destabilisation and lack of effective governance, like the case of Syria and Libya.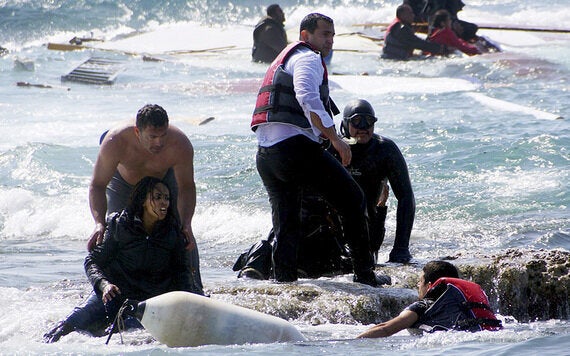 Image source: The Guardian
How can we solve the problem?
1. Strengthening presence at sea.
2. Fighting traffickers in accordance with international law.
3. Preventing the flow of illegal migrants.
The points outlined by the EU are likely to reduce the number of migrants, but only if they are acted upon urgently, and even then, they appear to be a short-term fix. The migrant issue is very complex and needs to involve many groups in order to reduce the number of deaths at sea; the countries producing migrants, the African Union, the European Union and the UN included.
EU leaders, including British Prime Minister David Cameron, need to work on addressing the root cause and find lasting solutions to why those men, women and children are forced to leave their countries. Also, they should hold African leaders to account for the push factors that force young people to leave their country in desperate need of basic human rights, freedom and opportunities.
The EU should also promote African youth empowerment programmes by providing higher education so that young people can become agents of change in their respective countries, as is the case with the Mandela-Washington Fellowship.
If the EU decided to give aid to those countries producing migrants, it needs to do so in an accountable manner, making sure the aid is used for what it is intended for. The United Kingdom, Sweden, Norway, Luxembourg, Denmark and the United Arab Emirates countries set aside at least 0.7% of their Gross National Product to fulfill their commitment to the Millennium Development Goals. The 0.7% target has been recognized as a vital step towards promoting international and national security and stability. This aid money must be structured in a way that gets to the root of the problem, rather than just patching up the symptoms.
The UN has to make sure that EU adheres to international laws when dealing with migrants. The United Nations refugee agency welcomed the European Union's mobilization of resources in response to the ongoing migrant crisis in the Mediterranean, while also urging increased efforts aimed at saving lives and integrating asylum seekers in accordance with human rights. There may be up to 1 million migrants trying to get to Europe, and even the most open countries (Germany and Sweden) are currently only prepared to accept tens of thousands of migrants.
The African Union needs to step up in taking the matter seriously and urging member states to develop youth empowerment and human rights policies. One of the main reasons that young people are fleeing these countries is not only because the current situation is so dire, but because they see no future for themselves there. Young people are ambitious. They want to better themselves through employment and education - but these opportunities do not exist in their home countries.
If these initiatives are enacted, we will see fewer people drown in the Mediterranean in search of a better life.
Related