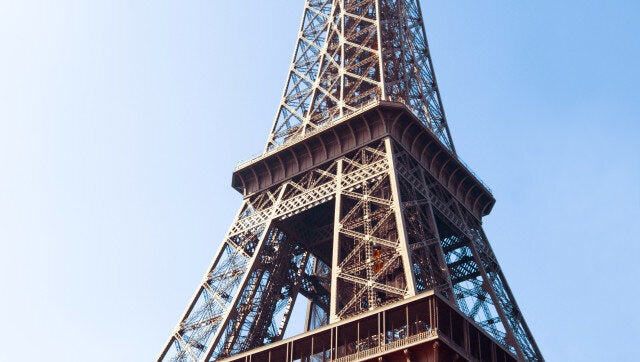 Bonjour! I touched down on French land at around two o'clock this afternoon after a grueling Eurostar journey sitting next to a toddler (don't be fooled by his cute blonde hair and blue eyes) who spent the entire journey pulling any girls on site hair, crying and finally throwing a tantrum which knocked my can of sprite all over my dress!! Luckily I wore a navy dress so there was no visible mark... But I had to sit on the train for an hour in wet clothing. I was not in the slightest bit happy. I only had around six hours sleep that evening so my trip was slightly perked by a super greasy cheese burger I had on the train for lunch.
The first place I went to after getting off the train was le Sacré-Cœur in Paris which is the most exquisite church I have ever visited! It was of course inundated with people especially what with it being Easter but I still managed to squeeze myself through the tourists to get an aerial view of Paris. On our way up the large hill through back roads to the church we passed gates with locks on them. My uncle explained that couples put their names on locks and put them onto the gate as a symbol of the strength of their love!
Not long after visiting le sacre-coeur, I went into the most amazing shop renowned for it's chocolate in which a chocolate eiffle tower and ship were displayed! They looked immense!! Oh how I would have loved to eat it there and then. On my way back to the house I visited the bar from a film I love to bits called 'Amelie' whiwh looks exactly like how it does in the film and a little boutique where I bought a little silk dress in torqoise. Much to my pleasure I realized the sizes in France are very different to in England, I usually wear a size 6 or 8 depending on the shop... Here I'm a size 0- yes, ZERO!!! I love you France!!
By day two my ears are now attuned to the beautiful indigenous language and I can have a rich conversation sans penser! It's Sunday so first we went to the market to buy some fresh fruits and fish for lunch. I hate figs but my mum adores them so I bought her a fig jam that she can have for breakfast as it was made with fresh, organic ingredients.
I then went with my uncle and auntie to do a bit of tourism where I visited a beautiful castle and then went to a village famous for a handful of artists who lived there. It's for this reason that there are many artistic shops and art galleries here. Never in my life have I seen so much art on one street! I bought a very cute shirt in this village which is so me because I am a cat-lover and this shirt is in black with a print of many different cat faces!
The next few days past faster than a Formula 1 racing car... All I did was shop and eat from the variety of new plates that were being served to me introducing me to a new world of French cuisine. The lingerie in France is almost as amazing as it's food so I stacked up on a large supply in hope that I don't have to buy any new underwear from London this year... I look at the array of dishes presented on the dining table and tuck in. I start with the olives and finish with cake... Having tasters of every flavour on offer. Oh how I love to eat!
My week was ended perfectly with a visit to Disneyland Paris! I regressed into a child-like mentality and attitude as I met up with my childhood heroes and lived in the dream world of Disney for the day. Due to it being it's 20th anniversary the parades where extra special! I was just disappointed at myself for forgetting to bring my minnie mouse ears... Apart from that the day passed amazingly as I enjoyed the thrill of the rides and with fast passes I didn't even have to wait in a long queue! My favourite ride would have to be either 'space mountain' or 'rock n roller coaster' they were both in the dark with bright lights of different colours emerging from around me as I span on the fast ride...
Although it was sad to leave I was happy to be heading home to familiar faces.