OutdoorBuzz is always keen to find out about new challenges being undertaken by inspirational men and women taking part in outdoor adventure sports.
One such woman is professional climber Paige Claassen - who is changing the face of her sport with her exceptional global rock climbing tour called Lead Now.
She is traveling to a diverse range of countries to attempt a new rock climbing challenge in each and raise $120,000 for different non-profit organisations that support women and children.
Here we share with readers the latest on her progress.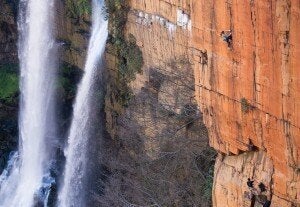 How did you get into climbing at such a young age?
When I was 9, my family moved to Estes Park Colorado. I was incredibly shy and out of place and my parents were trying to find a place for me. After trying a few other sports that I was embarrassingly bad at, my parents took me to the climbing gym and it just clicked. That became my safe place, and my family remained a huge part of my life as a climber.
When did you realize you could make it your profession?
As an ambassador for different brands, I'm able to travel and climb and learn about the world, which at this point in my life is an incredible opportunity. Climbing is just something that I love and want to pursue as far as I can before directing my focus elsewhere.
What has been your biggest climbing achievement so far?
I think my biggest accomplishment so far is this trip. It took an immense amount of planning, between coordinating with non-profits, sorting out travel logistics. It's been a unique opportunity for me to use my marketing degree; Lead Now is almost like an internship, except I designed it and it's really fun!
Tell us about Lead Now Tour and how you came up with the idea?
Jon Glassberg (film producer and owner of Louder than 11 )and I designed Lead Now. I think a trip of this sort with consecutive destinations and a philanthropic side is unique in the climbing world. I graduated from university in December of 2012 and knew that I wanted to push myself as a climber before going back to school or starting a career. It was also important to me that I not only pursue my own dreams but also try to help make others' dreams possible. Lead Now was the perfect way to learn about the world, climb, and help others, even if it's in a small way.
How have you encouraged people in other countries to get involved?
Our primary goal is to spread awareness for these non-profits and hopefully raise a bunch of money to support the people they help. Most of the people we meet along the road are very interested in supporting or sharing our fundraiser and Lead Now as a concept.
How did you decide where the money should go?
We worked with CrowdRise, a website that allows anyone with Internet to either operate or donate to an online fundraiser. We chose organizations that were supporting women and children in the countries we're visiting. We recently added two fundraisers to support the flood relief efforts in Colorado, where Jon and I are from. We really want to support our community during this time, even if it can't be hands on.
How do you use climbing as a way of inspiring others?
Climbing can be an intimidating activity and requires a serious amount of dedication and effort to progress. Realizing that you can climb harder than you previously thought is incredibly empowering. Even if you aren't a climber, you can relate to the concept of overcoming obstacles and "reaching the top of a climb". Through climbing, I've learned many incredible life lessons about persistence, dedication, and hard work . Climbing just acts as a metaphor for these messages.
Any inspiring stories come out of your work so far?
In terms of climbing, I think the most inspiring thing for me is to climb with other women and realize what we can accomplish when we're cheering one another on. So many women have said "wow, I usually only climb with men, but when there's another woman the energy is so much different and I feel extra motivated". I get the same feeling, so it's a two way street.
We've also been in some extremely heart breaking scenarios when learning about our non-profit partners. We visited an elementary school in South Africa and learned that 50% of the students there are orphans of HIV/AIDS, and many only eat five meals a week - those they receive at school. I met one little girl named Angel who held my hand throughout the day and at the end of the day asked, "When are you coming back? Can you help me expand my school's library?". I would love to find a way to help Angel. It's humbling that she is raised by older siblings and struggles to find food on the weekends, yet she's focused on her education.
What has been your favorite destination?
South Africa left a huge imprint on my heart. We were able to work really closely with two non-profit partners, and learn first hand about their work. Those were life-changing days. There's a huge disparity between the first and third world in South Africa, so the room for improvement is really obvious and exciting - there's so much to be done. The local climbers we met were incredible people that I hope to remain friends with throughout life, but that holds true in every country so far. All around the world, people are amazing.