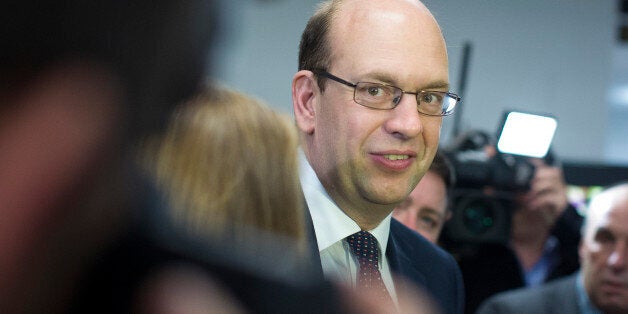 Try to remember the name Mark Reckless.
Not for any profound political reason, but because in years to come those words will be the answer to the pub quiz question: "Who was the second Tory to defect to Ukip in 2014?"
That's the only reason to remember him - the only reason to even keep those two words in your brain.
After all, why else take the time to remember just another politician willing to go back on their principles so they can stay in public office?
Reckless would, of course, have you believe he is different, but he is merely another graduate from the Douglas Carswell School of Politics, where pupils live by the mantra espoused by Marx (Groucho): "Those are my principles, and if you don't like them... well, I have others."
He has today followed Carswell out of the party that he followed him into in 2014.
And in the same way as Carswell won't be triggering a by-election in his seat in Clacton, Reckless won't be standing down from the Welsh Assembly, despite being elected on a list system which means he literally only got his seat because he was in Ukip.
It's reassuring that as well as Carswell's euroscepticism, he also shares his lack of integrity.
Both men stood on Ukip tickets to get elected, both men have now left the party, both men are showing disdain for the electorate.
Oh how Reckless and Carswell were lauded for their honour and decency when they triggered by-elections when they defected from the Tories in 2014.
When Reckless announced his defection to the Tories in September 2014, he used his speech to Ukip's conference to lambast what was wrong with modern politics.
"People feel ignored, taken for granted," he said.
When explaining why he felt the need to call a by-election, Reckless said his constituents are "my boss, and, if I want to represent them under different colours, I hope in a party closer to their values, then I should ask their permission."
Okay, Mark, on you go. After all, you are now going to vote with the Conservatives in the Welsh Assembly, and last time I checked they are a different party. You need to stay true to your beliefs and ask the permission of the electorate.
But he won't. Of course he won't. The rules don't apply to people like Carswell and Reckless - even the rules they make up themselves.
They talk of honour and reforming politics, but only stick to those beliefs when it is convenient for them, when it forwards their own agendas, when it allows a small expansion to their dull Wikipedia entries.
What does this mean for Ukip? As with Reckless' defection in 2014, his resignation will not change the course of history.
David Cameron had already promised a referendum when Carswell and Reckless jumped ship, so his move did not bring that about.
It was Carswell who kept his seat in 2015, and therefore was responsible for "detoxifying" Ukip and ensuring Vote Leave got designation when the referendum battle commenced.
What did Reckless do? Having lost his Commons seat in Kent, he suddenly discovered an interest in Welsh politics and got elected to the Assembly in 2016.
Carswell also employed him as a researcher in the Commons - another example of the political elite really going above and beyond to bring in people from outside the establishment ranks.
Reckless' resignation will leave Ukip down an Assembly Member in Cardiff. The party won seven seats in last year's election, but former group leader Nathan Gill now sits as an independent.
His resignation will raise the same questions about Ukip's future as Carswell's did a few weeks ago, but no one in the party will be truly mourning his loss.
It highlights, rather than creates, the fact that the 4 May local elections are crucial for Ukip, as a loss of representation at council level will start to eat into the party's infrastructure.
Ukip leader Paul Nuttall will face a fight after those elections to stave off yet another takeover bid from former donor Arron Banks, who will point to the disappointing results as evidence the party is going in the wrong direction.
However, if Banks does return to Ukip and is handed a prominent position, that will trigger more walkouts from the party from those opposed to his controversial and confrontational style of politics.
Reckless - the pound-shop Douglas Carswell - will be forgotten.
Owen Bennett is deputy political editor of The Huffington Post UK. His latest book, The Brexit Club: The Inside Story of the Leave Campaign's Shock Victory, is available now