If you have been reading my blog series on innovation, you should have naturally come to the conclusion that for innovation to happen, change needs to occur. However, sudden change can be upsetting, unsettling and even detrimental. It is usual that we go through a period of transition first, from what is now, to what could be.
We all go through periods of personal transition by the very nature of growing up. Some of these transitions are not of our choosing- let's face it what person in their right mind would actually CHOOSE the agonies of adolescence?
So what is personal transition and why am I writing about it?
The process or a period of changing from one state or condition to another
Why am I writing about it? Because I am currently going through a period of personal transition; one of my own choosing. Previously I was forced into a transition from successful financier, to victim, to survivor, to campaigner. I chose to then be a public speaker but now I choose a different approach, a change of message.
Why do I feel the need to transition?
It is all very well plodding on with the same story, describing what the crash felt like, the injuries I suffered, how I recovered, how I went on to campaign but if I leave my story at this I am going to become outdated. Also, audiences may connect and be uplifted by my tale immediately afterwards but that is not going to last long and will be forgotten in time. How can I be relevant to them and their lives?
Most of us feel the need to change when our lives begin to feel like that favourite pair of jeans; a bit tattered but they fit nicely and go with everything until one day you look in the mirror...and you realise that you look frumpy, old fashioned, as if you have stopped bothering.
A comfortable life maybe what you aspire to, but a boring one? A life defined by what you were, not what you are?
Personal transition can be painful and you may resist
There is a fabulous diagram by John Fisher originally presented at the Tenth International Personal Construct Congress, Berlin, 1999, which is an analysis of how individuals deal with personal change.
Here is the 2012 updated version
Image source: http://www.businessballs.com/freepdfmaterials/fisher-transition-curve-2012bb.pdf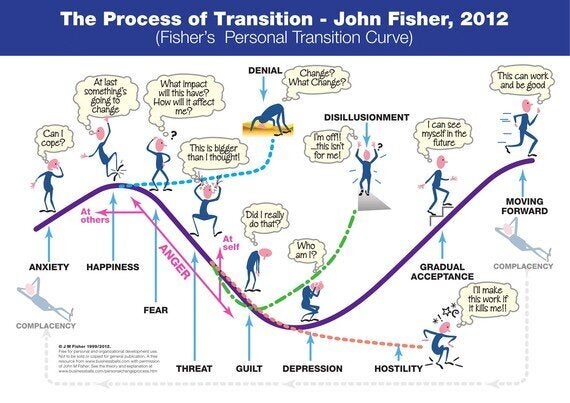 These stages of transition occur even when you have chosen to change! However, you can make it easier on yourself. If you have been thinking about a more innovative approach to your life - write down your ideas, it helps to crystallize them.
Tips when facing a period of personal transition
Brainstorm where you are now and why it is leaving you dissatisfied - list the cons of your current situation and the pros.
Identify the area you are most fearful about losing - Why is that so scary?
Identify the potential directions you could take
Identify the MOST compelling reason to change- your most appealing goal
Select say, your top 10 changes and write them down somewhere you can see them- I have mine written on a whiteboard in my office.
Start at the end...this may seem counter-intuitive, but you need to know where you want to finish before you can start to plan. Where do you want to be in 5 years, 3 years, 1 year?
Look critically at your list of changes and rank them in order of impact and difficulty.
Select one objective and decide on a timeframe
Focus only on that change...others will naturally follow but try not to get distracted by the other potential changes you could make.
Check in regularly on your progress, your feelings about it and accept there will be frustrations.
Above all, don't give up. Personal transitions are rarely smooth and you may experience setbacks. Some plans may have to be shelved, perhaps temporarily, if they seem to be going in the wrong direction. This is not a process of totally leaving your past behind. In my case, I am known for the train crash and the plastic mask; but these do not define me, I am so much more. No, the experiences I went through will never leave me and they shape my responses but I am not stuck in that moment.
The first stage of my transition is complete; I am able to offer more than a story of a crash and a challenge and so far it is being well received. This is, however, just the start of my own personal transition, I have more goals to achieve, more changes to make.
How this process applies in business I will be covering in my upcoming blogs, and sharing more of my own personal transition and lessons learned from it. Hop on over to my website if you would like to read more...and I wish you well in whatever personal transition you are going through.
------------------------------------------------------------------------------------------------------------------------------------
To book Pam call 07768 120949 or email info@pamwarren.co.uk.
Pam's book 'From Behind the Mask' tells the inspiring true story of Pam's experience before, during and since the Paddington train crash. Get your author signed hardback copy or download the eBook now from Pam's website: www.pamwarren.co.uk.