It may seem counter-intuitive, but most of us don't walk correctly. It's not our fault, and it's not our parent's fault. Unless your dad is someone like Olympic gymnast Louis Smith or your mum is someone like Olympic heptathlete Jessica Ennis, then you're probably not applying scientific principles to your day-to-day walking.
From slouching our shoulders to shuffling our feet, we probably look at least 10 years older and one inch shorter with the wrong walking technique and posture.
slow twitch muscles - best for endurance activities like marathons
fast twitch muscles - best for sprints, but get tired quickly.
Our muscles are made of both fibres - exercise should be engaging both types. While posture muscles are slow twitch, sprinting muscles are fast twitch.
Who would have thought that walking uses both types of muscle fibres? Forget the sluggish way you've been walking so far: just a few minor tweaks to your technique could potentially not only improve posture, but also help you burn calories.
There's walking and walking: forget about the leisurely walks you've been having so far. There's such a thing as a technique walk and a pace walk.
Do you know the difference? I discovered it during a workshop and follow up online course with walking guru and sports scientist Joanna Hall, Creator and Founder of 'Walkactive'.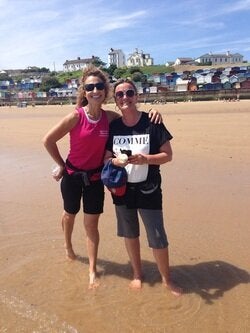 Hall explained that by simply improving our walking technique we can gain a number of health and fitness benefits.
To achieve them, we need to master the 'Walkactive' technique first and then apply a "dimmer switch" to calibrate the intensity of our walking pace to adapt it to our day to day activities.
Why do We Need to Learn Walking again?
I asked the question to Joanna Hall, who explained that about 8 years ago she had invasive abdominal surgery while pregnant and was concerned about how much her posture might be affected and whether she was setting herself up for long-term back pain. Her sports science background helped her achieve a personal healthy breakthrough during that time.
She started experiencing back pain after a lifetime of being fit, healthy and pain-free. She had to find a new way of antenatal exercising that did not put strain on the spine. She developed a new walking technique to improve her own posture and prevent pain and injury. She applied her knowledge to walking, looking at how the body should be moving and how to achieve a good mind-body balance. Walking should look effortless and rhythmical - this can only be possible if the muscles are elastic (not tense or shortened) and the posture is correct.
Athletes and professional sportspeople have coaches and trainers to improve their game and technique; by the same token, Joanna became her own coach and perfected her own walking technique so she could teach it to others after enjoying the internal and external health benefits first hand.
An effective walking technique that uses muscles in the body efficiently (both slow and fast twitch fibres) and which requires no more than 30-45 minutes a day is both sustainable and achievable while also benefiting your body and general well-being.
We all know that simple anecdotal evidence is not enough to prove a claim; therefore, Hall has partnered with Dr. Darren James of the Sport & Exercise Science and Nutrition Research Centre (SESNRC), part of the Department of Applied Sciences, and Mr. Will Hawkes of the Academy of Sport at London South Bank University (LSBU) to test the effects of the Walkactive technique on the body and on fitness levels.
After a month-long study with 33 self-reported sedentary adults it was reported that using the 'Walkactive' system resulted in a more efficient way of walking but, most importantly, it contributed to:
a significant weight loss
a reduction in levels of fat beneath the skin's surface
an increase in walking speed
a potential improvement in posture and skeletal alignment
Most importantly, many participants had a reduction in their cholesterol levels, some as high as 27% without any dietary intervention.
Joanna's Tips for Making the Most from Walking
'Walkactive' is a walking technique that contributes to healthier physiological changes in the body, namely:
functional
postural
cosmetic
Improving the way we use our feet, legs, core muscles and arms contributes to better performing muscles and joints, therefore preventing pain and injuries.
Improving your posture can help prevent back pain and even make you look taller and slimmer.
The main cosmetic improvement from walking is a tauter frame and related inch loss.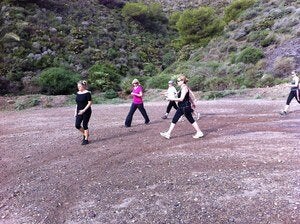 walk 'Walkactive' every day
practice your 'Walkactive' technique walks using the basic technique and ensuring you have active feet and a strong core
do at least 2-3 pace walks a week using the basic technique plus accelerators to achieve both a cardiovascular benefit and inch loss
create consistency - if you prefer to walk in the morning, stick to that routine (bodies love that)
set targets, both in terms of number of steps per day and pace challenges
you can split your practice walks into 10-15 minutes chunks (morning, lunchtime and evening) to make up the NHS recommended 30 minute exercise guidelines to keep healthy
Template of Failure vs Template of Success - Joanna Hall's Concept in a Nutshell
What you say may be different from what you do and what you think can be altogether different from what you say and what you do. In other words, if you have a negative attitude you may not be able to enjoy the full benefits of an exercise regime.
To build a positive environment and create a template for success, Hall suggests that to regain control over your body and your mental attitude, you should establish a new daily walking routine using the correct and functional technique, epitomised by 'Walkactive'.
To continue on the success journey, set yourself weekly challenges: walk longer distances, do more pace walks, increase the number of steps you walk every day.
I don't know about you but I love walking every day - it helps me with my thinking, planning and meditating (I write most of my articles in my head during my daily walks). I was already walking every day before joining the 'Walkactive' course, but I realised that applying the 'Walkactive' technique turbo-charged both my fitness levels and my inch loss.
After practising the technique for several weeks I can vouch for the effectiveness of 'Walkactive': in the first four weeks since starting the 'Walkactive' programme I had lost 3 cm from my waist and 4 cm from my hips. If I can do it, you can do it too. Of course, speak to your doctor before starting a new exercise programme.
Joanna Hall comments: "I am passionate about giving every individual the opportunity to improve their general health and wellbeing through walking. 'Walkactive' applies to every age, shape or size and is very easy to implement. The key is to change an individual's mind-set over the long term as to how they operate their walking technique. The 'Walkactive' system is also a positive response to the Department of Health's recent directives to encourage people to walk more regularly. They advise that individuals should walk around 30 minutes on a daily basis, but unless the walking technique is productive, it will make little difference to long-term health, fitness and posture. Because 'Walkactive' is about movement with meaning, it can have a life-long benefit for everyone who adopts it."
About Joanna Hall and Walkactive
Joanna Hall teaches 'Walkactive' at one-day workshops and seminars, '28 Days to Walkactive Success' online programmes, audio coaching download sessions and walking training camps (UK and Europe).