The popularity of the show Downtown Abbey reignited the interest in English home design ideas. A typical British abode feels cozy, warm and snug. Note that even though the emphasis is on personalising your own home and achieving comfort, there are specific aesthetics that are necessary to achieve a British accent on your home. If you are planning a home improvement soon, here are a few elements to consider in order to achieve the typical English look.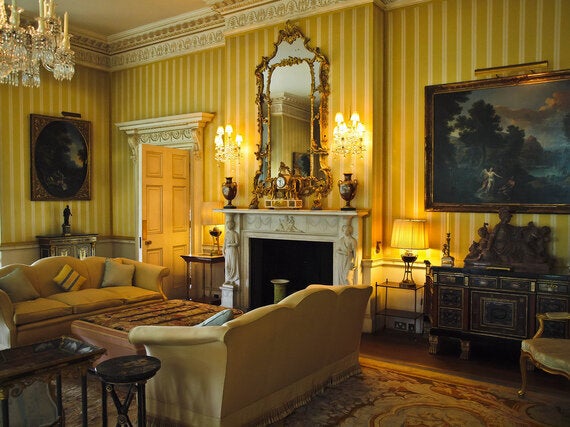 Commonly known as toile, Toile de Jouy originated from Ireland around 18th century and soon became popular in Britain and France. Toile is also common during the early days of American colonisation. It has been a vintage home design marks of English houses. Typically, toile wallpaper consists of white or off-white background with repeated patterns which are usually complex. The patterns are usually pastoral in theme such as a family on a picnic or flower arrangement. Black, red and blue toile papers are most common, but green, brown, and magenta are available as well. Since toile wallpapers are very detailed in nature, make sure that you have a design in mind before picking a wallpaper design. It is easy to have a room appear clunky and "busy" when toile wallpaper is paired with furniture or contemporary design. Survey wallpaper designs when shopping and take pictures. Consider how you want the room to look and the furniture that will go with it. It is better if you can find the same patterns on furniture as well. However, complementing the colour of the toile wallpaper would help in making the room feel comfortable.
If you are going for a more feminine style and are looking for an easier way to design your room, then use floral chintz fabric. Traditionally, chintz was a calico fabric that was either painted, stained, or woodblock painted from India. It later became popular to Europeans for its exotic aesthetics and became a staple in every British home decor. Chintz fabrics are typically found in furniture, draperies, and wallpaper, making it easy to coordinate the style of a room. Do not overdo the use of one pattern in a room as it can feel crowded instead of relaxing. Also, do not use more than two patterns, especially of two or more different colours.
A very traditional, yet familiar element in English home style is the chesterfield sofa. Popular among gentlemen of the elite class in the 1900's, it became the main centrepiece of any room which are typically used for gathering and socialising. Chesterfield sofas are made in leader with button upholstery. It is commonly available in antique shops. Tufted sofas in neutral or block colours can be substituted for a Chesterfield sofa, especially if leather will clash with the room design. Materials used in a tufted sofa can range from velvet to leather. Consider how it will look in the room before purchasing one.
If the room you are planning to remodel and design is for personal use only, then a Queen Anne chair can be substituted for a Chesterfield or a tufted sofa. Feel like a Queen with this remarkable fixture in UK. Characterised by curved designs and S-curved cabriole legs, Queen Anne chair is perfect for rooms with toile or chintz. Stylish and functional, it can be paired with any Chippendale style side table to serve as a reading area. Again, consider block colours or if, available, patterns that complement the overall room design.
You might think that with all the details from the chintz wallpaper or the Chippendale style furniture that adding fringes or tassels might be over the top. Actually, it depends on where and what you add. Fringes come in different varieties. Traditionally, one with simple designs is used to trim furniture, drapes, and even lamps. This is to hide the hard edges and soften the look of the room. Nowadays, you can use ones with contemporary style to modernise your British home interiors.
English home designs typically include art installations that serve as a conversation piece of the room. The elite usually feature portraits to show their lineage. Also, due to the tradition of horseback riding, and the influence of military art, equine painting became popular alongside aristocratic portraits. A good artwork lends a classic british and sophisticated style to the room without taking up space. Paintings are good if the wall design in plain and muted.
For a more minimal and masculine room with an English inspiration, instead of using toile or chintz, opt for panelled walls. Because of the availability of the materials, and its flexibility, panelled walls became a favourite among British homes, especially the middle class. The angular lines provide a cleaner space and streamlined design. Panelled walls are perfect if you are showcasing art works in your room as it pulls the eyes to focus. Lighter wood with clear varnish lightens the mood of the room.
Yes, books are a huge part of British home decor. Stemming from the wealth of the aristocrats to purchase books long before printing press is widely known, bookshelves became a status symbol among the elite. Classics are staple fixtures in any British aristocrat home and these often show the educational attainment of the owner. Take advantage of panelled walls and built a simple bookshelf with the same wood material. It doesn't need to contain books that you won't read anyway. You can display photo books, art portfolios, almanacks, and even antique books. Instead of piling them on a side table, a book shelf allows a cleaner and organised look.
There are different inspirations easily found online. Just note that you need to consider your intended function of the room first before heading out to buy furniture and other english design elements. You can also mix contemporary elements to give your home the British look with a modern twist.
Now, assess your house and ask yourself, "How British is my home?"