So you've been dreaming that you're part of the elite family that resides in Downton Abbey, rubbing shoulder to shoulder with Lady Mary, Lord and Lady Grantham or even the famous Dowager Countess of Grantham. You've even pictured yourself walking through the lavish halls, your fingers gliding through every detail of the magnificent estate, wishing you were back in time in the more comfortable era.
...But that dream only lasts before the credits roll in and the latest episode of the series comes to an end. And unless you're Dr. Who with your very own Tardis, you know you won't exactly go back in time and live that kind of life.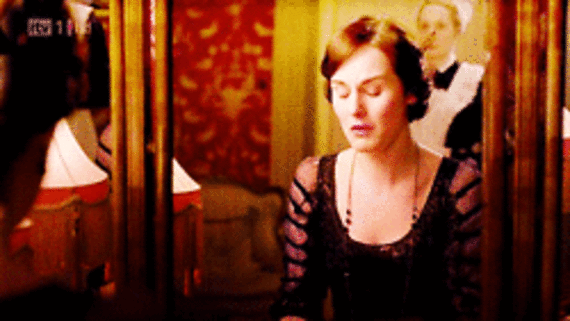 It's a sad and dismal life, reality is.
But there's a very simple and convenient alternative--why not create that kind of feel in your very own home?
Highclere Castle, the pivotal location for the filming of Downton Abbey, is now (perhaps unofficially) one of the most iconic structures in the UK. Its elegant structure, manicured lawns and gardens, carefully crafted oak staircases, warm well-polished rooms, and years worth of history are quite unrivalled but that doesn't mean your own home, no matter how modest it is, cannot have interiors like the castle's. All it takes is a little determination, creativity, and perhaps a little bit of design consulting from the experts won't hurt.
Tea in the English Countryside
Being British isn't enough without having proper tea. Fans of Downton Abbey have dreamt (and dreaded) of a scene wherein they're with the Dowager Countess of Grantham, listening rather awkwardly as she spoke the wittiest of lines while calmly sipping her tea.
Having tea inside the house isn't as serene as having it outside. You might want to set up an elegant tea table on your garden. Just cover a garden table in white laced tablecloth. You don't need to buy expensive teapots, cups, and saucers. Just the simple white variety, perhaps with simple floral embellishments, will suffice. Then add a vase with a one to three pieces of any floral of your choice in the middle. To top it off, it would be better for that afternoon tea set up to be under a Victorian styled veranda. It's something that gives a regal and, you can say, might have Lady Grantham secretly envying you.
A Romantic 20th Century Dinner Theme
Nothing says romance more than a candlelit dinner in a dining room draped in silk curtains and a dining table adorned with the finest silverware and most appetizing of food. But you don't need to be as excessive as Lady Grantham thinks when it comes to this. Your usual silverware doesn't need replacing but if you want them as shiny as you see them on telly then a bit more polishing can do the trick.
You might also want to try using clear crystal glasses once in a while, although if you have kids at home (of course kids can also go for the romantic dinner scene), then it's probably best to use those that are still stylish and clear but don't break easily. The food you'll have doesn't need to be something that was personally crafted by Gordon Ramsay either. If you'd prefer food from the period then go for, as Mail Online suggests, watercress soup for appetizers, then rabbit or veal, stewed beef for the main course, and meringues or jelly for dessert.
Next is for the ambience. You should never do without candles as they create the perfect environment as you dine, though don't use the scented kind as it will not blend well with the food. To help candles achieve their purpose, exterior sun canopies can replace silk curtains in creating just the right dimmed ambience for your dining room. They're more automated than the curtains at Downton Abbey and this simple innovation will be your upper hand against the Dowager Countess.
Technology might be the one thing she's wrong about.
Living Quarters Fit for Royalty
The living room of Downton Abbey definitely exhibits warmth and a vintage style everyone adores, it certainly not that difficult a feat for homeowners to replicate despite its high Elizabethan style and grandeur. A few key elements to have in your home should be the following: mirrors with wooden frames, portraits or inexpensive oil paintings also with wooden covers, bookshelves here and there, flower vases and various ornaments such as music boxes, candle holders, and even a traditional globe. Keep in mind that mahogany and oak makes a large part of the vintage feel.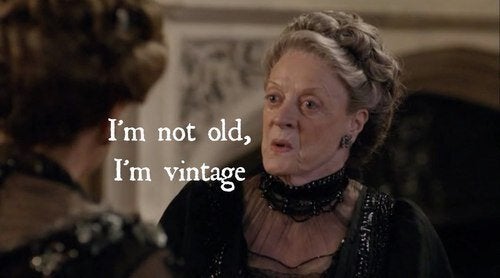 Consider having wooden furniture and wood-themed ornaments then balance this with other earthy tones to complement the whole ensemble. This not only works for your living room but for bedrooms as well.
You should also consider window shades that help natural light seep in to warm the room but not too much so that it won't be too hot or too dim. The light would help "light" the room up and make you want to stay in it all throughout the day. A good colour for the walls could either be cream or green, depending on your preference.
The gardens at Downton Abbey (Highclere Castle) are the sprinkle atop the cake of elegance as it adds the breathtaking aspect in the scenery of the place. To achieve something similar to that, even with a modestly-sized estate, just keep in mind to have a clear stone path, preferably around the middle of your garden. Add the flower hedges, shrubs, and topiaries at the side and make sure to have a lot of colourful blooming flowers as much as possible.
You may want to add a small patio so that you can enjoy the view every single time you want to take your mind off some things. Patio awnings can help you with this, be it rain or shine, and you can have another afternoon tea outside in peace despite the unpredictable British weather.
Now wouldn't that sound lovely? It would definitely make you smile as much as the Dowager Countess' witty lines make you smile.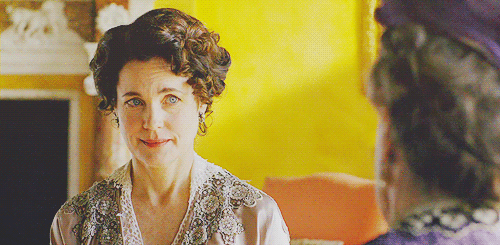 Lady Grantham is smiling at the fact that the latest witty quote wasn't about her.
Even the look and feel of grandeur doesn't exactly have to be that grand. And even the warm feeling you get when watching the beloved series shouldn't end just because the credits rolled (or when Matthew Crawley died in the third season). The warmth should start in your home. Perhaps Countess Violet was right when she said, "Nothing succeeds in excess." If it's for your home and for you and your family's comfort, why not put a effort into making it better? Although you probably don't need a lot of people to wait on you every now and again like in Downton.
Related