Detroit is a city that raps to its own beat, always has been and always will be.
So, I went to Detroit last summer and had an incredible time. Met so many warm, generous and inspirational people who welcomed us into their city, their homes and allowed us to see a different side of The Motor City.
Anyway, when we got back to London we discovered a brilliant-sounding company called Rebel Nell. Although we didn't have time to visit their studio, I've now got my hands on more details about the company, their products and their unique purpose. Felt like I just had to share..
Rebel Nell creates defiant jewelry with a purpose. They make jewelry from fallen Detroit graffiti, while fulfilling their mission to employ, educate and empower disadvantaged women. Their goal is to transition the women they hire from a life of dependence to one of self-reliance, overcoming barriers to employment, through the fruits of their labor.
Rebel Nell evolved from the vision of two very passionate Detroiters, Amy Peterson and Diana Russell. Together they have combined their passion for the city they live in and their desire to empower women to form Rebel Nell around 18-months-ago.
While there are many shelters in the Detroit area that provide short-term housing for homeless women, they are just a temporary solution to a bigger problem: unemployment. These women need job training and work experience to help them leave homelessness behind permanently. Rebel Nell hopes to be part of the solution with their jewelry company.
Rebel Nell's product line starts with repurposing graffiti, an abundant local resource in Detroit as regular Huffington Post readers will know. The team wait to collect the graffiti only after it has fallen off the walls due to the weight of layers of paint or damage caused by Mother Nature. They collect the paint from various locations around the city.
After some hard work and TLC, Rebel Nell turns a scrap piece of layered graffiti into unique works of wearable art. The graffiti, just like Detroit, looks a little rough on the surface but is made up of beautiful layers just like the intricate layers of people, ideas and history that make up the city.
The signature piece of Rebel Nell is the unique shaped pendants. The different shapes are a result of giving the women employed by Rebel Nell complete creative freedom when designing the pieces.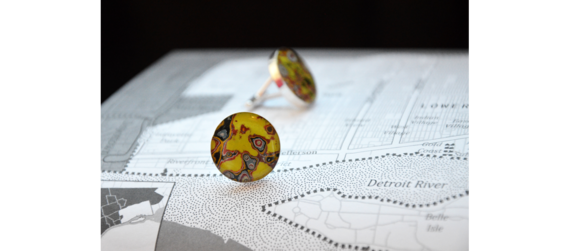 The Dequindre Cut Collection: Cuff links (image c/o Rebel Nell)
The more revenue Rebel Nell generates by selling this product the more jobs they create for Detroit's underprivileged women. Working together with local shelters, Rebel Nell identifies women ready to transition to a new phase in their lives.
Rebel Nell provides training and guidance to make jewelry, but ultimately, they want the women to have the confidence and knowledge that will enable them to leave homelessness/dependence behind permanently and move forward as strong independent women. The founders hope that Rebel Nell's sustainable business model will affect change in the Detroit community for many years to come.
Related