Just before Valentine's Day, a hot new TV advert is celebrating the joy of SAFE sex. The provocative ad has certainly got people talking - but what is its message?
The advert is available for Huffington Post readers on the International HIV/AIDS Alliance Come Together site, and is
part of a brand new approach to safe sex and charity fundraising.
The advert is airing on television on Friday February 7th - for one night only - and has been created in a bid to highlight the continued importance of addressing the HIV epidemic, an issue which many agree has fallen off the public agenda in recent years.
The visually arresting 60-second advert depicts a mix of sexualities, races, genders and ages in the throes of passion. Brave, bold and more than a little daring!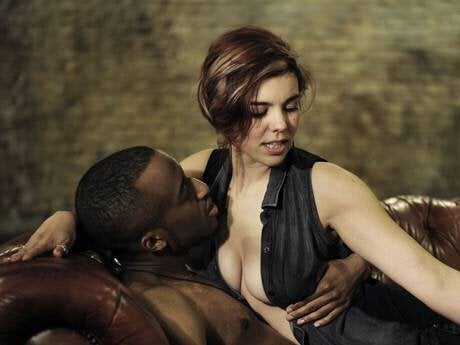 The Joy of SAFE Sex: picture c/o Bluefrog
It is part of the International HIV/AIDS Alliance's 'Come Together' campaign and has a very serious underlying message. It is designed to both highlight the importance of safe sex and unite people in an effort to end AIDS.
Every year, around 2.3 million people are diagnosed with HIV and 1.6 million die of AIDS-related causes. The advert asks viewers to donate money in order to save lives and prevent the spread of HIV around the world.
Jo Hodges, Head of the Advertising Faculty at London College of Communication said:
"Historically the advertising campaigns surrounding AIDS only appeared to target the gay community. However, the Come Together ad shows couples of every sexual orientation enjoying sex from every angle and in turn produces what I think is one of the most provocative ads I have ever seen.
This is a welcome and urgently needed departure that doesn't feel reproachful. Instead it is an open celebration of the joys of safer sex that targets people of all different ages, sexual orientations/preferences and genders."
Awo Ablo, Director of External Relations at the International HIV/AIDS Alliance said:
"We've created a campaign that celebrates safe sex, in all its forms, in a way that's open, honest and off-beat - and that positions it as a natural and wonderful part of everyday life. We wanted to create an experience that would resonate with people of all different identities. Safe sex should be available to everyone, it can save lives.
"We appreciate that this ad is risqué, but we hope it doesn't shock or make people feel uncomfortable. The underlying message is vital. We have to communicate that AIDS is a very real problem for people who do not get the care and support that they need, it can mean illness, isolation and death. We need to raise awareness and funds in order to provide the services that people around the world need."
The first 5,000 people to donate twenty pounds will also receive a 'Come Together' box in time for Valentine's Day which is very much in keeping with the ad's spirit. The box is designed to celebrate the joys of safe sex and contains a condom as well as a variety of sensual products including a luxury feather tickler, a blindfold and lubricant. Surely the true Joy Of Safe Sex!
To learn more, visit: https://www.wecometogether.org/