It is one of the UK's biggest entertainment industries, one that generates both money and memories quite unlike any other. So, it's only right & proper that we celebrate the UK's hard-working festival industry!
So, it's great to see the brilliant Festival Awards are just around the corner.
In fact, the votes have been counted and the finalists in this year's UK Festival Awards are now revealed. And perhaps in recognition of the music festival's ever-increasing importance to our summers, this year's UK Festival Awards have had a record number of votes cast. More than 700,000!
The public-voted accolades include awards for the Best Major, Medium, Small, New, Metropolitan, Dance, Family and Grass Roots events, as well as the fiercely contested Best Toilets. The titles for artists include Headline Performance Of The Year, Best Breakthrough Artist and Anthem Of The Summer. But it's not just about the public vote. Some of the more specialists categories are decided by panels of industry professionals, including Best Use of New Technology, Promoter Of The Year, Agency Of The Year, and Line-Up Of The Year.
The winners will be announced on-stage at the UK Festival Awards gala ceremony which returns to The Roundhouse in London on Monday 1st December, preceded by The UK Festival Conference during the daytime at the same event.
Steve Jenner, Founder & Director said:
"The response to this year's awards, not only from fans, but also from more festivals applying to take part than ever before, has been exceptional this year - a positive sign that industry confidence, backed by public passion is surging in 2014."
Here's the shortlist in full. But do you agree? What would you like to see from the festival season in 2015..?
Best Major Festival:
Bestival
British Summer Time Hyde Park
Creamfields
Download Festival
Glastonbury
GlobalGathering
Isle of Wight Festival
Reading & Leeds
Sonisphere Festival
T in the Park
V Festival
Wireless Festival
Last year's winner: Download
Best Medium-Sized Festival:
For festivals with a daily capacity of 10,000 to 39,999.
Beautiful Days
Bloodstock Open Air
Boardmasters
Camp Bestival
Green Man
Kendal Calling
Latitude
Secret Garden Party
We Are FSTVL
Y Not Festival
Last year's winner: Kendal Calling
Best Small Festival
Often quirky, due to a personal touch and grassroots appeal, the cosiness and sense of community at these festivals is second to none for many people. This award celebrates those who stick to the mantra that small is beautiful.
2000trees
Barn on the Farm
Bearded Theory
Beat Herder
Brownstock Festival
Cambridge Folk Festival
Festival No.6
Jimmy's Sausage & Beer Festival
Leopallooza
Zoo Project Festival, The
Last year's winner: Bearded Theory
Best New Festival:
Once again, some excellent new events were launched this year, bravely taking on those with established reputations. Bringing a fresh take, new music and alternative audiences to the festival scene, which one have you already put in your diary for next time?
Mutiny in the Park
No Tomorrow
OnBlackheath
Red Rooster
Rewind North
Secret Festival, The
Somersault Festival
Summer Sizzler
Together Festival
UKG Fest
Last year's winner: We Are FSTVL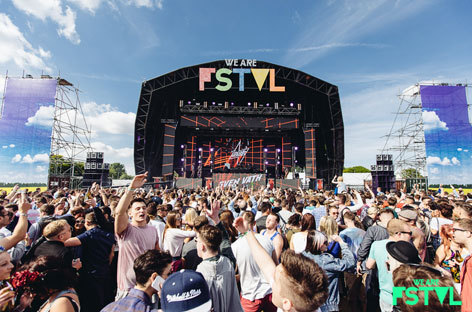 We Are FSTVL
Best Metropolitan Festival:
Using the existing infrastructure of a town's venues, this sector is growing thanks to no need for camping, very little threat from the weather and the ability to take place at any time of the year. Sold either on a show-by-show basis, or an all encompassing wristband, they give people chance to see multiple acts in the comfort of the indoors. Which one had you ditching green fields for the concrete jungle?
Blackpool Music Festival
Dot to Dot
Fusion Festival
Great Escape, The
Live at Leeds
Liverpool Sound City
MADE Birmingham
Slam Dunk Festival
Tramlines
Whitby Goth Weekend
Last year's winner: Dot To Dot
Best Overseas Festival:
Increasing numbers of Brits are heading abroad for their festival fix, choosing a different culture, new surroundings or sometimes just more reliable weather over home events. Some have become household names the world over for their international appeal and some even have more Brits in attendance than many homegrown medium sized festivals. Which one will be voted top by the fans?
Tomorrowland (Belgium)
Coachella (USA)
Benicassim (Spain)
Ibiza Rocks (Spain)
Outlook (Croatia)
Splendour In The Grass (Australia)
Rock am Ring/ Rock Im Park (Germany)
Wacken Open Air (Germany)
Pinkpop (The Netherlands)
Sonar (Spain)
Snowbombing (Austria)
NOS Alive - formerly Optimus Alive (Portugal)
Last year's winner: Snowbombing (Austria)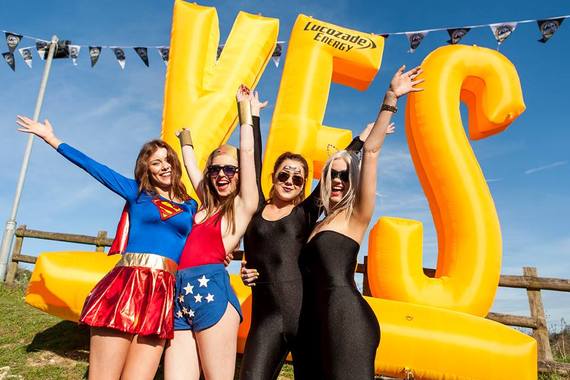 Snowbombing, c/o Lucozade Energy
Best Use of New Technology:
Technological innovation is one of the strongest forces propelling the festival marketplace forward at this time. Whether it's applied to help organisers forge closer relationships with their audiences outside the event or to enhance visitor experiences and operational efficiencies on-site, many new and groundbreaking tools are entering the market, and some of these will forever change the way that festivals are produced and experienced. This award recognises the individual application of new technology at a specific event that offers the greatest promise for the future of the market as a whole.
Bestival - For their fan ambassador scheme using an online platform provided by The Physical Network
Creamfields - For its epic live Youtube stream covering every stage of the festival
Eden Sessions - For their live global broadcast on Youtube delivered in association with Asus
Liverpool Sound City - For their iOS-integrated itinerary scheduling system
Lovebox - For their mobile audience engagement platform delivered in association with HTC using technology provided by Airbeem
The Parklife Weekender - For their revolutionary substance-analysis system supplied by The Loop and working with Greater Manchester Police
Salford Music Festival - For its smart, integrated 'Event1' event management system provided by 1SecureWeb
V Festival - For their 'FanPic' social engagement application, delivered in cooperation with Ticketmaster
Wireless Festival - For their smart visitor tracking system provided by Crowd Connected working with Eventbase
Y01 Festival - For its new queue-busting electronic access control system delivered by We Scan Tickets
Last year's winner: Intelligent Venue Solutions on behalf of Barclaycard at Barclaycard British Summer Time (Hyde Park)
The Extra-Festival Activity Award:
Music may be the vital heartbeat of all our festivals, but it's often the "extras", such as pop-up performances, mass participation games, quirky installations or just spectacular attention to detail which fill heads and cameras with memories that last a lifetime. There are so many unique and wonderful creative elements at festivals, but which one was extra special?
3 Wishes Faery Fest
Beat Herder
Deerstock
Festival No.6
Secret Garden Party
Somersault
The Secret Festival
Victorious
Wilderness
Y Not/Truck/Brownstock
Last year's winner: Wilderness
- More information is available from the UK Festival Awards website.