Giovacchino Antonio Rossini was born in Pesaro on 29 February 1792. Nicknamed "The Italian Mozart" Rossini was best known for his operatic compositions and extensive vocal repertoire.
So in honour of Rossini's Birthday I thought I'd entertain you all with a few snippets from Rossini's life - he was a talented musician from a young age but his family life wasn't easy, something that many of us can relate to.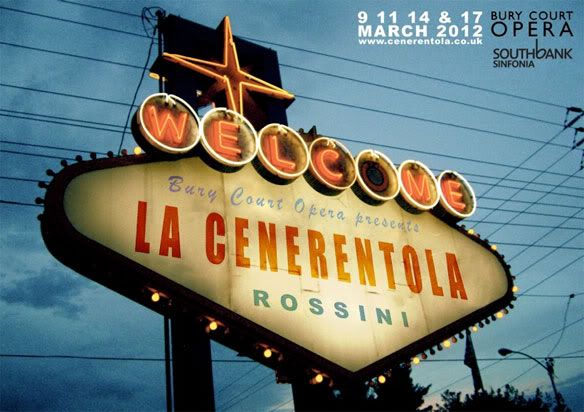 href="http://www.burycourtopera.co.uk/opera/rossinis-cenerentola-2012/" target="_hplink">Bury Court Opera opens La Cenerentola on Friday 9th March in Farnham directed by Andy Staples.
On the afternoon of 5 February 1813 at the final rehearsal of Rossini's first opera seria, Tancredi, at the Teatro La Fenice, the prima donna Malanotte took it upon herself to refuse to sing a particular aria and demanded that Rossini write her another one. Back then the singers ruled the operatic world and at this time she was at the height of her powers and the entire opera could be cancelled if Rossini didn't comply with the diva's demands. That night the anxious and frustrated composer was waiting for his risotto to be cooked when a chord struck (excuse the pun) and in five minutes (the same time by which the rice was ready) Rossini had written the aria "Di tanti palpiti" (Of so many heart-beats)- which he subsequently dubbed the 'Rice aria'. Malonette sang the new aria, the opera was a huge success and Rossini was in great demand throughout Europe.
Born in Pesaro on 29 February 1792; Rossini's father was a trumpeter and horn player. The Rossinis were not a wealthy family but they were determined to give the boy a good musical education and worked hard to ensure Rossini received harpsichord lessons. The young Rossini was given the opportunity to write an opera that another composer couldn't complete on time; La cambiale di matrimonio, which was successfully produced on 3 November 1810. After the success of Tancredi, Rossini wrote L'italiana in Algeri in just four months.
Onward to Milan where Il turco in Italia was coldly received at La Scala and regarded by the Milanese public an opera devoid of any individuality - merely a poor copy of L'italiana in Algeri, although this opera did eventually become a huge success when it was produced again four years later.
It was clear that opera buffa was the composer's true medium. Rossini had seventeen operas to his name when he started to compose what would become his party piece, Il barbiere di Siviglia. He claimed to have written the opera in just 13 days at the age of twenty-three. However the first performance in 1816 was a complete failure. The great tenor Garcia persuaded Rossini to let him play the guitar himself on stage for Count Almaviva's Act I serenade but unfortunately the tenor forgot to tune the instrument beforehand and one of the strings broke, provoking hisses and boos from the audience at the Argentina Theatre in Rome. If things couldn't get any worse, a cat wandered across the stage and Don Basilio fell through a trapdoor that had been left open - what a pantomime! After Act I Rossini slipped out of the theatre and was found asleep by his leading lady, although he wasn't emotionally upset at the show's failure.
After the first performance Il barbiere became a huge hit world wide and even Beethoven paid Rossini a visit to tell him how great it was. His last five operas were written for Paris, the last being William Tell that opened on 3rd August 1829. Proud of his compositional glory Rossini was quoted as saying, ""Give me a laundry list and I'll set music to it."
Two chances to hear some Rossini: English Touring Opera opens The Barber of Seville at the Hackney Empire on Thursday 8 March and then tours; href="http://www.burycourtopera.co.uk/opera/rossinis-cenerentola-2012/" target="_hplink">Bury Court Opera opens La Cenerentola on Friday 9th March in Farnham directed by Andrew Staples.