Arriving in Koh Samui, I was greeted by a friendly Absolute Sanctuary driver and taken to this healthy hideaway, located in a quiet part of the Island. Absolute Sanctuary is Thailand's premier detox and yoga resort and just five minutes from the airport, a stunning Moroccan-inspired boutique resort for those seeking a holiday to rejuvenate, unwind and lead a healthy lifestyle.
I had chosen the Absolute Sanctuary Fitness programme which comes with daily personal training, yoga and spa treatments. As soon as I arrived I was greeted with my itinerary, information booklet and a drink, and shown to my room which overlooked the infinity pool and sea. The resort has 38 rooms, all decorated in bright yet calming colours with the option of either a sea or pool view. Mine had its own private terrace, en-suite bathroom, air-conditioning and TV, along with a yoga mat if I wanted to do self-practice in my room.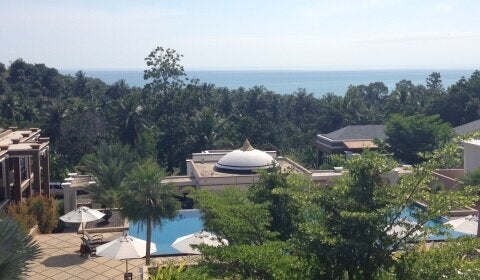 The view from my deluxe sea view room
My first day started with a comprehensive wellness consultation after a healthy but delicious breakfast. My wellness consultant Sentha was a visiting practitioner from Australia, who has over 20 years' experience in the practice of Cranio Sacral Therapy, Reiki and yoga teaching. She was very interesting and made me aware of what I needed to improve in my lifestyle; I left with good intentions and armed with information. I then had my fitness assessment and met with Uli who was going to be my personal trainer for the week. Uli is from Germany and has been in the fitness industry for many years; I immediately connected with him and knew I was in safe hands. Although he was going to work me hard, I knew I would get results.
Uli designs a programme to help improve overall fitness or simply to get someone started on a fitness regime. Fitness sessions are tailored to address individual needs and include both indoor and outdoor sessions with a mixture of cardiovascular workouts, strength training, boot camp and Thai boxing. My personal goals were to get stronger, leaner and fitter. My workouts with Uli involved interval resistance training - short bursts of intense exercise to increase my metabolic rate. A typical routine would normally consist of press ups, lunges, squats, mountain climbers and burpees, with a short rest in between so my heart rate didn't drop. I always took a well-deserved rest afterwards by the pool with a coconut juice.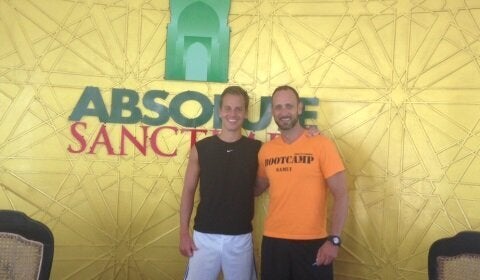 Uli and I at the end of my fitness holiday
Every day before my workouts I had a power blast shake (vital greens, coconut water and other healthy ingredients) to give me an energy boost - it worked! Absolute Sanctuary has a brilliant menu of healthy and tasty smoothies and juices. One of my favourite juice blends was Happy Belly (pineapple, ginger and coriander) and Tropicana (papaya, banana and coconut).
Absolute Sanctuary is very well-known for its yoga holiday programme; they offer 5 classes a day so between my spa treatments and fitness training, I had a hard time choosing which classes to do. I absolutely adore yoga and practice regularly back home. Our teachers Kez and Jana are encouraging and motivating, and classes included pranayama, meditation, Yoga flow, hatha, Ashtanga, yin, detox and hot yoga. With sweat dripping down my face and body, I kept wishing I had another towel to wipe it away, but Kez tells me wiping off sweat will only disrupt my practice and encourage more sweat production for my body to cool down. He was right, and by day three I went through the full 90 minute class with only wiping my face and hands.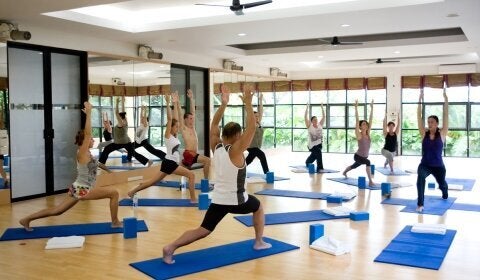 A yoga class at Absolute Sanctuary
Apart from yoga, group exercise classes were available to attend which include circuit training, Bootcamp and cardio fitness. Workshops I attended were for postural analysis, hypnotherapy and astrology. As part of my programme I had lots of daily spa treatments to unwind ranging from pressure point massage to a foot sanctuary. During my rejuvenation sports massage, my therapist slides her forearms over my back before digging her elbows into my shoulder blades; she was determined to banish my knots and tension away. I surrender to the pulling and stretching of a traditional 90 minute Thai massage in their open pavilion with herbal heat compress. It was my favourite treatment and by day 5 I was literally glowing, looked healthier and felt fitter.
Absolute Sanctuary caters very well for single travellers. On my first day I met some friendly guests around the pool and at lunch who were from the UK and Australia. Lots of clients were there on a detox holiday and having colon hydrotherapy, detox massages, juices and detox broth soups. It was good to see so many people looking well and sharing the same health and fitness experience.
All meals are served at The Love Kitchen restaurant, where they cook delicious and healthy cuisine which caters to everyone's needs whether on a detox, fitness or weight management programme. The local cuisine was very good and there were lots of dishes to choose from, including some very healthy deserts for the sweet tooth.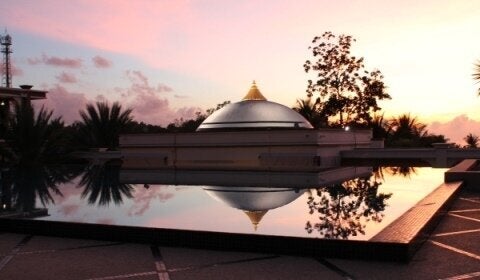 Before my morning yoga class at sunrise
Absolute Sanctuary offers a free daily shuttle service to the local beaches, choose from either Cheongmon or Chaweng beach. I took one afternoon off and went to the local beach near Bophut with some guests I met at the resort. We all went to the local market on the Friday for some night shopping, which was a good place to pick up some gifts and clothes to take home.
When it came to the end of my healthy holiday, I understand why our clients never want to leave. If after 5 days I can feel this good; fitter, healthier and less tired, I can only imagine that a two week stay would make me even more radiant. My final fitness consultation with Uli showed that I had lost some weight and gained some muscle - I felt stronger both physically and mentally. I also got to take home my personalised workout programme and I am now determined to keep up my fitness and yoga regime back home (with a few cheat days thrown in), so I can lead a healthy lifestyle. Whether you're looking for a de-stressing spa holiday, weight loss, yoga, detox or fitness holiday - Absolute Sanctuary in Thailand has something for everyone.