A holiday is far better for your health than you might think. Naturally, being the co-founder of Health and Fitness Travel, I strongly believe in a holiday's power to give you benefits which outlast your tan. You not only have the chance to escape from the stresses of daily life, but you can stimulate your mind with a new culture and learn healthier habits. It's a great chance to not just relax, but also to improve your physical and emotional well-being, and return home with fantastic memories.
Here, I look at why holidays are healthy for us.
I've experienced so many different and delicious types of cuisine on my travels, inspiring me to recreate the flavours when I get back, giving me my own little holiday at home. In exotic countries, you can gorge on colourful tropical fruits at the breakfast buffet and get stuck into mouth-watering salads and tasty juices throughout the day. This will refuel your body with essential nutrients, improving your well-being from the inside.
When holidaying in the Mediterranean, you'll benefit from one of the healthiest diets in the world. Rich in seasonal vegetables and with a splash of olive oil, this diet helps to fend off disease and strengthen your heart. On average, a Greek person gets through six or more servings of fruit and vegetables per day! So, if you take home food ideas from your holiday, you'll feel healthier in no time.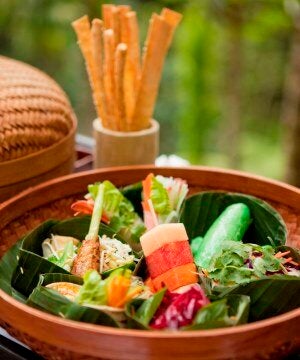 A mouthwatering healthy salad
I believe that fitness on holiday is the perfect way to kick-start a regime and learn about the exercises that suit your body. I like to make the most of not having to fit workouts around my demanding lifestyle; I can focus on my health and totally relax. You're able to try out new and different classes, like yoga, aqua aerobics and circuit training, and have fun doing it. It's a fantastic way to get the motivation you need to continue your regime when you return home.
You've also likely to have a beautiful swimming pool or the glistening sea right on your doorstep, so why not do a few lengths before breakfast? You'll stretch your body and get a gentle full body workout, or how about going for a cycle into the local town or taking out a kayak to explore the coastline.
We must not be paranoid and live in fear of the sun; it actually has a wealth of benefits that we need to take advantage of, helping us to reach our optimum health. It provides us with vitamin D, which strengthens our immune system and our bones, and it's also been found to lower cholesterol and blood pressure.
It's also a great solution to Seasonal Affective Disorder, a type of depression which affects more and more people during the winter months and who work long office hours. A healthy winter holiday is the perfect cure, helping you to de-stress and soak up those rays which you lack at home.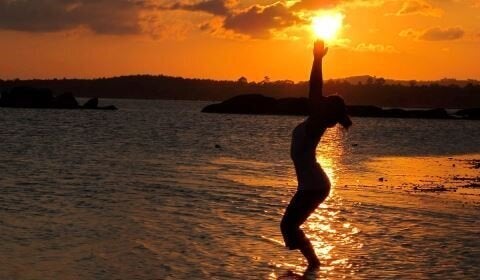 The sun offers a wealth of benefits to our health
Isn't it the most amazing feeling not having to set an early morning alarm when you're on holiday? I like to make the most of not having any commitments and catch up on sleep. A lack of sleep can have serious knock-on effects on your daily life, making you more irritable, anxious and reducing your mental performance and ability to concentrate.
When you're on holiday and totally relaxed, you'll reach that deep sleep that you deserve and fully recharge your batteries. This quality sleep will help to strengthen your immune system and relieve stress, so you'll return home rejuvenated.
Have you ever noticed how smooth and radiant your skin looks when you return home from a hot holiday? A refreshing swim in the sea naturally exfoliates your skin, removing dead skin cells and replenishing it with nourishing minerals, giving us a glow we thought only expensive spa treatments could provide. It's also fantastic at healing damaged or irritated skin, reducing inflammation and absorbing impurities from your body, making it a perfect complement to a detox holiday.
Its benefits aren't just physical; doesn't listening to the sea roll onto the beach make you forget all your worries and relax? Seawater has a fantastic calming effect and helps with a good night's sleep.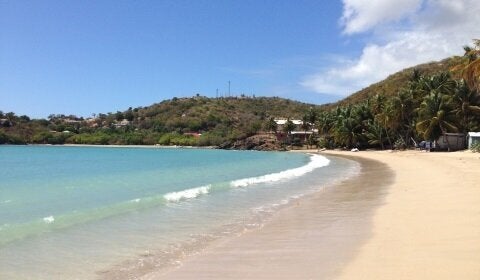 Seawater naturally exfoliates the skin
When I'm on holiday, detached from my normal life, I feel at my most happy and healthiest. I can do the things that I enjoy and go at my own pace. Studies have found a clear link between well-being and happiness, protecting us from future health issues.
Happiness also means laughter which is the best medicine as it releases endorphins and encourages a good mood. So, when you're on holiday and you have a good belly laugh with your friends or like-minded travellers, you'll be single-handedly strengthening your immune system. Studies have shown there is a connection between happiness and longevity, those who are positive will outlive those with negative emotions.
There's no better place to make everlasting memories than whilst travelling. Not only are these memories nice to think about, but they also help you stay calm and positive in your time of need. Before a busy day at work or when feeling stressed, I always think of my fond holiday memories as a relaxation technique and instant rescue remedy, allowing me to feel composed and perform at my best.
So, next time you're in a stressful situation, think back to your magical memories and stay calm.
(All images supplied by Health and Fitness Travel)