My word, it is hot. I am standing in small hair salon in the Bugesera region of Eastern Province, Rwanda with barber Aloys, his four children, his wife, my translator Ephron from CARE Rwanda and photographer Georgina Goodwin. It is, to say the least, a squash in this small building, no bigger than 8 square feet. Outside, the sun is beating down on the corrugated iron roof; inside, we are slowly cooking.
Aloys is a kind and gentle young man. He talks animatedly about how the income from his hair salon provides enough money to pay his children's school fees all the way through to secondary school.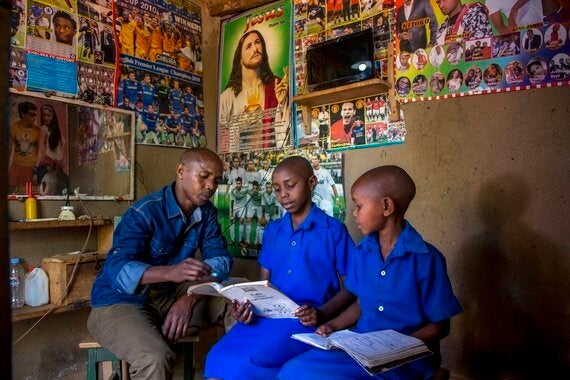 Photograph: (L-R) Aloys with daughters Aline and Greta (Photograph by: Georgina Goodwin)
It was, he said, his CARE Rwanda savings group and Hand in Hand business training that enabled him to leave behind a life where he had "nothing to spend each day" for one where he has established his own business, built his own home and become a family man and respected member of the community.
Aloys wants others to have the same chance he did, which is why he now helps people form savings groups. I asked for his best piece of advice for new business owners. Start small, he said, and your savings and business will grow. Start too big and your ambition will crush you.
We emerged from the heat of the hut into what felt like a cool 28 degrees outside (clearly, my body is not designed for equatorial Africa), said our farewells to Aloys and his family and set off to meet Florida, another old friend and Hand in Hand trainee. As we turned to wave goodbye we realised that what looked like most of the village had lined up to wave us off.
As I watched Florida emerge from her shop to greet us I was immediately struck by how well she looked. Then I realised that this shop is not the small blue building I remember from 2014 but a much bigger, smarter establishment. Clearly, she and her business were flourishing.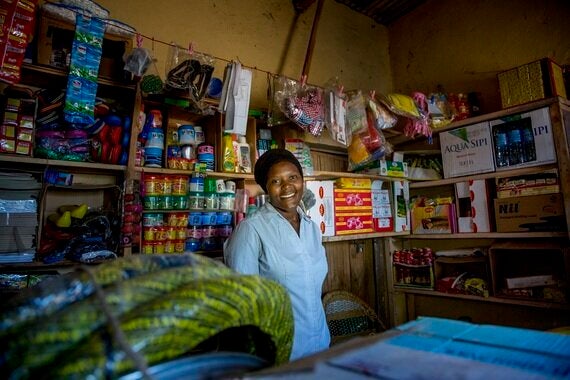 Photograph: Florida, shop owner, Rwanda (Photograph by Georgina Goodwin)
In fact, her little shop with blue walls had done so well she had been able to rent a much bigger shop closer to the road. This meant she could stock a wider range of goods and attract far more passing trade.
When I asked what her bestselling item was, she held up a bicycle tyre wrapped in yellow plastic. Seems her passing trade suffers quite a few punctures. Of course, replacing a tyre can be thirsty work, so customers often buy a drink or a snack as well.
Florida beamed at her success - all the more hard won given the abundance of local competition. To get an edge, apart from relying on her charm and winning smile, Florida makes sure all her goods are beautifully packaged in new, smart bags (paper, not plastic; this is Rwanda). She gave me a demonstration by preparing a bag of sugar, producing an end result that would not have looked out of place in an upmarket deli in the UK.
Rwanda is a country of contrasts: experiencing an economic upturn but with much of the population still living in poverty; the land of 1,000 hills with arid uplands and marsh-like valleys. It is also a country of possibilities. Rural Rwandans are determined not be left behind. All they need is a little help to get started from NGOs like CARE Rwanda and Hand in Hand.
My final view was of the green hills in the early evening mist stretching as far as the eye could see.
Yes, indeed, Rwanda has a place in my heart.
Related