I remember complaining to my grandfather about the miserable weather, and how he must be missing the warmer climate of India. He replied, holding my hand "I'll tell you how we are able to enjoy such lovely British weather..." and with a shocker up his sleeve he continued, "Paven, did you know me and your grandmother were born in Pakistan?". I was eleven at the time, and worried to hell that I'd be, to the ridicule of my school friends, supporting Pakistan in cricket instead of India on the basis of this new information. At this age of slazenger cricket bats, playground brawls and a rivalry that topped The Ashes, I was in a serious crisis of team loyalty.
"Gujranwala is the seventh most populous city in Pakistan and our small village was close to it", he continued. I came to know that my entire family hailed from this region, which now falls in Pakistan, at one point, home to a sizeable Hindu and Sikh community and the birthplace of the mighty Sikh Emperor, Maharaja Ranjit Singh. Grandfather must've felt the urge to express himself fully that day, but the story told to me that day was brief; mainly that his father was an Ayurvedic doctor, and that on the 15th August 1947, they'd moved to India for better opportunities. Not a particularly dramatic or scary story. Perhaps he wanted to shield me from the darker details; protect me from ill feelings; bubble me away from resentment.
Growing up, I recall Republic Day (26th January), Independence Day (15th August) and of course, an intense India-Pakistan cricket match being important dates in the hearts of our family. My grandfather was a proud, smart and sharp man, often sporting a three-piece suit. His demeanour was calm and his speech, eloquent.
At the age of twenty-one, I shared a car journey with him. By this age, I'd read and understood more about the realities of India's Independence from the British Raj. As we drove, I thought to myself, "Did he think he could hide the details from me?" The celebration of independence was a cover-up to the horrendous partition of a great country, leading to one of the biggest forced migrations in history, generous with bloodshed.
"Grandad, tell me what really happened during Partition; was there suffering?". His gratuitous glow descended into a telling truth. Despite this, his response was, "It was a struggle, a huge struggle. We left everything behind. We didn't think we'd survive. But we got through it so we could be here today. Paven, we must be ever grateful for our lot in life. Don't let our struggle be in vain." These reassuring and lofty words stung like a half-truth. So I persevered in my line of curiosity - my ferocious curiosity. "There must be more!" I extolled.
I knew independence cost an awful lot. The price paid by the likes of my grandfather just for us to enjoy our India-Pakistan matches seemed disproportionate. In the months leading to independence, there was talk amongst the villagers of partition and a requirement for Hindus and Sikhs to leave the village. Of course, there was no Internet, social media or telecommunications devices, so information could not be appropriately verified. To think that a handful of people in the capital of a small island, thousands of miles west of his ancestral village would decide the fate of his family and nation, seemed absurd. But he had no idea what was to be unleashed.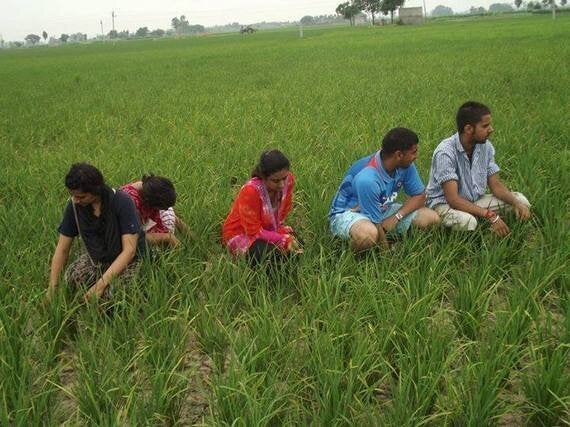 Summer 2012 - Me with friends discovering my Roots in modern day Punjab
"I had many friends Paven. My neighbour was a Muslim and we were good friends. There was never any trouble or hostility. We both found the mission to partition the nation, on grounds of religion, utterly ridiculous." Negotiations on the freeing of India from British rule culminated in the demand for a separate Islamic state of Pakistan, requiring all Hindus and Sikhs to shift.
"In the midst of night, we were required to get up and leave". Disturbingly, he narrated the events. Militants supporting the newly created state of Pakistan (literal meaning 'the Land of the Pure') were on a mission to cleanse the land of anyone who was "non-pure" - my grandfather and his family fell into that category. They had a choice to convert, leave or die.
"Worried for our lives, we did not have enough time to even pack essentials. We tagged along with another convoy of refugees and in the middle of the night we commenced our long journey to Amritsar". He stopped. I glanced at him rapidly whilst also trying my best to steer through the traffic. A tear trickled down his face. The memory of his home, his land and family had caused an unsettling flashback akin to a PTSD patient. On the day of independence, when the entire nation was geared for celebration, my grandfather along with millions of Hindus and Sikhs were made homeless. In the dark of night, hearing horrifying cries and gunshots, the convoy was blind. A small group of Marathi-speaking Indian soldiers protected it all the way to Lahore. From there, they boarded a train to a refugee camp in Amritsar, Punjab.
Upon seeing the mass bloodshed, my great-grandfather volunteered to remain behind and help the wounded, irrespective of religion. "We said our goodbyes to him and continued our journey, arriving at the camp. There were millions of other refugees", said Grandad. The pang of separation from his own father was to be a monumental event in his life. He and his siblings missed their father dearly. They were lost and in need of a leader. Each morning, they would go to the train station waiting for their father, hoping for his safe arrival.
"Two weeks later", he said, "dreadful news arrived. My father had been poisoned to death".
Related