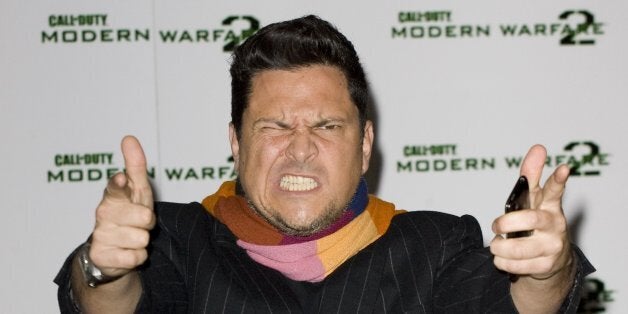 If we're currently living through the golden age for U.S TV dramas then the late 90s/early 2000s belonged to British comedy. With The Office, Ali G, I'm Alan Partridge, Spaced, Brass Eye and Trigger Happy TV all hitting our screens in quick succession, British TV at the time could do no wrong. All of the above received both critical acclaim and were hugely popular with audiences, making stars of a generation of British comedians.
What with many of these characters making a comeback in recent times and the wave of nostalgia that's currently sweeping over British TV, it should come as no surprise that Trigger Happy is returning to our screens.
Despite launching sixteen years ago, Trigger Happy TV remains a reference point for many and has left an indelible mark on the cultural landscape. There are several notable examples of U.S prank shows that have been wildly popular on both sides of the pond but since Trigger called it a day in 2003, British TV has failed to fill the void. Impractical Jokers UK failed to catch the warmth of the U.S series, Balls of Steel was short lived and multiple other examples have come and gone with little fanfare. The lack of prank shows on our TV schedules would suggest a lack of appetite but if anything pranking is more popular than ever.
A lot has changed since Trigger first hit the screens, for one thing YouTube has been invented and become the second most visited site on the planet. YouTube (along with Vine, Facebook, etc) has given rise to a new class of online pranksters creating their own content. The ability of the practical joke to transcend boundaries, language and cultural norms in a way that few other forms of comedy can has resulted in their clips racking up hundreds of millions of views across the globe. Trigger itself has benefitted itself from this online surge with clips from the original series taking on a life of their own.
Where Trigger differs from the current crop of online pranksters (aside from the surreal tone and social commentary) is in its humanity. Many online pranksters deal exclusively in shock value, often engineering pranks at the victim's expense. Pranks are conceived with the express intention of angering people and courting publicity. Although there are a few exceptions, many of the pranks are invariably cruel, offensive or lack subtlety. Recognising this trend in their videos, they often release an ill-considered social experiment to make a point about being nice to one another and cling to an air of moral irreproachability.
Trigger Happy TV, on the other hand, was always consistent in keeping the joke at the expense of Dom's menagerie of characters. Everything was considered, from subtleties in the editing to the carefully selected soundtracks, nothing was by accident and everything was conceived with humour at it's heart. These weren't mindless stunts designed to anger and annoy the public but rather they were sketches played out in public settings. The return of Trigger Happy will hopefully signify a shift in hidden camera comedy, where jokes and social commentary take precedence over shock tactics and clickbait titles.
The brand new series of Trigger Happy will be on All4 from 26th September