In the second half of my interview with Peter Gatehouse of the Rickshaw Circus (part one can be found here), we discuss his experiences spreading the joy of the circus to some of the most deprived areas of the Middle East.
Given the volatile nature of the area, how do you prepare yourself?
Two of the team had lived and worked in the region for a while, so had a pretty good grip on the security situation. But even so we all researched into how things were currently, as the situation can change very quickly. Sometimes it was hard to understand how dangerous somewhere really was. One minute the locals will tell you is very dangerous and the next they will say it is no problem.
I think this is because, even for them, much of what goes on is just rumour. Learning about incidents involving foreigners in the affected regions was fairly easy. There are not as many as people would have you believe. In Baluchestan the problems are more to do with the lawlessness of the region, rather than any specific anti-western sentiment.
Around Quetta it is more dangerous to be a doctor than anything else. They are often kidnapped because they are seen as being rich. The situation is now so bad there that doctors are going on strike.
In Eastern Turkey the police told us that the PKK (Partiya Karkerên Kurdistanê - the Kurdistan Workers' Party) would be very dangerous for us. We learned that this was patently not true. The PKK have no interest in attacking tourists, and our vehicle was very obvious.
Before I left, I made it clear to my family and friends that I was totally committed to what I was doing and where I was going, and that I loved them, but should the worst happen I had no regrets and they should not seek to place blame.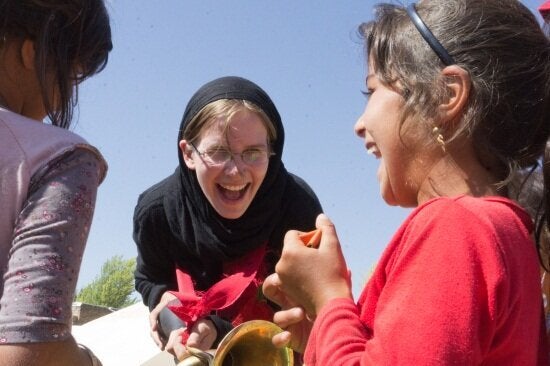 What has been the reaction so far to Rickshaw Circus?
Overwhelmingly positive, with concerns for our safety. This is true both locally and globally, though the specifics are a little different. Our friends have been really great in supporting us with donations of tools, holding fundraising events on our behalf and helping with publicity. Some of our friends who had told us we were crazy, and would never make it, still loved the idea and gave us some of the biggest donations.
On the local level we have had so much support from the people we have worked with. For example in Quetta, they worked hard to help us set up the shows and ensure we were safe. We felt completely safe there, because the whole community came out to support us with such overwhelming energy and good spirits. The people we have stayed with along the way have been amazing too, as they have tapped their networks of contacts to get what we need and to set up shows and workshops, as well as providing us with places to stay and feeding us like kings.
What has been the reaction from the authorities?
The police had been great as most of them loved our little rickshaw. In Pakistan the police in Taftan at the Iranian border helped wash the rickshaw before we crossed the border, and posed with us for pictures. In Iran a police car pulled us over on the highway, and we expected the worst. Instead, the officer came bounding over with a huge smile, asked where we were from, shook our hands, and welcomed us to Iran before going on his way. It's hard to imagine such a thing would happen here.
We tried to stay under the radar of government authorities as much as possible. We were just three friends, with no organisation or big donors. Our cover story was that we were three jugglers on our way to the Turkish Juggling Convention (which was technically correct).
Pakistan and Iran both make it very difficult for NGOs (Non-Government Organisations) to operate in their countries. By not having any official organisation, and by not accepting or offering donations in the countries we operate in, we avoid a host of problems to do with work visas and permits.
We do not have big donors, such as the UK Arts Council for example. This means we do not have to subscribe to their agenda and can also avoid some very sticky questions in places like Iran.
Were there ever any negative reactions to the Rickshaw Circus?
I think the strongest negative reaction we had was when we were in northern Iran. We had been working alongside Red Crescent in the earthquake-hit region around Vasagan, and wanted to do a fire-show for the Red Crescent workers after a hard day out in the field, working with the villagers.
We had obtained all the necessary permissions from the head guy, had everything prepared, and a very enthusiastic crowd of aid workers had gathered in anticipation. At this point an Imam arrived and, just as we are about to begin, a hubbub started. We were then told we could not go ahead. At first we assumed it had been due to the Imam. Many of the Red Crescent guys approached us later to apologise, and we learned the full story. It was actually one of the Red Crescent members who had taken offence, probably at the idea of a woman being on stage, and kicked up a big fuss.
It turned out that the Imam had actually come up to our fixer (an organiser and local contact) and apologised to him for the behaviour of that Red Crescent member, as he had wanted to see the show as well! Some stereotypes are definitely wrong.
How did you find communicating with the audience?
I do not speak any of the relevant languages, and Adnan and Annika were fluent in only a few of the languages spoken in the areas we went through. So we designed our shows and workshops in such a way that everything was very visual and language was not required. We told simple stories in a playful way. Most of our workshops were movement-based.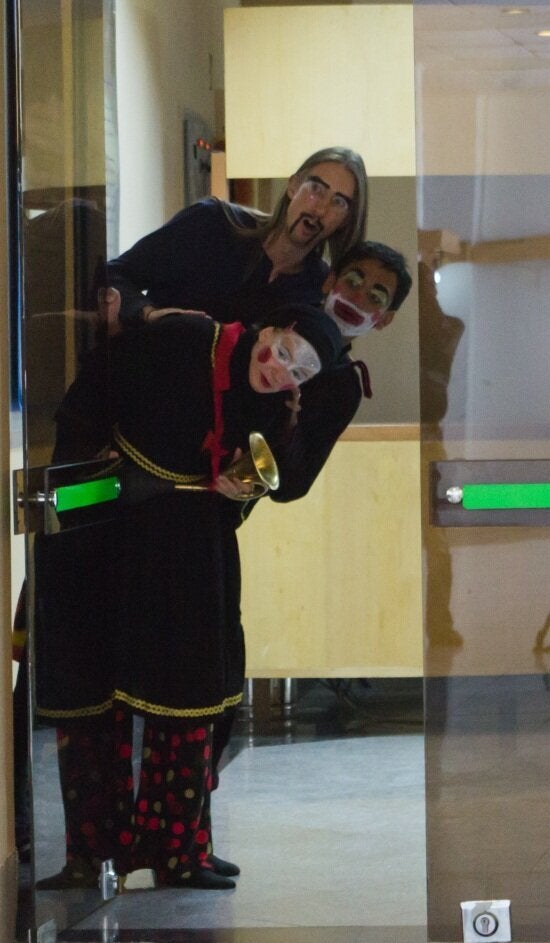 What were the most memorable moments?
The Fireshow in Quetta for the marginalised Hindu community, where we were mobbed, but also really cared for by this community. The energy and enthusiasm of the audience was unlike anything in my life or professional performance career. These people were truly delighted with everything we did with them, which in turn raised our spirits to give an exceptional performance that night.
We were nearly killed by bureaucracy in Pakistan - you have no idea how long, slow and complicated it is there.
In Tehran, after our show at Mahak Charity Cancer Hospital, children with cancer got out of their chairs to come to play with us and learn to juggle. We had been worried the children would not have the energy, but we were soon proved wrong as they were very keen to learn.
After travelling for twelve hours to Lahore in 45 degree heat and humidity, I was so tired that I barely had the energy to find food. Although I badly wanted to sleep, Adnan and Annika insisted I join them in visiting the Badshahi Mosque. It took my breath away with its quiet beauty and hypnotic Arabic prayer filling the courtyard in the night. The mosque was an oasis of peace and beauty in the middle of crazy Lahore.
Why did you have to smuggle yourselves into Taftan?
Annika and I were only permitted to travel through that area with an escort and permission papers. Adnan could have gone alone with the Rickshaw because of his Pakistani roots. The whole area is somewhat lawless and it would have been a bit risky for him. Annika and I were supposed to go by bus, but we could not find a bus company to carry us, even though we had official papers. The basic reason was, with us on board, the bus has to stop at every check point where we would have to sign in, which slows the bus down a lot. In the end, the most practical way was for us to load the rickshaw into a painted truck, with Annika and I out of sight in the sleeper section of the cab, and Adnan sitting with the driver and the police guard.
This was the longest day of the journey: 19 hours on the road, with no time for sleep the night before we set off either. It was also one of the most memorable sections. Some other parts, such as the 55 degree heat in the Southern Iranian Desert, the amazing energy from the Hindu audience in Quetta and the intensity and satisfaction of the workshop at the Mahak Childrens Cancer hospital in Tehran were just as intense, but in very different ways.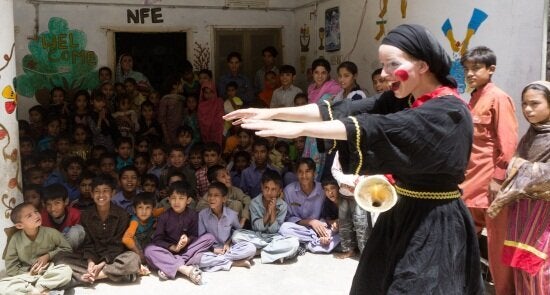 What was your biggest misconception about the middle east?
Most of the people are friendlier than people in the UK imagine. I found strangers on the street to be friendlier to me than the average British person would be to an unknown Iranian or Pakistani. Iran is also far more modern and progressive than people think. However, the Iranian leadership is still crazy.
What do you hope will come of this?
Ideally, one of the places we worked with will continue with a social circus programme, much like the MMCC. This is really a question of willpower and determination, rather than anything else. The MMCC proved that no previous circus skills are required.
I hope we reached many people with our stories and pictures, to raise awareness of the power of social circus, and to fight stereotypes about the places we have visited.
We hope that we have inspired others to take the rickshaw to other places. I'm currently considering forming a new team to take it on an Arab spring tour. Adnan and Annika are busy for the next couple of years, so it's down to me and others to carry on the work.
What does the future hold for Rickshaw Circus?
Several interesting opportunities have arisen following our trip. Our current task is to identify the ones that best align with our goal of spreading social circus to remote areas. We are planning the rickshaw's journeys to come, with a big one as well as a smaller one in the works.
We have learned many things from our journey, and will use the smaller trip as a test run for some of these ideas before launching another larger adventure. We now have the boring but necessary step of transforming the idea of Rickshaw Circus from three dedicated friends, in to a professional and sustainable organisation.

All photos were provided by Peter Gatehouse, and are used with consent.