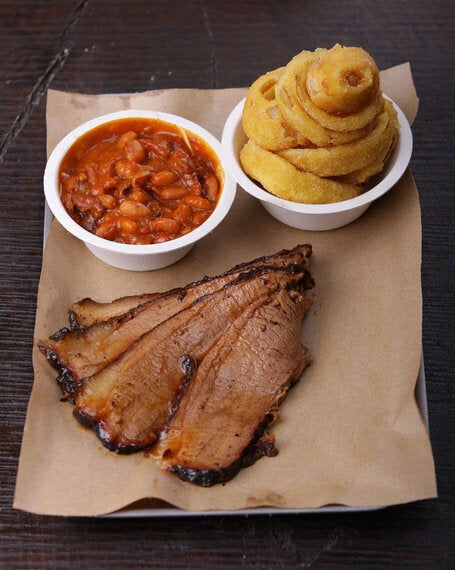 Holy smokes! A decent BBQ restaurant has been high up the wishlist for many years, and now Dublin has four: the Bison Bar on Wellington Quay, Pitt Bros on George's Street, the Aussie BBQ on Richmond Street (I've yet to pull some pork from the Aussie BBQ but, based on this review from Niall Harbison of Lovin' Dublin, I'm not inclined to), and Asador, a little outside the city (I've heard nothing but praise).
Within the last two weeks, I've stuffed my face in both Bison and Pitt Bros. And, much as competition is to be welcomed, I'll come right out and say that there's little or no point in going to Pitt Bros while, just three minutes away, Bison Bar exists. Maybe that's unfair, but it's difficult for BBQ enthusiasts not to compare two places in such close proximity, both serving almost identical Texan BBQ food.
It's not that Pitt Bros isn't nice: it is. In fact, it's pretty delicious. Pitt Bros more or less copied the Bison formula, before nipping up the road to base the rest of their venture on Dublin's nearby Asian restaurant Neon, from the layout and design right down to the free whipped ice-cream. Imitation is flattery, or theft - you decide.
Both Bison and Pitt Bros serve pulled pork, brisket, sausage, ribs and chicken. In both places, each main comes with two sides, but Pitt Bros has slightly more choice of sides. Prices are the same, although extra sides in Pitt Bros are €3.50 compared to €3.95 in Bison.
Pitt Bros, George's Street, Dublin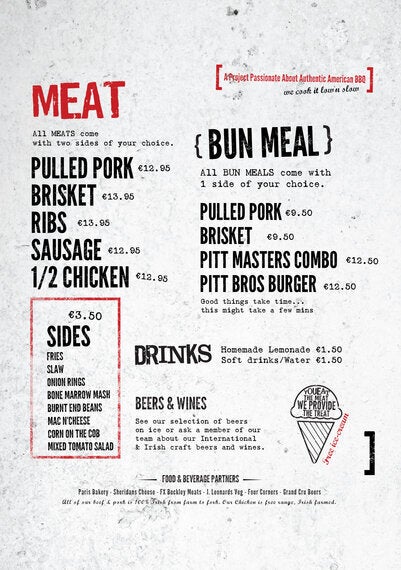 At Pitt Bros, I opted for the brisket (€13.95) while my friend Paul had the pulled pork (€12.95). Both portions were huge, although the waitress offered to pack up the leftovers for us. The pulled pork was very good, but the large lumps of pork plopped on a plate looked a bit more like a challenge than a treat.
The tough beef joint known as brisket, when slow cooked, should crumble with tenderness. Pitt Bros did not disappoint, and their offering came with a decent amount of gravy too. We liked our sides of burnt end beans and slaw, but the burnt end beans at Bison were richer and had more depth. The bonemarrow mash (mash with bonemarrow gravy) didn't really work: we both found it a bit too starchy, lukewarm, and lacking in creaminess. Pitt Bros, unlike Bison, also serve burgers, which I will definitely try if I find myself back there again.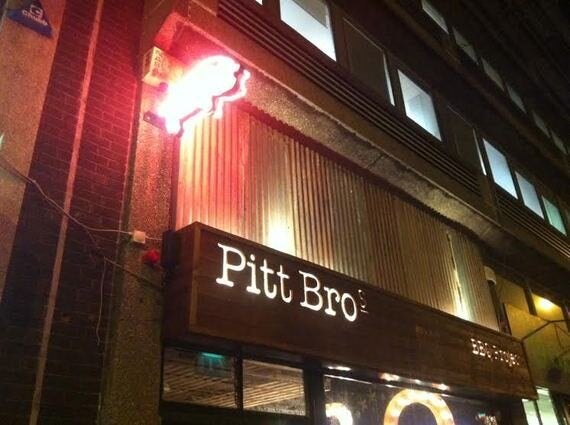 Pitt Bros has some very saucy issues that really need to be rectified. Good barbequed meat needs good sauces, especially BBQ or hot sauce, and Pitt Bros falls quite flat here. The BBQ sauce, which comes in the type of cheap plastic bottle you'd find on the counter of a chip van, is okay. The hot sauce is pretty woeful though: it's oversweet and lacks any real punch or flavour. This renders the pulled pork, for instance, a little dry and, for some customers, will take away from the experience.
The chips were okay, but in quite desperate need of a dip: something like garlic mayo, sour cream, smoked chilli mayo, or blue cheese would work. Pitt Bros could really improve the customer experience - well, this customer's experience, anyway - with a semi-decent selection of hot sauces and dips.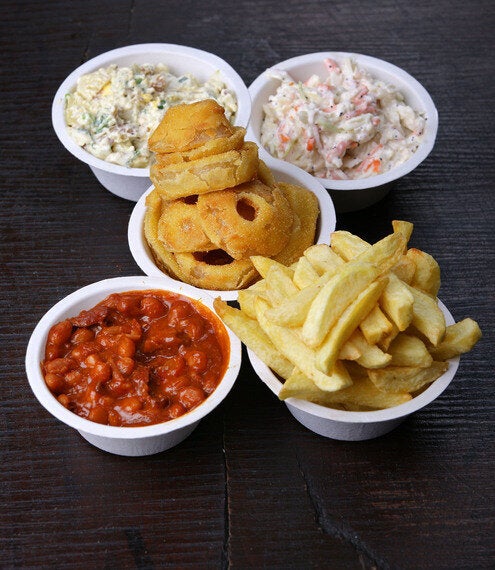 I can't help preferring Bison. There's a few reasons for this. Firstly, Bison is a whiskey bar, not a restaurant, so it's a very welcome addition to a city that is quite poorly served by quite samey pub food. It's a lovely spot to go for food and drinks and spend a few hours. Secondly, their food just edges Pitt Bros out.
Like Pitt Bros, the portions are huge. Five of us shared a manically greedy amount of food, including two "combo plates", each of which included two meats and two sides. Brisket, sausage, pulled pork, and chicken all ended up in front of us, as did onion rings with garlic mayo, chips with chipotle mayo, burnt end beans, and coleslaw. The brisket was precisely as tasty as it looks in this video from Bison Bar. There was plenty of grub, and we spent a really pleasant three hours eating and drinking here, including a few whiskey sours for €5. Jean has already written about their lunch options, so I won't bang on too much more about Bison.
Bison proclaims that they stop serving early when the food is gone, and the growing popularity of this bar means it can be tough to get a table. When it's full and I am in need - need! actual need! - of a BBQ, I'd settle for wandering back up to Pitt Bros.
Do you know of any other smokehouses or BBQ joints worth a visit in Ireland or the UK?