After travelling the length and breadth of the country Applecart's storytelling tour of i Am Mark has its final performance tomorrow night. The show arrives back home in London not far from the pub where the roots of the show began six years ago.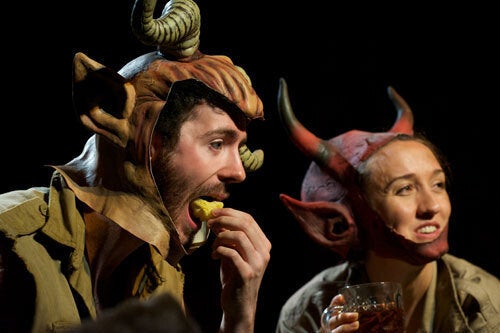 It's been an incredible journey! We started telling the story in a pub in Whitechapel because we felt it was being strangled by the constructs of organised religion, and to be honest we were right! Many of our audience members have, over time developed a deep cynicism for the story and all its trappings. They've been suspicious of our motives for telling the tale: concerned that our intention is to persuade them to engage with the kind of religious mumbo-jumbo that has historically led to conflict and war across the globe. It was for this reason that we found it so hard to book theatres around the country. On initial contact theatres would be friendly and enquiring up until the subject matter was revealed, after which a frosty politeness would kick in and the theatre would suddenly become fully booked.
It is desperately sad that the artistic community - inclusive in so many ways - is so ready to discriminate against the stories and writings of the Bible, but it is also completely understandable. If you don't believe that the Bible is the word of God then why would you take it seriously? Well of course there's no evidence that the Bible is the word of God (it's not even a claim that it even makes about itself), but there is no denying that it is an extraordinary work of literature.
That's what Applecart has set out to expose during this extraordinary six year exploration. It's been a delight to discuss the ideas and themes of the story. On numerous occasions we've delighted in audience members approaching us after performances with a renewed excitement.
This is one of the great stories of history, rich in metaphor and remarkably accurate in its observations of society and the human condition. Mark's Gospel is a coded call to revolution, a shout for justice and a celebration of equality.
If you don't believe me, then come and see 'i am Mark' at Chat's Palace in the East End of London tomorrow night! It's your last chance for us to prove you wrong and change the way you think!
Popular in the Community