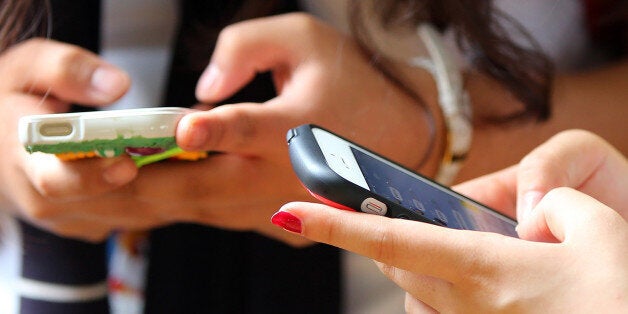 Imagine discovering that your child had been sent a message by an adult, on social media or through a mobile phone app, asking whether they liked sex or what kind of underwear they were wearing.
You'd probably feel a mixture of anger, panic, fear and revulsion. You'd want to take action. You might go straight to the police and tell them what had happened. But the police may not be able to do anything.
Why? Because almost two years after more than 50,000 people joined our 'Flaw in the Law' campaign to make it illegal for an adult to send a sexual message to a child, the Government has not put this law on the statute books in England and Wales.
This is a law that would arm police with new powers to tackle paedophiles, but it is sitting waiting to be used while offenders continue to target children online.
We know from Childline that young people are experiencing new forms of abuse using technology - the number of counselling sessions for children worried about online sexual abuse rose by a quarter last year to more than 3,700.
What makes this delay more infuriating is that in Scotland over the last six years the authorities have recorded 1,537 offences under similar legislation. And since February 2015 a related offence has also been available to police in Northern Ireland.
The police have told us that changing the law in England and Wales would vastly improve their tactics in dealing with grooming of children online and could prevent hands-on offences being committed.
Of course, even with a change in the law we'd still need children who are being groomed to speak out.
Parents can play their part by having regular conversations with their children about who they are talking to online. And they can call our free online safety helpline - 0808 800 5002 - run in partnership with O2.
No law will ever be a silver bullet to stopping all sex offenders from grooming children, but right now there will be people getting away with fishing for child victims on social networks, mobile apps, chat rooms, and in online gaming environments.
The public have backed our campaign, Parliament has agreed to it, and in Scotland young victims are bravely coming forward and beginning to reveal the sickening numbers of adults targeting children for abuse. So we cannot understand why the UK Government is dragging its feet.
It is an unacceptable and baffling delay in equipping police in England and Wales in the battle against criminals intent on targeting children.
So I have written to Secretary of State for Justice Elizabeth Truss, asking why it has been delayed and demanding that the law is put into force immediately.
What to do if your child receives a sexual message from an adult:
Stay calm: by telling you, they might have prevented the situation from becoming more serious.
Talk about what happened: did they receive the message from a 'friend' or someone they thought was their age?
Check privacy settings: make sure they know how to report abuse.
Offer help: let them know they can call Childline at any time if they want to talk to someone about what they've seen.
Report it: call the police to report it, or call the NSPCC helpline for more advice.