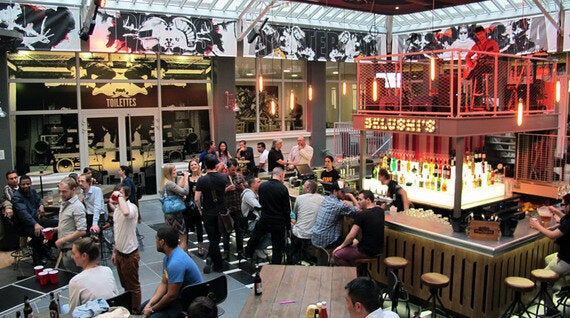 Image: St Christopher's Gare du Nord
In part one of this series looking at Europe's new paradigm of hostelling, we take a look at the new seductive offerings to be found in the cities of France, which are increasingly plentiful. In fact, it was France that originally spawned the word "hôtel", and the country came to be known as a byword for luxury service, with famous hotels such as the Parisian Ritz and Hotel du Cap in Antibes. It largely meant that France, regularly the most popular tourist destination in the world, lacked a diverse selection of accommodation for anything below five stars. But things are gradually changing, and in the past few years quality hostelling has been embraced. Here are the best picks of France:
Paris - St Christopher's Gare du Nord
In a city that has only recently warmed to the demographic of the flashpackers and boutique hostellers, St Christopher's Gare du Nord is a landmark arrival compared to Paris' previous lacklustre offerings. Only opened in 2013, it is now the second St Christopher's hostel in the French capital, but in a much more convenient - albeit slightly rough around the edges - location (a mere 100 metres away from Gare du Nord, ergo the Eurostar). Since St Christopher's Gare du Nord is such a large capacity (600), facilities are invariably robust and excellent: from the ever-lively Belushi's bar, to the attentive staff, and even USB ports in the rooms. As a consequence, however, extras don't come at a budget level, while the intimacy of a mid or small-size hostel is lacking.
St Christopher's Gare du Nord (st-christophers.co.uk), rooms from €30 per night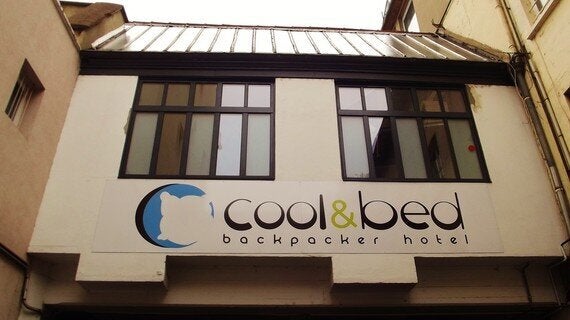 Situated somewhere between Vieux Lyon, the largest Renaissance district of Lyon, and Croix-Rousse, the beautiful hilltop quarter, Cool & Bed backpacker hostel is a clean, bright and affordable place to stay. It sits on a quiet street just off the Saône River - one of two that bisect the city - and while not strikingly central, its 9th arrondissement location is certainly adequate. Cool & Bed is a well-oiled machine with modern decor, and with what has become a sort of hostelling trope, each room is themed on a wonder of the world (a Taj Mahal room, a Great Wall of China room, or a room themed around the Coliseum in Italy). At a total capacity of 38, its an ideal size, even incorporating a functional kitchen, if you decide to not to sample Lyon's famous gastronomy.
Cool & Bed (coolandbed.com), rooms from €22.50 per night
Marseille - Vertigo Vieux-Port
Every room in Vertigo Vieux-Port hostel was designed and decorated by local artists for its fairly recent renovation. Composed of two buildings and only dorm rooms with comfy wooden bunk beds, it is just a stone's throw from Marseille's bustling port, home to a smorgasbord of seaborn delights. Supposedly trying to replicate the ambiance of a typical Marseillan house, the common rooms are spacious, though their decoration may not be to everyone's taste. Vertigo Vieux-Port is the younger sibling of its more centrally-located Vertigo Centre, but given the city was 2013's European Capital of Culture, there is no shortage of nearby sights to see.
Vertigo Vieux-Port (hotelvertigo.fr), rooms from €23.50 per night
Nice - Hostel Meyerbeer Beach
A serial-winner at Hostelworld's award ceremony, The Hoscars, Hostel Meyerbeer Beach earned the not inconsiderable title of 'Best hostel in France' for 2014. The hostelling accommodation in Nice is amongst the toughest competition in the country, so it is no surprise to see it come out on top. It might seem a little strange, then, that Hostel Meyerbeer Beach's slogan claims: "Expect the unexpected", though that probably refers more to the warm atmosphere that the multilingual staff have conjured. It's only one block from the beach, a mere leisurely stroll from the sights of Musée des Beaux-arts and Place Masséna, while it's also useful base to discover the rest of the French Riviera. Free beach mats and towels too.
Hostel Meyerbeer Beach (hostelmeyerbeerbeach.fr), rooms from €13.50 per night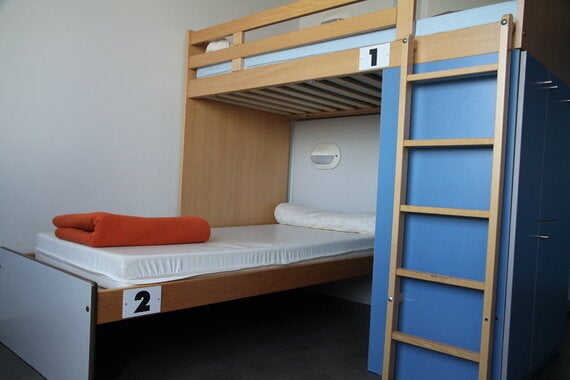 Image: Auberge de Jeunesse
Bordeaux - Auberge de Jeunesse
At the heart of Bordeaux's Saint-Jean district, and a short walk from Gare Saint-Jean itself, Auberge de Jeunesse not only translates as "youth hostel", but is in fact the only one to be found in the city to date. It provides ultramodern facilities, and numbers up to a very sizable 106 beds, in thirty rooms over two floors. As a lone pioneer in Bordeaux, Auberge de Jeunesse has yet to fully find its own wanderlust spirit in the hostelling universe, but with wine tours and the introduction of art installations, it is beginning to find its feet. The hostel itself is next to the internationally-renowned Rock School Barbey, and close to the "mecca of Bordeaux nightlife", Place de la Victoire.
Auberge de Jeunesse (auberge-jeunesse-bordeaux.com), rooms from €23 per night