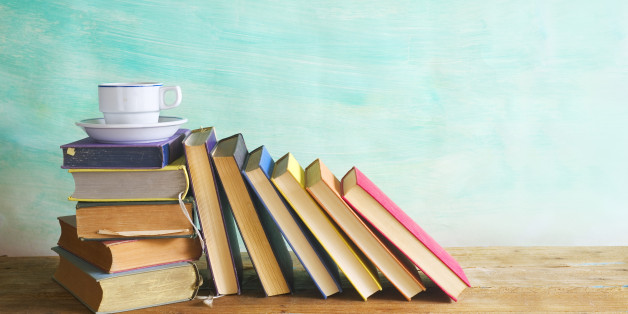 thomas-bethge via Getty Images
When do you ever see a prince, or princess or even a main character in a story who is disabled? Rarely if ever at all.
Life's no fairy-tale but all too often stories portrays disabled people as menacing and dangerous - think Captain Hook, Freddy Kruger, Blofeld from James Bond or Scar from the Lion King.
And if disabled people aren't characterised as villains, you're often left feeling sorry for the likes of Tiny Tim or Quasimodo - and I challenge anyone not to cry when reading Me Before You.
Think of all your favourite stories, I bet none of the main characters are disabled. But, why couldn't Harry Potter be disabled?
12.9 million disabled people live in Britain, yet they rarely see their lives reflected in the books they read.
Far too often disabled people's stories and voices are left out or misrepresented in literature and children's books.
For an industry that supposedly mirrors our society, the poor representation of disabled people in literature is staggering.
A recent Twitter poll by the disability charity Scope revealed a whopping 3 in 4 people wanted to see more representation of disability in literature, highlighting a huge gap in the market.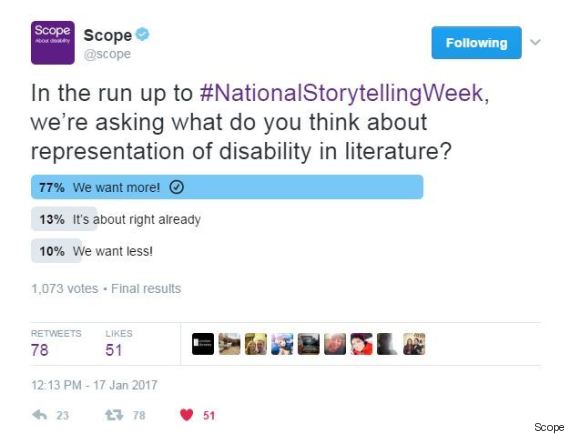 Surely publishers are missing a trick and it just makes good business sense for writers and authors to broaden their horizons and include disabled people in their stories - after all the purple pound is worth £248 billion a year.
The visibility of disabled people in books can't be underestimated. It's hugely important and could have a very positive affect on improving attitudes towards disability.
Books play such an important role in helping you understand the world around you and shaping who you are as a person. To not have any characters or situations that you can relate to in the books you read can be incredibly alienating.
As a gay man, I clearly remember thinking when I was about 13 that Harry Potter just wasn't gay enough for my liking... Why did the boy who lived get with Ginny Weasley when he could have gone for Draco Malfoy?
And whilst I could fill the gap with Harry/Draco fanfiction, I was constantly left feeling frustrated and confused as to why there were no characters in books that represented my gay, unsporty, chocolate-loving self.
Time and time again, I hear anecdotes from disabled storytellers telling me about how they also feel underrepresented in film, TV and literature.
To mark National Storytelling Week the disability charity Scope is celebrating authentic stories from disabled people and calling on publishers and authors to improve the representation of disability in literature.
This week, Scope is publishing a blog a day by a disabled storyteller on how important literature is to them and why it's so important for the industry to be more inclusive.
As books are the building blocks of life, publishers must consider including disabled characters for all to read. It will also help break down barriers and taboos about disability.
But the work doesn't stop here. It's also important that we carry on this conversation beyond National Storytelling Week and keep the pressure on publishers to improve the representation of disabled people in their future books.
Literature is not the only offender, other creative industries are guilty of it too. Over the last few years, we have started to see more positive portrayals of disability popping up in everything from chocolate adverts to the catwalk. However, books are still massively lagging behind.
We must ensure that literature is as representative as it can be and at the moment the bar is far too low. There needs to be more positive opportunities for disabled people in literature and an end to unrealistic stereotypes.
So, JK, fancy including some disabled witches and wizards in your next book?
Head to Scope's Stories Hub to find out more and read stories from disabled people from around the UK.