The Robot Restaurant in Shinjuku was our next stop... We hailed a taxi from Shibuya in the rain (heavy rain), there was a crazy array of neon signage stacked from basement bars to the top of skyscrapers with different little cocktail lounges, hairdressers, dentists, dog groomers, wedding shops and restaurants on each floor, the lights reflected brightly off the rain puddles. I never saw a rainy night look so bright! In the wiggly streets below is Tokyo's red light district alongside trendy places to hang out, arcades & themed bars. Generally this feels like the cool bit for nightlife (remember how Shoreditch used to feel cool and seedy - and now it's a bit bridge and tunnel? It reminds me a bit of Shoreditch pre-gentrification but on some kind of Space Mountain type-of-ride at Disneyland).
The Robot Restaurant is totally devised for tourists, I'm not sure I saw a single Japanese patron there... but it's completely amazing and as a tourist it ticked the #Weird_Japanese_Stuff box! Even cue-ing for tickets was fun, Gaz's photo was taken for their wall-of-fame, his picture will hang alongside other stars: from Katy Perry to Oliver Stone.
It is surreal, from the moment you arrive at The R. R. your senses are attacked with pure bling and eclectic over-the-top-ness. Here's a pic of Gaz and some of the boys in the band/crew waiting in the chill-out lounge before the show.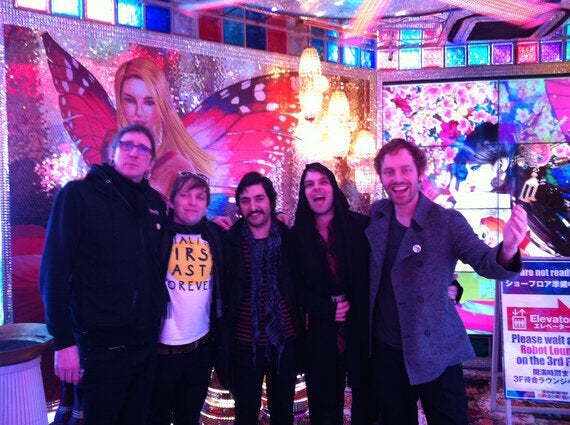 We were entertained by the Robot Restaurant's House Band who were people dressed as robots doing bossa nova covers of familiar hits. The guys were impressed that the bass player took an especially elongated solo (for the fact fans: long bass solos are kind of a muso in-joke).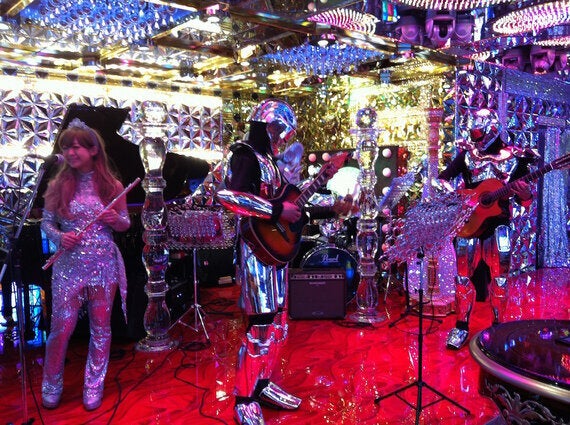 We are then ushered into the venue with bleacher style seating and bento boxes if you wanted one. The show starts with two drum cores, one representing the ancients with kimonos and long kabuki style masks and beards. The other representing the modern or maybe even the future, wearing rainbow wigs and colourful little outfits. They were having a drum-off! This was exciting for everyone because they looked amazing, and could actually play the drums really well too!
There was a rough plot throughout the show that involves robots and pretty girls fighting in different scenarios (underwater, with pandas, dressed as majorettes), but it's really more of a performance than a coherent story. Here's a snap of one of the Rainbow Bright dancers preparing to take on a robot.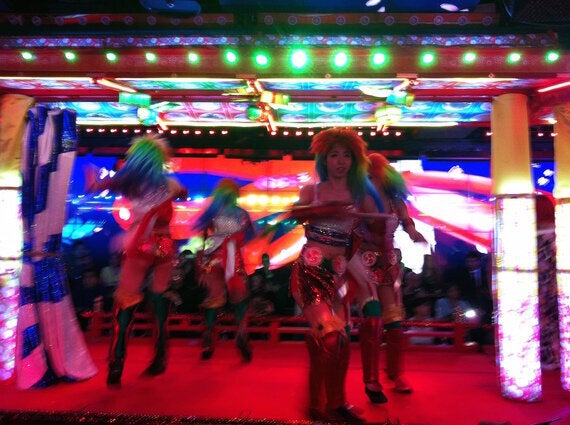 I may have only been in Tokyo for a day at this stage, but I can not liken this experience to anything; you just have to see it to believe it.
Related