An early scene in this musical could be straight out of soap land: ex-banker Henry Pulling, attending his mother's funeral, has his parentage thrown into question by a revelation from his long-lost aunt. You can almost hear the iconic lines of Zoe and Kat Slater in 'EastEnders' ("You ain't my muvva,", "Yes I am!") echoed here. Before he knows it, the dull but harmless Henry is unwittingly used as a drug smuggler by his aunt's adoring toyboy... Yet we're in Greeneland rather than Walford: this is the crazy world of Graham Greene's 1969 novel, 'Travels With My Aunt', developed as a new musical by the team who brought 'Betty Blue Eyes' to the stage, and directed by Christopher Luscombe.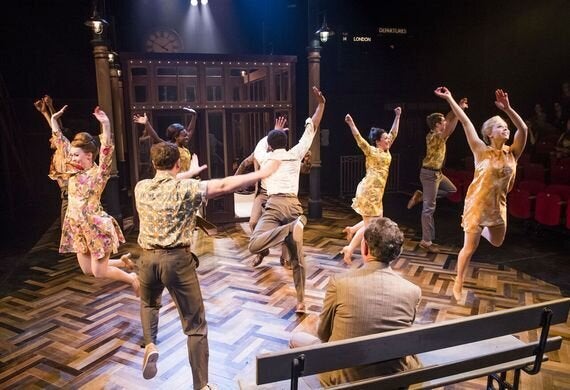 The cast of 'Travels With My Aunt'. Credit: Tristram Kenton
Whilst there could be gritty stories to tell, in the vein of Greene's classic thrillers such as 'Brighton Rock' and 'The Third Man', this is one of his lighter novels, where any stint in prison is mercifully short, and suspicious characters are foiled without bloodshed. In fact, the most calculating criminal on the scene is the 75-year-old Aunt Augusta, who always has a trick up her sleeve and a trip in the pipeline to try and save the love of her life, Mr. Visconti.
A 1972 film adaptation strayed too far from the plot, but this musical is much more faithful to the meandering journeys of Augusta (Patricia Hodge) Henry (Steven Pacey) and Wordsworth (the aforementioned toyboy, played with gusto by Hugh Maynard). Fans of Greene's original will notice obvious omissions, such as journeys to Brighton and Boulogne, and many of Aunt Augusta's meandering anecdotes, but it would have been near-impossible to include every detail.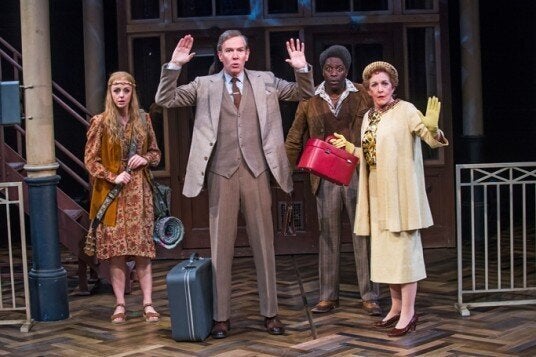 Left to right: Haley Flaherty as Tooley, Steven Pacey as Henry Pulling, Hugh Maynard as Wordsworth, and Patricia Hodge as Aunt Augusta in 'Travels With My Aunt'. Credit: Tristram Kenton.
The intimate stage of the Minerva at Chichester takes on a range of simple but successful guises, from Henry's suburban garden (cue boxes of dahlias on trolleys) to a sleazy Parisian club, and we see Henry brought out of his comfort zone and hurtled towards a new existence with every scenery change. Most of the songs are pithy and memorable, though Henry's awkward solo tribute to his beloved dahlias doesn't work as well as the likes of 'She Puts The Living In Life' and 'In The Eyes Of Italian Men'.
Patricia Hodge is well cast as Aunt Augusta but, short of her opening outfit, most of her costumes (and her own youthful appearance) don't quite match the mental image of her character in the book, when she's described as having 'brilliant red hair, monumentally piled', to suit her larger-than-life personality. Seeing her in practical beige slacks, functional paisley dresses and neat jackets with sensible cropped hair seems a bit off key, but Hodge's embodiment of this feisty character is otherwise spot-on.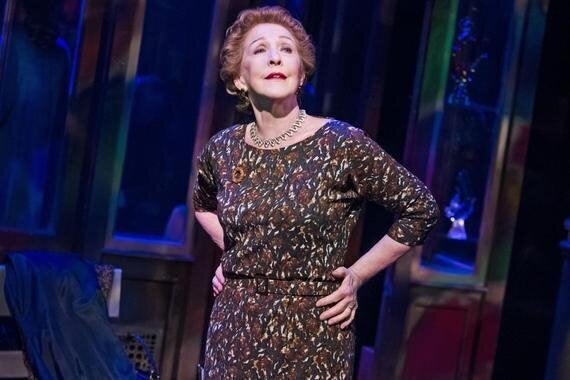 Patricia Hodge as Aunt Augusta in 'Travels With My Aunt'. Credit: Tristram Kenton.
As the other characters are perfectly presented to capture the mood, especially the dynamic ensemble, it's a shame Hodge drew the short straw on costumes and hair. However, the rest of this musical sparkles and it's easy to get caught up in the whirlwind of adventures across Europe and beyond.
New British musicals don't often get the support they deserve, so it would be refreshing to see 'Travels With My Aunt' granted a West End run, not least because the show has virtually sold out at Chichester already. Catch this little British gem if you can, and be transported to the whimsical world of Aunt Augusta.
'Travels With My Aunt' runs until 4th June 2016 at the Chichester Festival Theatre, as part of the 2016 Festival.
Popular in the Community