Many tourists wrongly assume Dublin is beyond their budget, but I don't agree. I've just returned from a break in the 'fair city', giddy on its atmosphere but not facing the sharp shock of a hefty bill. Here's how I did it.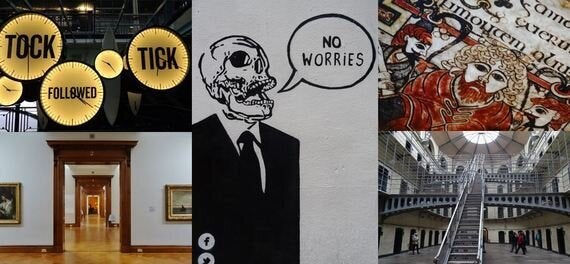 As this piece of Temple Bar street art shows, you can see Dublin with no worries. Honest.
Book an early morning flight, which tends to be cheaper and gives you more time to sightsee on the day you arrive. Many hotels let you check in early, or they'll store your luggage in the meantime. Most major attractions are open by 10am, so get out there; the haunting and historical Kilmainham Gaol, a must-see, is open from 9:30am Monday-Saturday and 10am on Sunday, and the Book of Kells exhibition at Trinity College opens as early as 9am or 9:30am depending on the season.
Dublin has a packed events calendar, including Oktoberfest, Pride and literary festivals, not to mention sports fixtures, but prices rise for flights and accommodation to coincide with high profile events. Shoulder season - the time between peak season - is the cheapest time to visit whilst all attractions are open, so aim for September-November or March-May (excluding St. Patrick's Day and Easter) to save money.
You don't need to spend a fortune on accommodation either. I chose the historic Wynn's Hotel, just off O'Connell Street, listed in TripAdvisor's 30 Best Cheap Hotels in Dublin. It turned out to be ideal, and I shared a room with my family to cut costs; luckily free earplugs are available to combat snoring relatives. Dublin also has loads of stylish but affordable Airbnb properties - the city is Airbnb's European base - and there are plenty of hostels too. Between June and September you could even stay cheaply in Trinity College.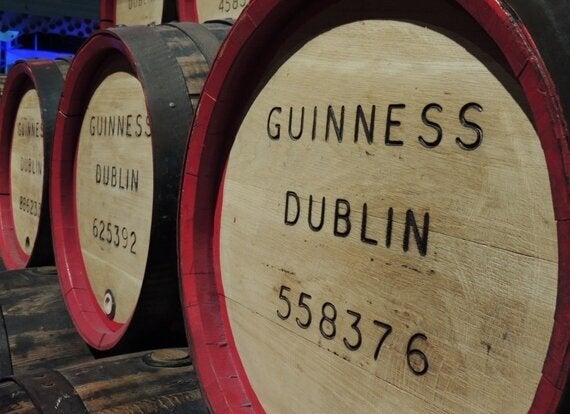 Just don't try to run off with one of the barrels from the Storehouse. They won't fit in your suitcase.
According to Hidden Dublin, the average price of a pint of Guinness here is €5.50. However, as part of the Guinness Storehouse tour (Ireland's #1 tourist attraction), you get a free pint at the stunning 7th floor Gravity Bar. If whisky's more your thing, try the Old Jameson's Distillery tour.
See both sights for free with the Dublin Pass (from €39 for adults and €21 for children), which covers a range of attractions including Dublin Zoo (birthplace of the MGM lion) and Croke Park Stadium. Other pass perks include discounts in selected restaurants and museum cafes. You can push your Euro even further if you visit in summer, when some attractions have extended opening hours. It's also worth taking a hop-on hop-off bus tour - from just €19, Dublin Sightseeing gives you two or three days' travel, a fascinating (and free!) walking tour and entry to the Little Museum of Dublin (normally €7).
Of course, there are plenty of free sights, like the Famine Memorial, the Ha'penny Bridge and Phoenix Park, alongside top class free attractions, from the National Museum and the National Gallery to the much-loved Chester Beatty Library in the grounds of Dublin Castle. Plus, to mark next year's centenary of the Easter Rising, head to key 1916 locations like the GPO and the Four Courts.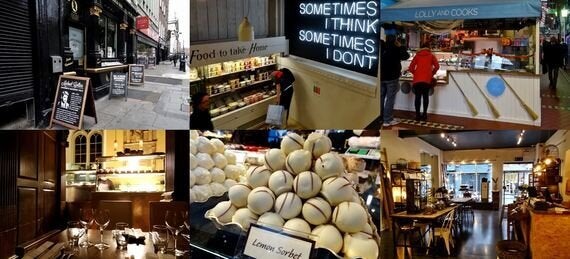 Bewley's Oriental Cafe (a tourist favourite) might not be open right now, but don't panic - just take inspiration from Dubliners.
Jar.ie warns that pub prices in tourist-centric Temple Bar are extortionate; charges increase after 11pm, as all venues have to pay extra for a late licence. Following 'research' (drinking time!) in ten bars, they discovered it could cost as much as €6.85 for a regular pint of Heineken and €7.45 for a late pint after 11pm - one hell of a bill if you're getting a round in. By all means discover Temple Bar's shops and street art (I loved the UNESCO-endorsed Irish Icons Walk) and look out for its famous pubs, but try drinking a little further afield to save cash.
The Confession Box, on Marlborough Street, is a great alternative - Michael Collins was known to drink here. It's slightly off the tourist trail and has been voted the place with the best pint by local radio listeners. I'm a big fan of crowd-sourcing travel tips from locals, who don't get dazzled by novelty quite as much as us tourists. Recent Dublin recommendations via Spotted By Locals include a Mexican food truck and a beach retreat.
Use Dublin Free Wi-Fi hotspots to find local restaurant offers on sites like The Dining Room or Groupon, and check tourist board listings for food festivals. Whatever the time of year, bag early bird restaurant deals to keep costs down. The city's food options vary from traditional Irish dishes to tapas, but I'd recommend grabbing a snack at Simon's Place, a friendly cafe at the edge of George's Street Arcade. Don't miss the warm cinnamon buns (€2.20)!
Ultimately you can enjoy Dublin to the full without breaking the bank... just don't blow your savings in Duty Free on the way home.