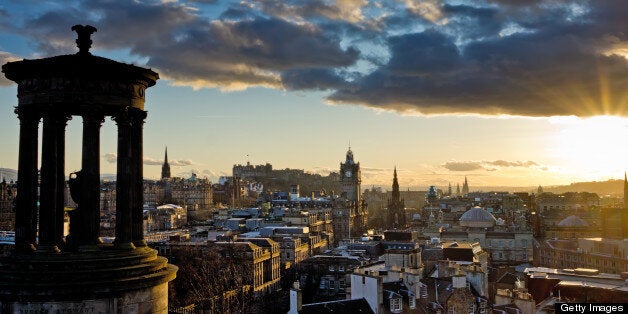 The programme's already been released, the comedians have long had their promotional photos ready, and now the countdown to the Edinburgh Fringe Festival well and truly begins. 2013 will be my fifth year as a punter and I've already scoured the listings to seek out some early ideas for what to see when I visit.
The best thing is, no two years are ever the same (despite the fact that some comedians do recycle their acts - perhaps they're dreaming of a guest spot in an endlessly repeated panel show on Dave and it's the only way they can sufficiently prepare). If you're heading up to the festival for the first time, here are some tips to help you on your way.
Don't leave it all until the last minute
Whilst it's great to be spontaneous, there are some shows that you really will want to book ahead for, especially if the act is well known. Chances are, if you've seen them on TV or you've heard them on a Radio 4 comedy program, they're probably too popular for you to just rock up to the box office and expect to find tickets on the day. If you're desperate to see a certain comedian, book up or expect to be disappointed; last year I was lucky to see Susan Calman's show without having to sell a kidney. This year I've already got my tickets for Henning Wehn and The Horne Section, which I'll be picking up from the Box Office, bypassing the will-they-won't-they anxiety of waiting for the Royal Mail to deliver the goods.
Another good way to plan ahead is to check the Fringe website, not just the programme, as the online descriptions of each act are a lot more detailed. They also make a hell of a lot more sense - rather than the kind of show that has been dreamt up on the back of a beer mat, possibly during a game of word association, and just desperately wants to sound wacky with the trying-too-hard title. I mean, I'm all for seeing a stand-up routine called 'Steve the bear wrestler', but if it doesn't actually feature any anecdotes about bear wrestling then I'm going to be a bit miffed.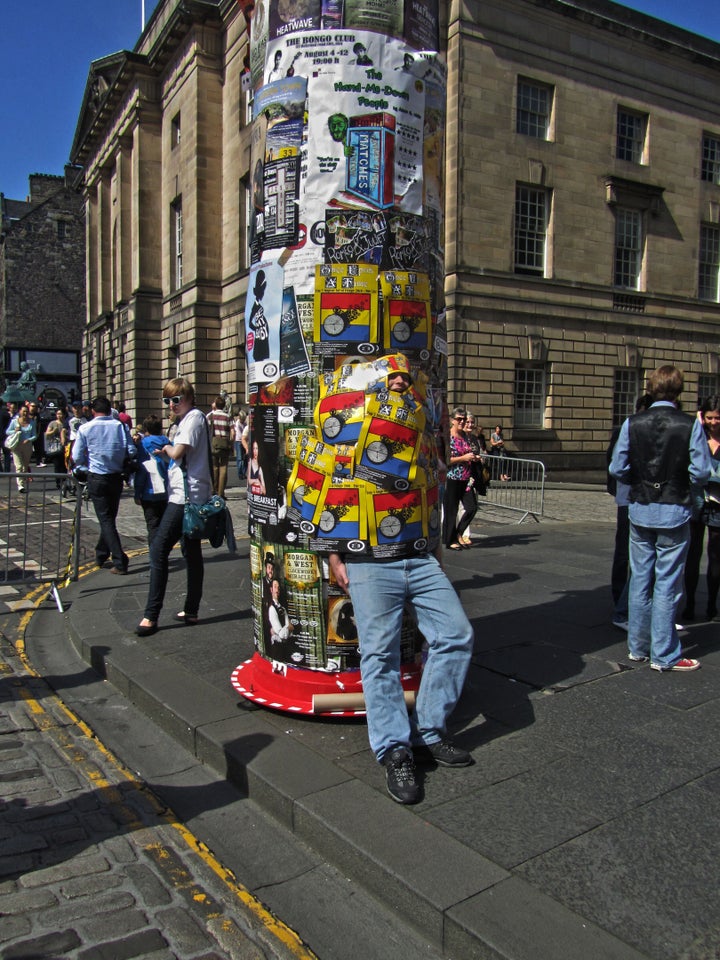 This man's leafleting tactics reached new heights.
Accept all leaflets graciously
You know how those chuggers (charity muggers) on high streets around the UK are to be avoided at all costs? Well, imagine a street full of chuggers, only this time they want to give you leaflets for their upcoming Fringe production, which will probably be described as 'touching', 'a riot' or 'a fantastic adaptation of Shakespeare'... this is what the Royal Mile consists of, throughout August. Sounds horrific, right? Well, actually, it's pretty cool.
Please keep these enthusiastic drama lovers and comedians happy by accepting their little shiny pieces of paper - it's what the Fringe is all about. Not everyone can afford big-budget advertising and not everyone can even make it into the official programme, so street marketing is all part of the hard graft of taking an act to Edinburgh. Even if you think their drama about psychic hippies sounds like the seventh circle of hell, just say 'thank you' and move on. You never know, you might come across some hippies sitting next to you in the audience for a different show, and you can give them a great recommendation...
You'll already have spent a heap of cash on accommodation in the city (and it pays to find somewhere decent, so you can properly recharge before another relentless day of shows and sightseeing), but you can cut costs on everything else without being a killjoy. Many of the free or £5 Fringe performers are just as good, if not better, than the big name acts who charge £20 a ticket, and you may well get the smug satisfaction of seeing an up-and-coming comedian before anyone else has heard of them. Mix this in with a few trips to the Half Price Hut, found next to the National Galleries of Scotland on Princes Street, where you can pick up discount tickets before watching the mime artists, breakdancers and magicians that like to hang around here. On average, 80% of them are incredibly talented, and the other 20% are just plain weird, but good for a laugh.
Of course, if you do end up with time to spare, but no cash to spend, you might want to read up on some of the exhibitions held around the city during the Art Festival, which runs in tandem with the Fringe. Many of them are either free or dirt cheap, so it pays to read up on what's available; previous years have seen Damien Hirst at the Edinburgh Printmakers Gallery and the brilliant 400 Women exhibition by Tamsyn Challenger, housed in a crumbling school building just off the Royal Mile.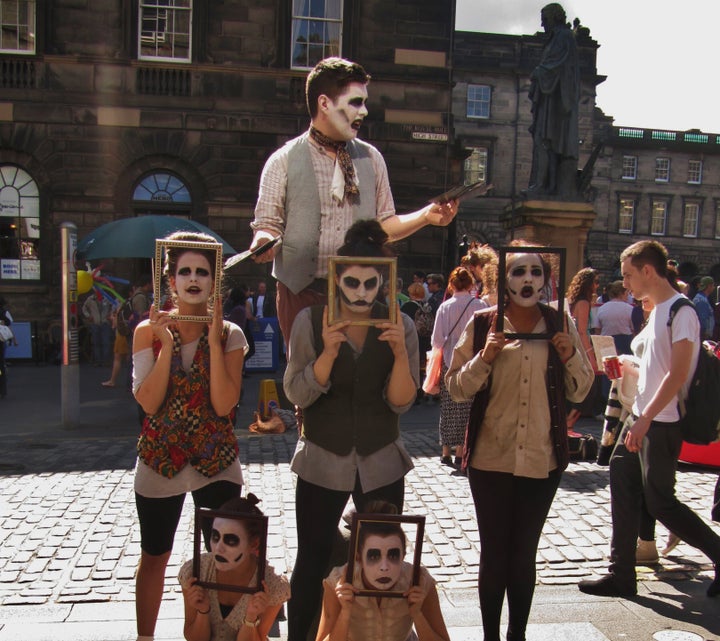 Guessing this one's not going to be a comedy.
Not only will you get leafleted by performers on the streets, but you'll probably be given deals from restaurants and bars, too, so make use of happy hour offers and 2-for-1s; aside from grabbing deals, it's definitely worth doing a bit of detective work and moving away from the tourist-filled areas in order to find bargain breakfasts or snacks. For example, meat eaters should check out Oink, along Grassmarket, which serves delicious fresh pork rolls to keep you full for ages - just choose your toppings, from traditional apple sauce to not-so-traditional chilli relish. This place even comes recommended by the Wall Street Journal but, at £4.60 for the largest option, which is lovingly named 'the Grunter', it won't break the bank.
If meat isn't on your menu then it's worth popping to Henderson's, on Hanover Street, where you'll find affordable vegetarian and vegan food, including a veggie haggis, delicious soups and some very indulgent cakes. You can then nip to their deli counter to find snacks to take away for a picnic in Princes Street Gardens. As well as tracking down food, there's a lot to be said for visiting independent pubs to enjoy a jug of Pimm's in the sunshine, whereas this will set you back at least £20 if you order at the Underbelly's over-crowded but very trendy garden in Bristo Square.
Whatever you end up seeing during your trip to the Fringe, just go with an open mind and be prepared to sacrifice sleep in favour of squeezing in a few more shows... then be prepared to want to do it all again as soon as you have to leave - this is one very addictive festival.