Summer in London is all about lazing in parks with an ice cream, heading to festivals and trying to avoid packed Tube journeys where you end up far too close to a perspiring commuter's armpit. It's also full of good opportunities to cool off in an unusual exhibition, finally visit a museum you've never been to, or try out an event you wouldn't normally consider. Here's a shortlist of memorable options to enjoy over the next few months.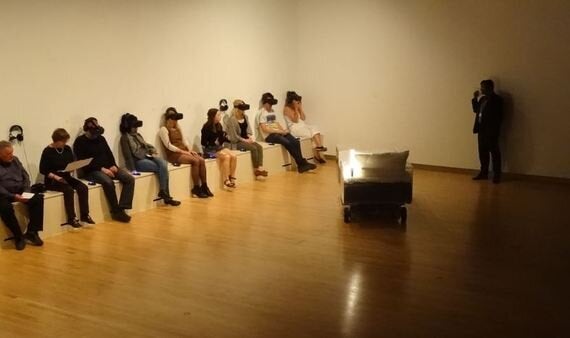 Visitors watch a video through a headset and earphones as part of Decision at the Hayward Gallery.
Carsten Höller: Decision at the Hayward Gallery (10th June-6th September)
This recently opened exhibition gave arts journalists the chance to let their hair down - you may have spotted them strapped into flying devices on the roof of the Hayward. Höller's work is playful, forcing the viewer to get involved and embrace their inner child, climbing through pieces or playing games... Hence the safety briefing when you get your ticket (you can read up on pre-exhibition notes here). Whether you resolve to pick up an exhibit, or walk a certain way around the gallery, you'll be made to confront that decision.
However, not everything will be universally appealing: a walk through seemingly endless dark tunnels at the start quickly become tedious, and it's a relief to emerge into the light and be able to see what you're doing. Thankfully you'll soon be caught up amongst piles of mysterious pills, strange headset experiences and a corridor of video screens. Unless you're very graceful, you will make an idiot of yourself leaving via the Isomeric Slides at the end (I definitely did), but it's all part of the experimental feel to Höller's work, with you as the guinea pig. Tickets range from £10-15 per person, plus booking fee, so your biggest decision may be choosing who foots the bill.
Captain Linnaeus Tripe: Photographer of India and Burma, 1852 - 1860 at the V&A (24th June-10th October)
The word 'pioneer' is often overused, but Linnaeus Tripe really was a pioneer of photography in India and Burma, taking some of the first documented photos of major historic sites in the two countries. He also captured landscapes as he travelled on specially organised trips with the governor-general of India and as part of his role within the Madras government. Temples, statues and bridges were all documented for posterity, and he worked his way through hundreds of paper negatives per trip.
Each of the prints seen in this free exhibition was processed by Tripe in his Bangalore studio. Look out for the negatives that reveal some of his delicate retouching processes - to those not old enough to remember the years before Photoshop and editing apps, count yourself lucky you can change things with the touch of a button, instead of a brush and pigments. Go and marvel at Tripe's underrated skills behind the camera.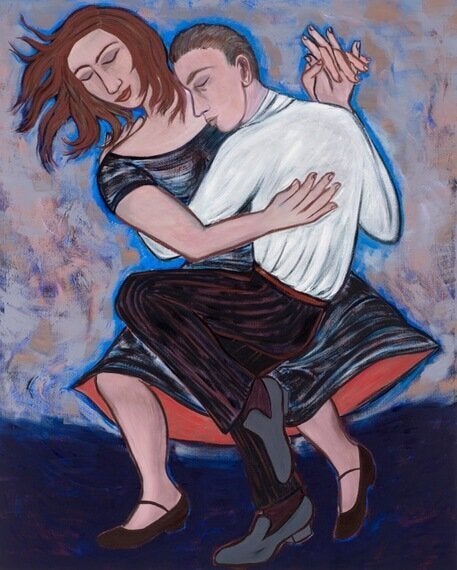 Night Music (2015) by Eileen Cooper RA. Credit: Rook and Raven/Eileen Cooper.
She Came To Stay at Rook and Raven (25th June-22nd August)
Named after the book by Simone de Beauvoir, She Came to Stay focuses on a series of female artists - Paula Rego DBE, Eileen Cooper RA, Annie Kevans, Marie Jacotey and Lucy Farley -whose work deals with strong themes like identity, personal storytelling and freedom. Rego steals the show with a series of hand-coloured prints (some previously unpublished) and a typically surreal pastel drawing.
All the featured artists studied at London art schools (the Slade, Goldsmiths, the Royal College of Art, Central St. Martin's) and Rego was the National Gallery's first Artist-in-Residence in 1990. Rook and Raven is based in Rathbone Place, just off Oxford Street, and it's free to visit. Pop in between shopping trips and see why male artists shouldn't dominate our galleries.
Summer Streets on Regent Street (Sundays from 5th-26th July)
Each Sunday in July sees Regent Street transformed into a pedestrianised zone, with a weekly theme to keep visitors entertained. Urban gardening will bring bees, butterflies and lawn lounging to the area on 5th July, whilst live art installations will draw the crowds on 26th. In between you can be inspired by health and fitness (12th - look out for an influx of rugby players!) and fashion (19th).
Alongside every event there'll be live music, shopping and food offers, making it hard to tear yourself away from Regent Street. Obviously a wet British summertime will make things less tempting, but if the weather holds out it'll be worth wandering past the shops to see the road turned into a garden or a catwalk.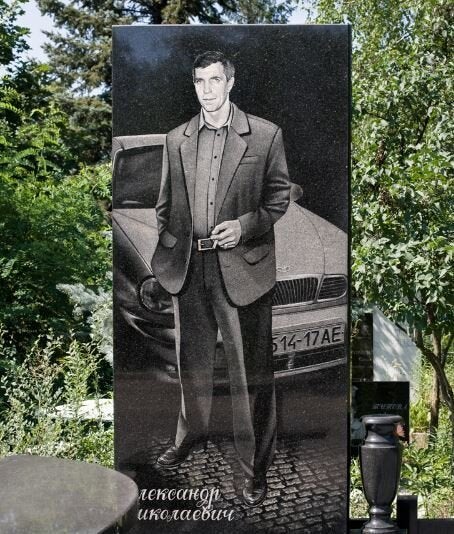 One of Tarasov's gangster gravestone photos from the Essence series. Credit: Saatchi Gallery/Denis Tarasov.
Dead: A Celebration of Mortality, at the Saatchi Gallery (9th-26th July)
If all this incessant summer cheeriness and the prospect of warmer weather makes you want to stick pins in your eyes, you'll appreciate this not-so-sunny forthcoming exhibition at the Saatchi. Unsurprisingly, Dead: A Celebration of Mortality is a macabre study of artists' responses to death.
It's heavily focused on sculptures and installations, including pieces by Glasgow-based sculpting duo littlewhitehead (Craig Little and Blake Whitehead) and New Zealand-born Francis Upritchard, but there's also poignant photography from Russian photographer Denis Tarasov. What's more, the whole gallery is free for visitors, and you can get up close to each artwork.
Ice Sunday at the Canal Museum (19th July)
One of the many events taking place as part of the UK-wide Festival of Archaeology, this underground adventure reveals the ice walls constructed between 1857-62 to hold blocks shipped from Norway. The museum building used to be an ice warehouse where entrepreneur Carlo Gatti sourced ice for making ice cream.
Because of the setting, this event is only open to adults and children over 13. You don't need to pre-book to attend, but you'll need to wear sensible shoes. Your ticket - a reasonable £2-4 per person - gives you access to the whole Canal Museum, so it's good value for money if you turn up earlier in the day (the event runs from 10am-4:30pm), or you could tag on a visit to other attractions in the Kings Cross area, like the House of Illustration.