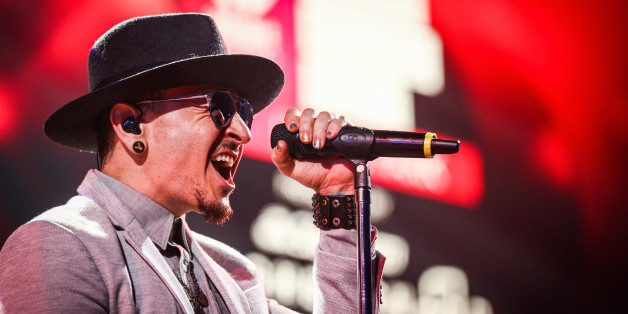 Rich Fury via Getty Images
I've noticed there's a natural temptation, when a celebrity dies, to move quickly onto their impact and accomplishments especially if it's a suicide.
A suicide is a hard death to look at but we need to - right now - look beyond the obituaries and examine what happened with these men, and why they reached the point where taking their own life was preferable to living.
And now that we are already moving onto Chester Bennington's achievements for Linkin Park - as we did when Soundgarden frontman Chris Cornell died back in May - it seems important to remember that their deaths are like each and every man who died by suicide.
The reason I say men is because we have not improved or decreased the statistic that more men than women die by suicide - it is true in the US, as it is in the UK.
Both of these men's voices were the soundtrack of many people's childhood. I remember the first time I took a ride in my friend's car after she had just passed her test, we educated the home counties with a continuous blast of Black Hole Sun through rolled-down windows, the summer breeze in our hair.
But they are familiar not just because we listened to their music over first kisses and bitching about our parents. It's because they could be any of our fathers, partners, brothers, friends.
Their deaths are important because despite the accolades and awards, they are a reflection of the troubled times we live in.
They are every man who has felt caught between despair, hope, expectation, pressure and self-belief, and who - like so many before them - have felt no recourse but to embrace death as a means of escape from a life that they cannot bear a minute longer.
Because the truth is that it doesn't matter whether you have success or money - these cannot prevent your sadness, and believing they do ill-equips you for the realities of the world.
When my husband Rob died in 2015 while he was staying with family in New Zealand, I wrote a book called Chase The Rainbow because I had to do something to make sense of his death, and what I found was that Rob was like a lot of other men.
He'd probably hate me saying that, believing himself to be unique (and he was in a million ways such as his preference for goblin-themed death metal music), but he was part of a bigger picture - the grisly tapestry that none of us want to face - upon which is painted the most tragic end for men.
Rob's death isn't Chester Bennington's death. Chester Bennington's death isn't Chris Cornell's death. But we would do all of these men a disservice to ignore what is going on here.
These are men we all have in our lives. Successful, funny, clever. They like to party, they love their music. They have a range of interests. They all have people in their lives who love them, adore them.
So if these men are taking their own lives - often out of the blue - we must have an intelligent, introspective look at why this is happening.
To me, it seems obvious that we have a really myopic view of what constitutes a successful and happy life. Most people tend to remark on a suicide as 'but he had everything', and perhaps we need to look at what 'everything' means.
Having a big house or money isn't everything. Clearly it isn't - otherwise rich people would be permanently happy, famous people wouldn't kill themselves. So we need to acknowledge that having it all is much bigger than what we've brought up to believe.
That it includes being given permission to say 'I fucked up' or 'I can't do that'. Having people around you that you can talk to - I mean really talk to. Equipping boys with emotional intelligence so that they never, ever feel they have to get to such a desperate state of taking their own life as the only means to a solution.
Valuing mental health - which includes the government not doing ridiculous shady shit like re-assigning mental health funds for general hospital expenditures. Because how can you prioritise your own mental health if the people governing you don't seem to?
And to me, it's unacceptable that we can only talk about this stuff during an awareness month or that it requires someone's death as a justification to do a news segment or a focus piece. We should be talking about this ALL THE TIME.
Because someone like a Chester Bennington or a Chris Cornell may only die once a year or every few months. But let us never forget that men like them die by suicide every single day - 12, every day, to be precise. Every one of those deaths is a travesty. Every one of those men had parents and someone who loved them.
And every one of those deaths should be reason enough for us to say: enough.
This has gone on long enough.
Poorna Bell is author of Chase The Rainbow, published by Simon & Schuster.
Useful websites and helplines: