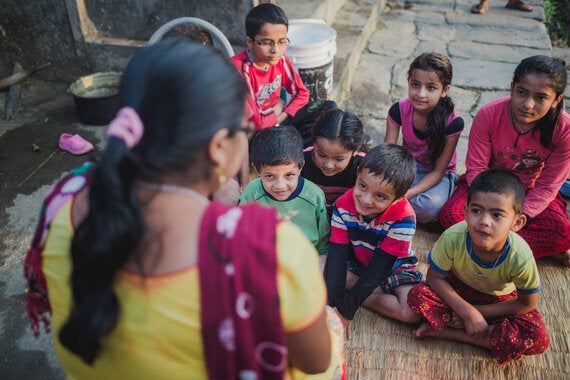 Local Teacher, Shila Dhakal, talking to children in Lamjung, Nepal, about earthquake preparedness.Credit: VSO/Suraj Shakya.
Nepal's New Year started on the 13th April this year - a time for friends, family, feasting and exchanging gifts. As a Nepalese man based in London, I miss this joyful occasion. This year, I made an extra special effort to get in touch with my relatives and friends in Nepal. I wanted to see how they're moving on with their lives, one year after the 7.8 magnitude earthquake claimed nearly 9,000 lives and made hundreds of thousands of people homeless. Sadly I lost a friend and one of my relatives in the badly hit region of Sindhupalchok. Many other relatives of mine also lost their homes. In spite of such tragedy and destruction, the spirit of help, cooperation and unity lives on, but so does the fear...
While on the phone to my friend in Kathmandu, a 4.5 magnitude aftershock abruptly ended our conversation. Although the 6.9 magnitude epicentre was actually north-west of Mandalay in Myanmar, he experienced a tremor which forced him to rush out of his house as a precaution. This was the 447th significant aftershock felt in Nepal since the 25th April last year. He was scared. My friends and family are living in constant fear of another earthquake. So am I - my earthquake app on my mobile phone has become my new obsession.
As VSO's Lead Advisor in Education, I've been working with my colleagues to develop a strategy to help the Government of Nepal deliver education services to earthquake survivors. More than 8,000 schools were damaged and over 1 million school children lost their classroom. At first, our priority was to resume children's education as quickly as possible and to help them regain a sense of normality in the face of trauma and aftershocks, but this hasn't been easy.
The recent border blockade and ongoing political strikes have severely hampered Nepal's recovery. In addition to devastating earthquake damage, the country's transport network has been disrupted by a fuel shortage. Violent clashes have also threatened the safety of communities so people have been put off by large gatherings - even attending school. From September to December last year, more than 3 million children from 20 districts in the Terai region, did not attend class. One of districts affected was Parsa.
VSO operates 'Sisters for Sisters' in the Parsa District - a mentoring scheme where older school girls 'Big Sisters' pair up with younger schools girls 'Little Sisters' to encourage them to attend school - an alternative to marrying young and abandoning their education. Despite a national ban on dowries and early marriage, these practices still persist. According to UNESCO, it's mostly girls from rural areas who miss out on their education. 7% of girls in Nepal are married by the age of 10 and 40% by the age of 15. Pregnancy follows which drastically reduces their chances of continuing their education. Unfortunately, due to the current security and political restrictions in Parsa, 'Sisters for Sisters' has not been able to work at full capacity.
The blockade and political situation has also slowed down the reconstruction of new homes and schools. Many families are still living in temporary camps a year after their homes were destroyed. Despite the challenges, VSO - in association with UNICEF - has established nearly 120 Temporary Learning Centres. These 'safe spaces' are enabling 17,000 children to continue their education while their schools are being rebuilt. We've also provided post- earthquake trauma counselling to over 30,000 children and managed to distribute essential learning materials to nearly 8,000 pupils in 75 schools.
None of this would have been possible without the commitment and dedication of more than 300 volunteers and partners who have gone the extra mile to support people who need it the most, but there's still lots more be done. As this New Year gets underway and recovery and reconstruction continue, we must not lose sight of Nepal's most vulnerable children - girls and children with disabilities - who desperately need an education to escape the cycle of poverty.