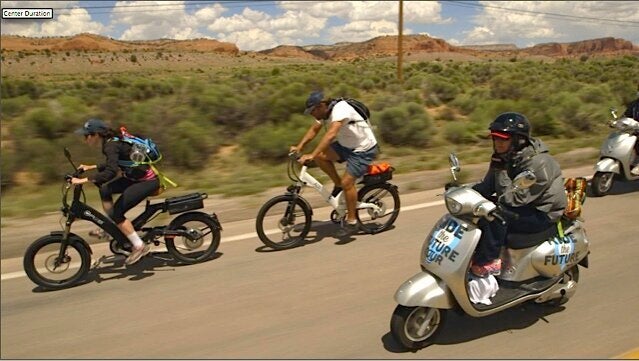 In 2013, I travelled the length of the United States, from Charleston, South Carolina right through to San Francisco, California. We were the Ride the Future Tour and our ambition was to set four Guinness World Records for the longest distance ever travelled by four different types of electric vehicle (car, scooter, motorbike, bicycle). I've written about the journey here. Our experience is also captured in the documentary film, Kick Gas.
Six months later, I'm better able to reflect on what stepping outside of my comfort zone has taught me about happiness. I don't, however, presume my beliefs about happiness are universal truths applicable to everyone -- I think we each need to find our own way. But perhaps others can relate to these three lessons and perhaps they are helpful to those of us looking to be happier.
1. Happiness is being present in the moment. We might think we know this, but we don't usually live this way. In fact, I've spent a lot of my time obsessing over becoming something better. It was always about earning more, getting thinner, looking better or jumping the professional ladder, all of which I thought would make me happier. But I was constantly anxious and never good enough. When you are alone on a scooter for hours on end, you have a lot of time to be 'in the moment' -- something we don't usually allow ourselves to do. It was during these times that I felt most calm. I saw that the life within me was quiet and simple and I felt completely fulfilled.
2. Happiness is in living for others. I believe people are innately good and want to do good. Doing good, however, depends on how well we understand the needs of others so that we can meet those needs. But when do we ever sit down with another person, particularly somebody we don't know well, just to listen? I think often about all the very different people I met along this journey and how different they were from each other. They each have a unique story worth sharing. But the stories of most people in this world go largely untold. I realised through this journey that I'd been rushing to make something of myself and tell a good story. But there were beautiful, enriching stories all around me. I just needed to stop, listen and start living for others.
3. Happiness is in living our individual truths. Before this journey, I had what on paper might appear like a fairly successful life. But I wasn't happy. Success isn't some easily determinable thing -- it is and it should be different for everyone. I realised that in all I had achieved, I had been aspiring toward somebody else's definition of success. It was easier to hide behind this, however, than brave a big scary world on my own. Heading off on the electric scooter represented what I felt I wasn't actually brave enough to do in 'real life'. But by standing up to this challenge, I gained the courage to start following my own individual truth.
There were lots of bumps and grazes as a result of this journey, but I've gained immensely in what I've learnt from this experience. My life is richer for the calm I feel and for the diversity of characters I now consider friends. And building meaningful connection with others is my truth.