It's been a while since I've blogged on the Huffington Post, no real reason - life just gets in the way. All this blogging, event attending, keeping up with instagram, twitter, now Alexa Chung's Villoid app. Recently I headed all the way to New Zealand for some much needed down time, but before that I attended one of my favourite fashion events; New Zealand Fashion Week.
So I thought a little round up was in order. Sadly I missed the All Blacks in their undies on the catwalk but I did catch up with the world's first incontinence lingerie show. A lot more sexy and interesting that you'd think!
ConfiTEX at New Zealand Fashion Week
The show debuted 30 looks ranging from day-time wear, to softer evening lingerie, to the first G-string designed for light incontinence. This is the first time, anywhere worldwide, that incontinence underwear has graced a catwalk as a designer range. ConfiTEX spent three years working on the design technology to allow sufferers of incontinence to still wear beautiful underwear.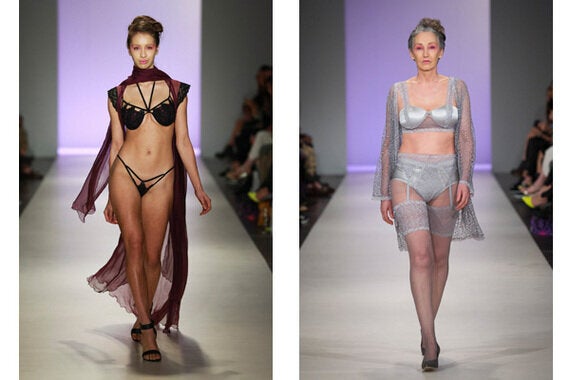 Incontinence is the silent epidemic. Incontinence affects one in three women and one in ten men. It can start early for women - in their 20s and 30s, usually after childbirth. For men, the problem is usually medical and related to prostrate health. Incontinence is largely a hidden problem that people are embarrassed to talk about. So how amazing is this that ConfiTEX, founded by Dr Mark Davey and fashion designer Frantisek Riha-Scott in 2012 have this great collection now available!
The brand's resounding message of 'don't hold back from living your life' and as incorporated such beautiful prints in the fabric that it made me want to snap up some of the gorgeous pieces. What I found just stunning were the simply exquisite lace and print crop tops and bra tops. New to the collection, they are just beautiful and add an appeal to the younger market, with one in three women under the age of 30 suffering with incontinence.
Hailwood at New Zealand Fashion Week
Adrian Hailwood is one of my favourite New Zealand fashion designers. I love his grasp of colour and his concept of taking one print through a collection. There was a fabulous mix of satins, silks and knits throughout the collection. Pale powder blue knitwear with the gorgeous dragon print, tucked into a long black satin skirt, teamed with sneakers. An edgy outfit from the legend of laid back glamour, Hailwood did good.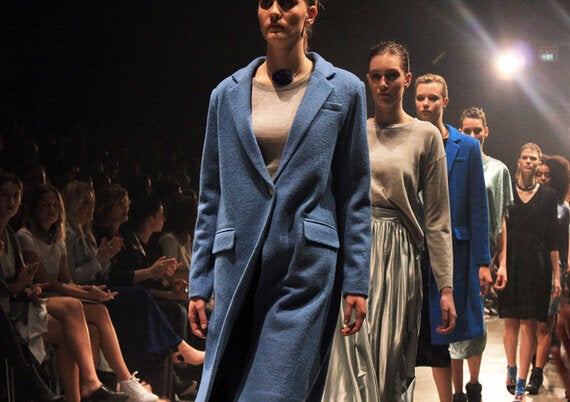 Image Source: LadyM Presents
Navy satin cinched waist, kimono sleeve style dresses suit day to night. Hailwood's graphic design background leads him to create themed fabrics and prints which often carry a strong graphic central symbol, such as this seasons Chinese dragon. It featured on soft textured knitwear and on the back of silk bomber jackets. A winner in my eyes is the pop of cobalt blue that heads down the catwalk in the winter coat. I love this tone and it is perfect for brightening up the Autumnal and Winter days. Seen worn over a black sequin dress. Glamour with a softened edge.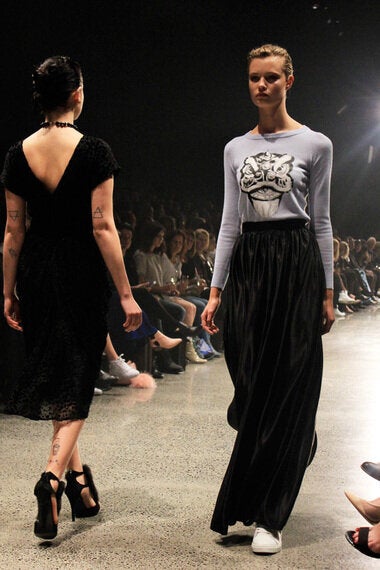 Image Source: LadyM Presents
Popular in the Community