Turn on the telly and you're likely to catch a bearded man foraging on Channel 4 or a BBC fledgling MasterChef shouting about seasonal and local; look at your bookshelf and you've probably got at least one over-priced TV-endorsed cookbook which you've barely opened. Yet despite our recent 'food renaissance', some of the most obvious sources of local and seasonal food don't feature in our shops, on our shopping lists or even on our culinary radars.
Veal is one of these (as are rabbits and pheasants but we'll leave those for another time). I want to talk about veal. Janet Street-Porter did it on the F-Word, Countryfile dared to recently feature an investigation into the meat and the likes of Hugh Fearnley-Whittingstall, Rose Prince and Mark Hix are fans.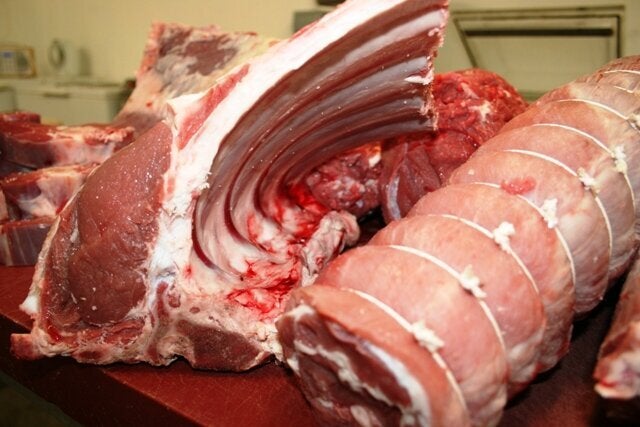 The myths: it's cruel because the calves are torn away from their mothers, kept in boxes in the dark and fed milk and killed at a few weeks old; the meat is white. The truth: male calves are a by-product of the dairy industry and would be shot at birth or exported in harrowing conditions if veal farmers didn't exist. The calves are normally killed at around six to seven months which is older than most pork, lamb or poultry on the market. They live in the fresh air in groups on straw bedding and are usually fed a mixture of milk and grain. The meat is pink. As Janet Street-Porter sums it up: "If you actually think about it, it's crueller not to eat veal than it is to eat it."
Jon and Vicky Brown of Bocaddon Farm, Lanreath, talk of abuse and aggression in the early days of selling their product at farmers' markets. "I think things have changed a lot," explains Vicky. Now they are faced more with education than aggression but still have to deal with customers who buy calves' liver but refuse the meat. The facts are that veal is healthy, easy to digest, low in fat and relatively cheap, particularly the less sought-after cuts.
The couple are understandably frustrated about having to constantly justify their product on ethical grounds: "We were so confident in our beliefs at the start, we knew we were doing the right thing." With some of the UK's top chefs and food writers endorsing their product within months of opening a stall at Lostwithiel farmers' market, they were right to feel so strongly. Rose Prince described them as, "the region's most innovative farm" and Mark Hix spoke about the "absolutely fantastic flavour" of Bocaddon veal.
Calf welfare is key to the farm's determination to rear, in Jon's words, "the best product possible," as is the butchering of the carcass. "Butchers have forgotten how to butcher the meal and we've forgotten how to cook it," explains Vicky. To get all the correct cuts requires a greater precision than butchering beef, hence their own butchery and own butcher, Trevor, alongside Jon.
There's more to veal than osso buco or escalopes as favoured by the Italians and Argentines - Jon and Vicky leave me with tongue, heart (Fergus Henderson is good on heart), bavette or onglet steaks, salami, bresaola and kidney. With a little imagination and courage, eating veal, or indeed any meat can and should be adventurous. For a delicious and delicate take on the Cornish pasty, substitute beef skirt for chopped veal bavette steak.
While the food renaissance bulldozes on across our screens and on our bookshelves, the veal renaissance is well overdue. "Why don't people talk about where their milk comes from?" asks John. It is time that we stopped questioning the veal farmers and directed our enquiries to the industry that churns out the white stuff and for whom male calves are simply 'waste products'.