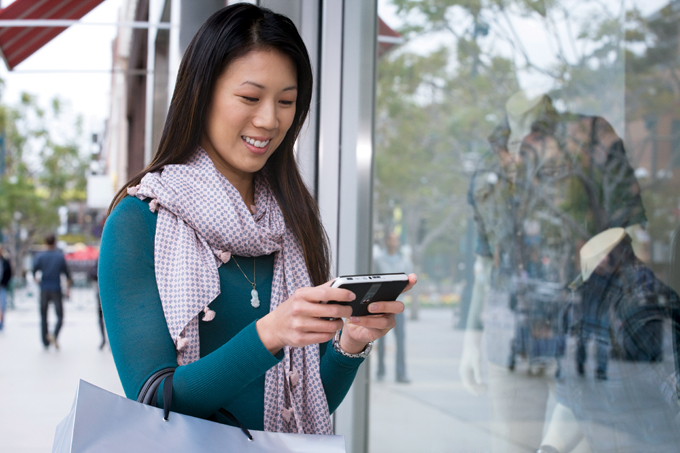 Gathering data for tailored one-to-one messaging and smart marketing is rebooting retail on and offline, writes James Silver.
In the light-filled atrium of the Village, the high-end section of Westfield shopping centre in west London, a young family lingers at a pop-up platform displaying Citroen DS cars, in black and red. After a few moments they move on, past retailers such as Massimo Dutti, NW3 and Zara Home, before disappearing into the crowd of Saturday shoppers. What the family almost certainly won't know is that while they stood in front of the cars, a sophisticated high-definition camera, mounted on the aluminium frame at the back of the display, watched their every move.
Without identifying individuals, this profiling technology enabled the popup's designers, Green Room - a retail design agency whose clients include Nike, Timberland and Sony PlayStation - to glean rich data from the family. "The camera allows us to measure the audience that looks at the stand 24/7," explains Alex Weller, Green Room's head of digital. "Within a split-second, we can measure 20 different elements of an individual's face, within a nine-metre radius. We can tell their gender, which age band they belong to, when they're looking and for how long."
The data is streamed in real time, allowing the agency to build up a detailed engagement profile of people who showed interest in the cars. Marketing messages can then be more accurately tailored to groups within social platforms, for example, based on behaviour patterns. Restricted by understandable concerns over privacy, profiling technology is still in its earliest stages. However, Mr Weller says, retailers are on the brink of being able to tell far more about us through it - and other technologies - enabling them to target their customers in ever more personal ways.
"I was talking to one of the leading UK high street banks about being able to use multiple devices to confirm someone's identity, the minute they walk into a store," he says. "If you were pre-registered with them, perhaps on Facebook, they could check your face against a database and confirm your identity by your mobile device's unique MAC address. After two or three dynamic spot checks like these, they can send you safe, smarter, timely and more personalised messages." Where is this heading? "The Holy Grail is mass one-to-one marketing," he replies, half-joking. "Brands ultimately want to speak to you one on one. Obviously that's impossible, but with a mobile device and a customer's consent, you do have an opportunity to deliver far more tailored, personal communications, at just the right moment."
At present, most communications from retailers in the social sphere are anything but personal. The majority of special deals and loyalty schemes both in-store and online or mobile, are built on search, purchase history or Amazonstyle peer-to-peer recommendations. The boom in couponing and daily deals sites like Groupon, Wowcher, Living Social and Vouchercodes, as well as Swagg, a smartphone app for managing loyalty cards, are also essentially search and user history-based services. In smart-marketing terms, vouchering is still in its infancy, says Tim Dunn, director of strategy at Isobar Mobile, a digital creative agency. That is likely to change.
"In terms of personalised behaviour mapping, there is a huge opportunity for vouchering services to be developed using more sophisticated analytics and algorithms, targeting users based on their behaviour and preferences," he says. "If you look at all the data that exists in the loyalty space alone, I would estimate that less than 20 per cent of it is being used to its maximum degree. If algorithms were built around that data, and that was combined with the social sphere, then you can start to build something really quite powerful."
Pascal Podvin, chief executive of software developers Compario, emphasises the importance of personalisation in converting one-time purchasers into loyal customers. "We're inventing the market as we speak, trying to find new techniques of personalising the customer experience by recognising the individual, analysing absolutely everything he or she has done in the previous six months and turning that into new ways of merchandising that will appeal to the customer," he says.
While mass-messaging can damage brands because it can feel like spamming, excessively personalised communications may seem intrusive. "Most reputable companies are absolutely erring on the side of caution when it comes to privacy concerns," says Dan Hagen, head of planning at leading media agency Carat. "I do see the industry going carefully towards more personalised messaging, but messages that are more relevant to an individual."
Case Study 1: Location, Location, Location
Geolocation - in which your GPS-enabled smartphone lets others in your network know where you are via social platforms like Facebook, while also telling you what's nearby - is already one of the hottest trends in retail. But as the data flow increases and phones grow ever-smarter, it has the ability to transform the industry. A host of social apps and services, using geolocation data, are coming on stream. Among them is Spottd, a free iPhone, iPod Touch and iPad app created by Rich Martell, the 23-year-old chief executive and founder of developers Floxx.
Spottd is a map-based social network on which friends can "geo-tag" each other and "share cool things and useful information". Shops and restaurants will be able to send personalised messages to Spottd users in the neighbourhood.
"An app like Spottd, or a network like Foursquare, will allow a retailer to message users within a certain distance alerting them to flash sales, loyalty bonuses, two-for-one pizza offers or even let them know if their friend has just been to the same shop," says Mr Martell. "Users are targeted not just by location, but also based on which brands they like via sites like Facebook.
Case Study 2: Social is getting Smarter
Whether on mobile, online or in-store, social platforms are playing an expanding role in retail purchases. Latest research by retail reviews site Reevoo, which conducts six- monthly surveys of more than 1,000 of its customers, found that 27 per cent are now using Facebook as part of the purchase decision-making process.
But while Facebook Commerce - otherwise known as fCommerce - is on the rise, it is starting from a very low base. According to Reevoo chief executive Richard Anson, latest figures suggest that the number of consumers on his site using Facebook "to make a purchase" has doubled to 8 per cent year on year.
Mr Anson expects shopping on social platforms to become smarter and more personalised. "The future is the social experience being customised to the level of the individual," he says. "As a retailer, if my customers are posting reviews to their wall, they're shopping on my site and already logged onto Facebook, then I can start to use the Facebook Open Graph [a set of tools which enables developers to integrate with key distribution points of Facebook, including news feeds and Timeline] to personalise the shopping experience for that consumer. And that starts to become hugely powerful."
This article orginally appeared in a special report on The Future of Retail, produced by Raconteur Media and published with The Times (UK). Please see www.raconteuronthetimes.co.uk for further articles from this report.