Ranvir presents news on ITV's Daybreak and Lorraine, Monday-Friday. She recently visited Sierra Leone with the breakfast TV programme to see the work of charities, including Save the Children. Her films will be broadcast on Daybreak on Tuesday (18th).
As the plane touched down in Freetown, my thoughts turned to my baby son, at home. I'd come to a country where one in five children dies before the age of five. I'd read that fact over and over again and - as I stepped onto the dusty tarmac in Sierra Leone - a mixture of guilt and relief mingled inside, knowing my own flesh and blood was healthy and safe.
Two hours later, I was stood in the heart of the slums. It took time for my eyes to adjust, for my brain to compute what I was taking in. You hear the word 'slums' all the time, but to know it's true meaning you have to let it engulf you.
We'd travelled down to the edge of the city, into the bowels of Freetown, to find children scavenging - alongside pigs - in mountains of stinking waste, plastic bottles and rotting sewage.
Pigs. And children. Together.
The acrid stench, in the searing heat, made it hard just to breathe.
Their tiny feet scurried up and down these mounds of dumped rubbish, as I looked on, rooted to the spot, hoping someone would shout 'cut' and it would be revealed as a film set, not reality.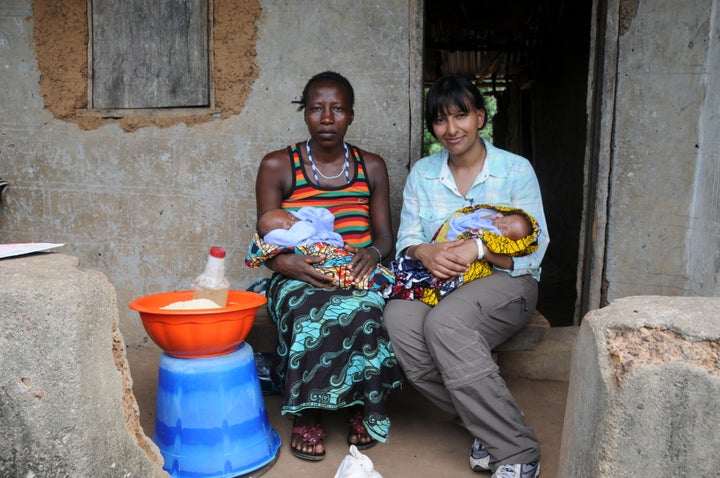 It's not difficult to see why diarrhea kills more children here than almost anything else. If you get through that, you're not expected to live past 47. But to be honest, 47 minutes felt like a lifetime to me.
How do nineteen thousand human beings manage to live, and dream, in this?
No one really tells you what caused the civil war - fighting that spilled over from Liberia, or tribal differences - but this place is the consequence. Families fled from villages being torched. They came with nothing, and had nothing to return to. So when the war ended, they stayed in the slums.
A generation later, these barefooted, barely clothed, children, running around me, help feed their families by selling plastic bottles for pennies.
One older girl wanted me to see where she lived. She rifled through dirt, searching for plastic, while telling me she wants to be an accountant. Ambition isn't killed off easily here, at least.
Her home was a single room, which she shared with 30 relatives.
Inside was Fatmata, mum to a nine-month-old daughter. The sadness in Fatmata's eyes haunts me, even now. She was like an empty shell. She spoke quietly; to tell me she sells cold water to feed them both, but only gets enough to buy a bowl of rice every few days. 'I am scared because I don't have the money to feed her. I want her to be happy, not like me' she said, staring at her baby girl.
The impossibility of her situation struck me hard.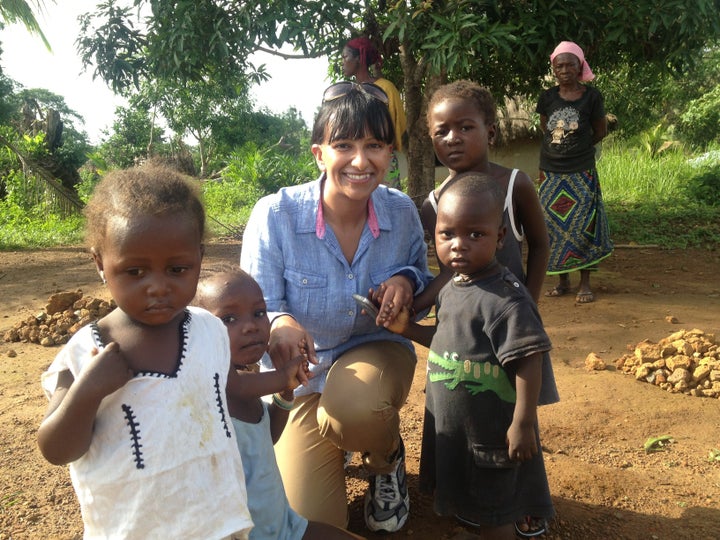 That simple sentiment, one we all have as parents, for our children to be happy, was so crushing as I sat there, in a dark corner with a mum, from another continent, living another life. She didn't say much more. She didn't need to. As we both wept in silence, I stroked her baby's face, as I do my own son's.
Women have a one in eight chance of dying during pregnancy or labour in their lifetime here. So Fatmata's one of the 'lucky' ones, so far. She doesn't feel that way.
We gave her some money as we left, which at least made her smile, if only temporarily.
If money were all it took to solve everything, hunger would have been sorted out years ago.
Despite the struggle to survive, crime is, amazingly, low in the capital. I've honestly never felt safer, in any city, anywhere in the world.
For example, we lost some camera equipment, and assumed it was the last we would see of it. Yet, the slum children found it, and were so delighted as they ran over the rubbish dump to hand it to us. They asked for absolutely nothing in return. I was dumfounded.
Another time, a fight broke out behind us, when people spotted a pickpocket targeting our cameraman in the crowded marketplace. He was yanked away, and encircled by locals.
Pride, dignity, and hope are not in short supply here - neither is hunger or corruption.
So as politicians at the G8 Food Summit promise billions in aid to reduce hunger by 2020, remember, by 2020, Fatmata's daughter will be seven, and another slum child. Or will she be?
Daybreak, ITV, Monday - Friday, 6-8.30am. www.itv.com/daybreak
All photos by Martin Pettit