Bekaa- Lebanon- 13-11-2015 - Around noon on a school day, Adnan and Ayman* rush inside a Play and Learn session in one informal education school in Bekaa Valley where more than half of the population are refugees . The session is designed for the age group (12-14) and operated by a local NGO; Beyond Association. Both take up their tiny seats as the teacher welcomes them into the tent classroom. It is not a normal case in schools when pupils arrive two or three hours late to school. "But here we welcome children at any time since we know they have been at work engaging in minimum wage daily work in the early morning" the teacher said.
"Working in construction, I make 5000 Lebanese liras per day - equal to 3US$" says Ayman. To live in those tented settlements refugees have to pay the rent of their tents which range from 100.000- 150.000 Lebanese Liras in this area as per a local community leader.
Adnan uses his fingers to figure out the number of days his fellow Ayman has to work in order to collect an amount that is enough to cover the cost of the tent which in his case is providing shelter for him and five other family members. Many refugee families are forcing their children of even those under 15 years old to labor especially in agriculture and even worst forms of child labor such as construction.
Almost five years to the Syria crisis, refugees' socio-economic vulnerability is reaching its limits wither living in groups such as inside informal tented settlements or living individually in host communities. Effects can be strongly noted on young people who in addition to losing their education opportunity back home, they face severe concerns over their movement. UNHCR estimates that 420,000 Syrians aged 6-14 are in need of education services, and many of these children have been out of school for 2 or more years.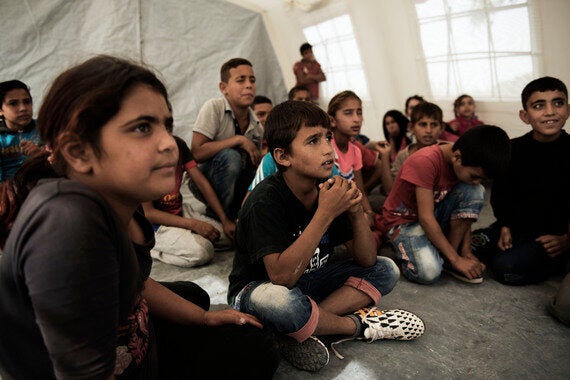 Refugee children using the space of Play and Learn tent even before all equipment are provided. With the support of UNICFE. Beyond Association run 45 spaces across Lebanon. @UNICEF/Lebanon-2015/Romenzi
Earlier this year, Lebanon has imposed very strict border and residency controls on its borders. This caused additional movement restrictions as families fear arrest or deportation especially for men and Adolescent boys. As the only member of her family who can move freely, Jana*, 14 years is the sole bread winner for the family. "This year I cannot send her to school as her older brother cannot leave the informal settlement anymore since his residency has expired" Ouma Ammar who lost her husband to the war and now lives in an informal tented settlement in Akkar north of Lebanon tells us.
"I have been working in the green house close to here for couple of months. I go there early morning anf come in the afternoon with there with other girls from the camp" Jana says
with the support of UNICFE, Beyond Association just established a new Play and Learn center in the same location where Jana and her 3 other siblings live.
The space will also engage young volunteers form the community in teaching work and animating recreational sessions. "Having volunteers form the local community not only provide refugees with an opportunity to engage their communities but also provide a sense of belonging for children" says Laila Assi, the project coordinator for the Association. So far Beyond Association through the support of UNICEF and generous contribution from the German Government, forty five similar centers have mobilized more than a thousand young people in their activities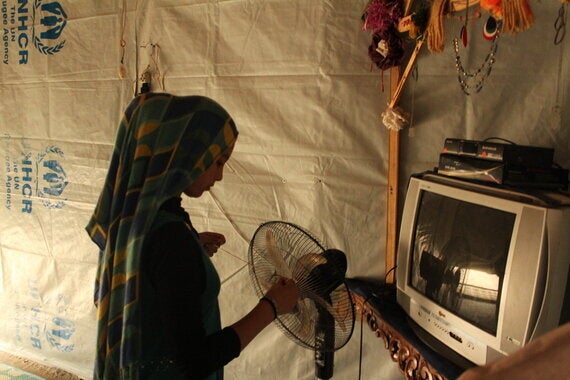 Jana at her tent arranging her accessories. As the only member of her family who can move freely, Jana*, 14 years is the sole bread winner for the family. ©UNICEF/Lebanon-2015/ Rashidi
"Education provide best shield positively into protect children from abuse and exploitation, there temporary spaces will prepare them for integration in the public education system with trust and confidence" says Soha Bsat Boustani, UNICEF Lebanon Spokesperson "we need to engage in creative solutions to allow children to live their childhood and look at future with a sense of hope" she added